Coming soon: Dead Rising 3
I'm the daughter of a veteran who spent my childhood in Killeen. As of 2013, I have a degree in English from the University of Texas at Austin. I'm a critic of books, films, television, and video games. Find me on Twitter: @rachel_knows
Get email notifications on Rachel Kaser daily!
Whenever Rachel Kaser posts new content, you'll get an email delivered to your inbox with a link.
Email notifications are only sent once a day, and only if there are new matching items.
Followed notifications
Please log in to use this feature
Log In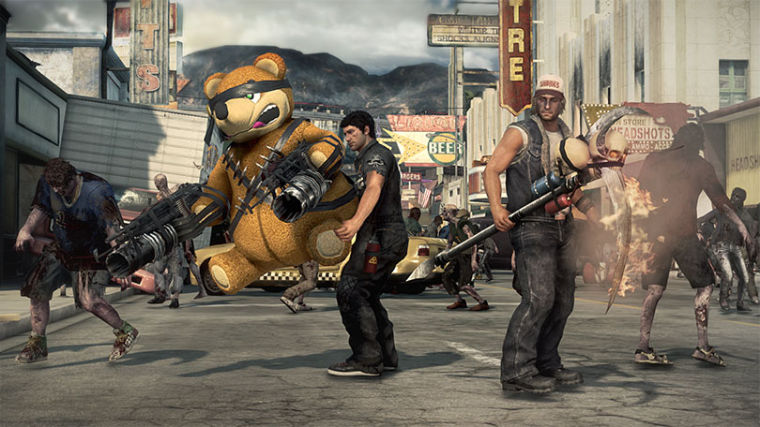 Have you ever noticed that most zombie games and movies are set on an earth where the sky never clears up? Either the sky is perpetually overcast and rainy; or it's smoky, as though the first thing the undead overran was every single gas station.
The Dead Rising series is one of the few zombie apocalypses that sees the sunnier side of things. The games have a story, but it's so filled with clichés that they play it like a schlock movie. The main character is allowed to wear and carry anything they want.
You could put a mask and sundress on your burly male character and cheerfully run around knocking zombies over with everything from chainsaws to teddy bears. That was part of the charm. Run around with an electric guitar and blow their heads off with nothing but the power of rock!
Dead Rising 3 looks like it's trying to be a marriage of those two different kinds of zombie apocalypses. The earliest trailers attempted to make the game look horrifying rather than funny. The trailers are now starting to emphasize comedy more and more, but the damage of seeing the blazing artillery strikes in the E3 trailer has already been done.
Dead Rising has never been about the feeling of being alone and helpless; rather, it's about the fun of being unleashed on a horde of enemies you don't have to feel any guilt for killing in the most brutal ways possible. You aren't afraid of the zombies. They should be afraid of you!
Finally, Dead Rising 3 is Xbox One exclusive. Set aside a few hundred dollars for the console if you want one. If you really want yet another zombie game and you already have your Xbox One on the way, then pick this one up! If you'd rather have a zombie game that's cheerful and colorful, or you don't plan to get an Xbox One, pick up Lollipop Chainsaw instead.