An excited crowd of approximately 17,000 people flocked to the sounds of music and mouth-watering smells that came from the 5th Annual Battle of the Food Trucks and International Food Festival at the Killeen Community Center on Saturday.
The festival was organized by the Hispanic-American Chamber of Commerce-Central Texas, which promotes the economic development of small businesses in Central Texas. But the festival serves as a way for members of the chamber to give back to the community. With proceeds in the past going towards children's hospitals, fire stations, and professional development for chamber members.
"We wanted to give back to the community and we are very heavily involved; we are a nonprofit. So, we saw the need for an event during the summer that would just get people out and into the community," said Irene Rojas, membership chair for the chamber.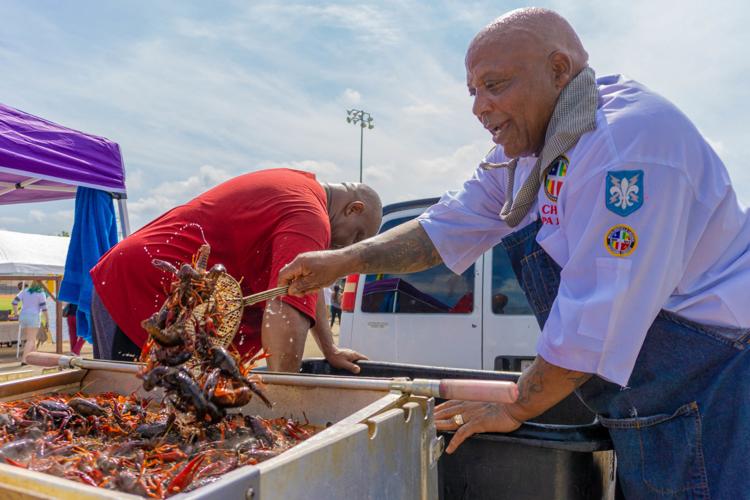 Over 60 non-food vendors displayed woodcarvings, clothing, toys and more. Knocker ball and face painting provided by the Youth Advisory Commission were available for kids. An animal shelter came offering free pet adoption, and helicopter rides from Freedom Air gave a bird's eye-view of the event below.
Event attendee Joe Salinas rode in the helicopter.
"It's was an amazing experience of both terror and fun that left you with a smile on your face," Salinas said.
The entertainment lineup included Baila Pacifica Entertainment, Mariachi Los Tres Martinez, Martial Zen, Central Texas Bellydance Association, Puerto Rican Kids, along with the music of Intri-Gue, The Storms I, Astron+55, 1 CD Band, Riko Mambo and the 1st Cavalry Division Lonestar Brass Band.
However, the main feature of the festival was a fairway of 46 food trucks that had come from Temple, Harker Heights, Killeen, Austin and Waco. Visitors indulged their appetites with plates of tacos, bulgogi, falafel, schnitzel, brisket, lumpia, and other types of cuisine. Among those visiting was Tonya Hill from Austin.
"I'm enjoying myself immensely — it's wonderful," said Hill, hungrily eying which truck to tackle first. "I am very much a foodie and when I saw this on Facebook, I had to check it out."
The food trucks were competing for the bragging rights that come with Best Dish, Best Truck Presentation and People's Choice awards.
In the end, Zarpana's Island Grill won the Best Dish, Full Throttle BBQ won the Best Truck Presentation, and Wat The Truck won People's Choice. Each first-place winner received a trophy, an apron and a magnet for their food trucks.
"I'm still active duty and it has always been my dream to give back to the soldiers – to give them something different," said Henry Santos, who is also a co-owner of Zarpana's Island Grill. "So we wanted to introduce our dish from back home in Marianas Islands. And I can't believe we won. I'm elated right now — I can't describe it."
But the ring of food trucks serves up more than just overflowing plates.
For many, the festival reflects the ever growing, diverse population of Killeen, and its appeal to those outside the area. As the community grows, so too does its willingness to share cultures and more visibly come together — with food as the ultimate unifier.
"This event has been a home run since the Hispanic Chamber started it five years ago — every year it seems to get bigger and better," said Killeen Mayor Jose Segarra. "It just brings everybody out no matter where you come from, who you are, and all that. And there ain't no better place to see diversity than through our stomachs."