Shoppers, mall staff and community figures came together between noon and 2 p.m. on Saturday to commemorate the Killeen Mall's 38th birthday.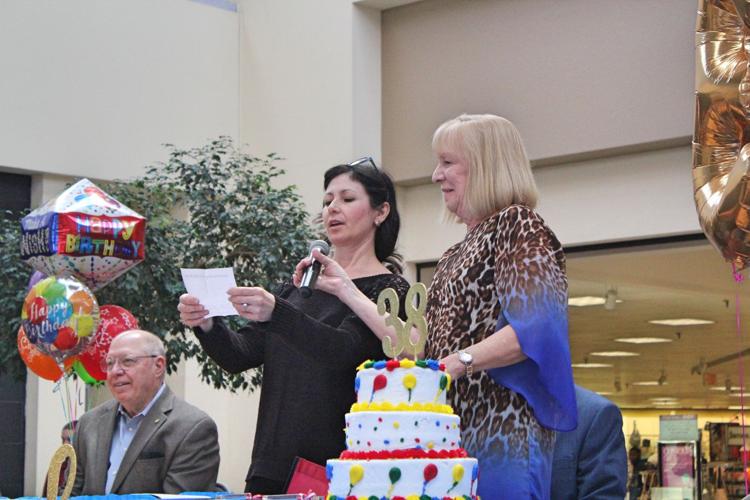 "The mall opened in March of 1981 and we've been building and going strong since then. And we just wanted to let the community know that we were still here, we're staying open, things are going well, and that we were excited about all the changes that will be coming. And we wanted to share our celebration with the community," said Killeen Mall Senior Marketing Manager Mardi Peaster, who has been with the mall for over 18 years.
Stores within the mall contributed over $1,000 worth of prizes. Door prizes were raffled or won, one of which was a $380 shopping spree in the mall. Mary Kay, Great American Cookies, Unity, and Nature Connection World had special tables at the event. A Verizon cellphone character, Claire's bear character, and a cookie decorating station provided by Great American Cookies were also present.
Special guests Greater Killeen Chamber of Commerce President and CEO John Crutchfield III, and Killeen Mayor Jose L. Segarra and wife, Laura, came to celebrate.
"On behalf of the great city of Killeen, I just want to say congratulations to the Killeen Mall. I think we have an outstanding mall. This is a great place to convene," said Mayor Segarra who also commented that the mall is a place where he and his wife shop. Mayor Segarra encouraged the crowd present at the event to continue to support businesses in Killeen and commended the mall for being a great place and friendly environment for the community.
In light of recent news of the mall's foreclosure, key figures offered positive words.
"We'll continue to see it thrive and succeed," said Segarra.
"The mall is truly important to the community...It's been a great 38 years and we said the mall isn't going anywhere, said Crutchfield, who also noted the jobs and services the mall provides.