While some retired couples can spend more than $100,000 on a motor home to drive around the country, a Killeen couple has found a way to do it for a fraction of that price.
Over the summer, Marty and Sheri Wall of Killeen converted a school bus into a "skoolie" — a retired school bus turned into a recreational vehicle or tiny home — for future travel trips across the United States.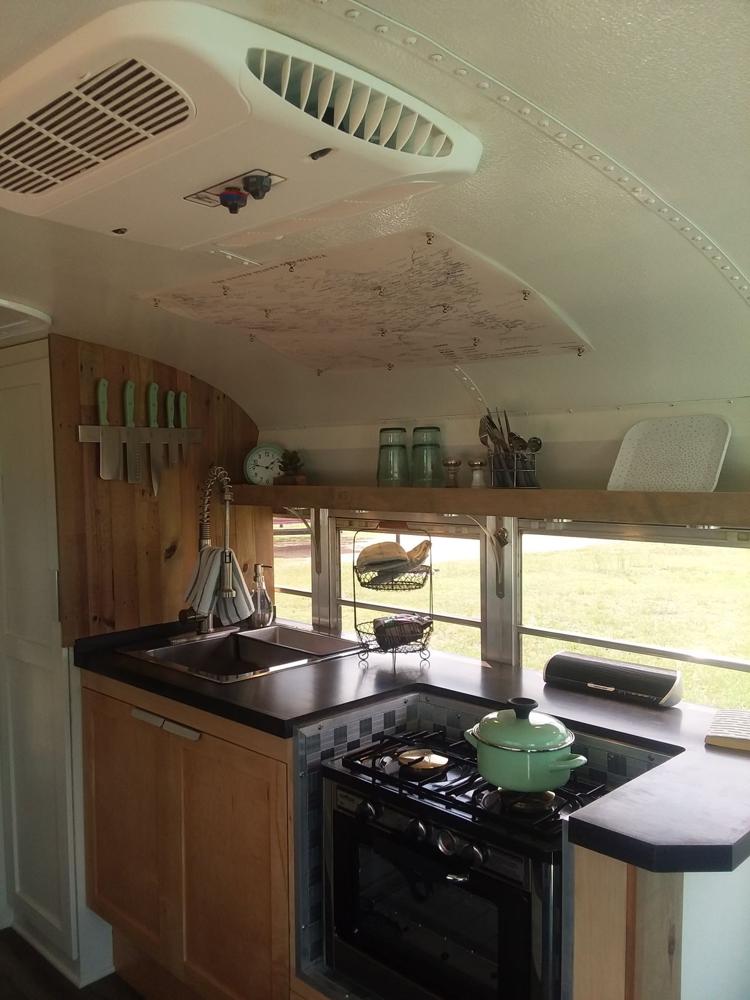 The Walls named their bus "Bustachio" due to its paint color and showcased it in the DIY Village of the National Tiny House and Simple Living Jamboree at the Travis County Expo Center in late August.
"We plan to use it for general camping trips this fall and other travel beyond," said Sheri Wall, who writes children's books.
Bustachio is a 1997 International Harvester 3800 T444E six-window bus. The Walls bought the bus from a Christian school in Temple.
Marty Wall is a self-employed residential and commercial designer. He is skilled in woodworking, welding and electrical. Sheri Wall purchased items for Bustachio and cleaned the 21-year-old bus.
Even though construction projects can be stressful, Bustachio did not hurt their relationship. Construction and communication are fundamental for the Walls. The two built their house and a studio above their garage together as well.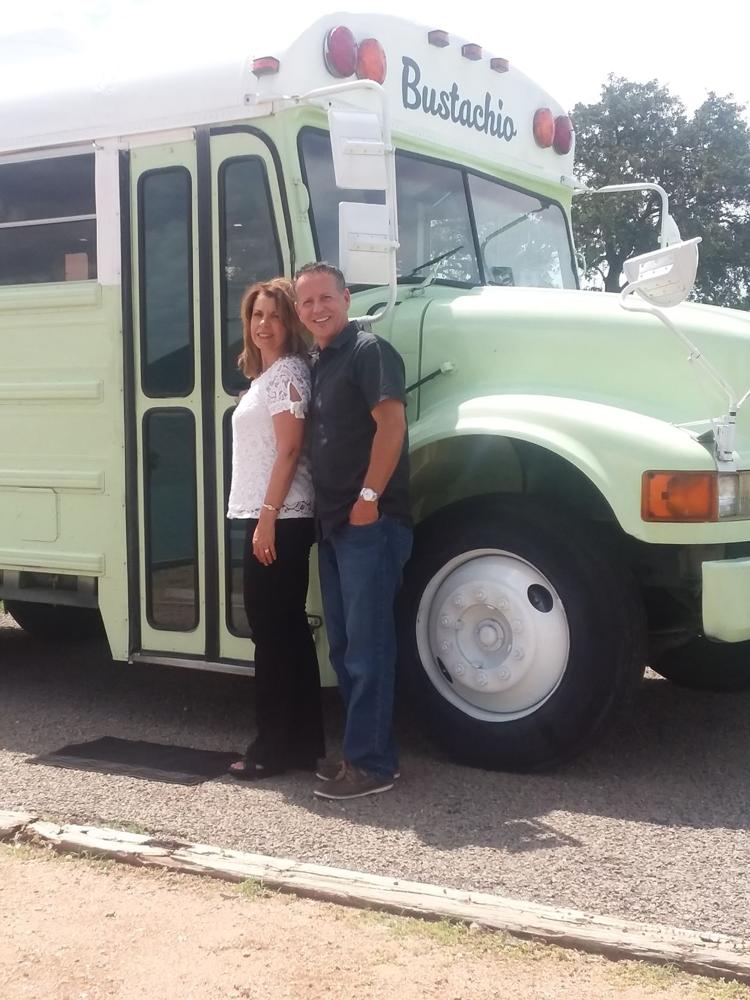 "We invested about $12,000 into Bustachio. RV's of this size generally go for around $50,000. Our interior is nicer, and the structure is more solid and sturdier than a typical RV's," said Marty Wall.
The Walls saved money by keeping original parts, refurbishing seats, lots of DIY, and upcycling materials on their property. The driver seat, dash, and windows are original.
"Some Skoolie owners remove the ceiling panels, add insulation, and change it. We kept the original ceiling. There is insulation in it already, and we like the look and that it's magnetic," said Marty.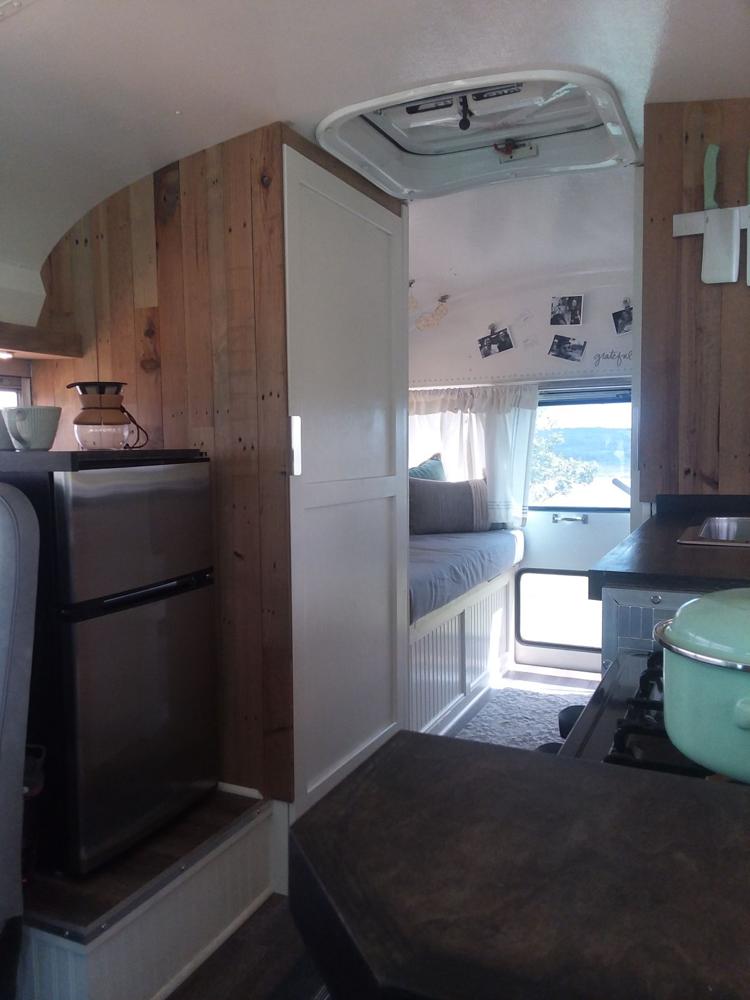 The dining area chairs are refurbished seats. Marty removed 18 inches from the original seats and welded them back together and had them reupholstered.
Before they bought Bustachio, Marty had a growing pile of pallets behind a shed on their property. Over time, they became an eyesore to Sheri. The pallets were taken apart and upcycled to create bus accent walls.
"During the Jamboree, we received a lot of compliments on the accent walls. Now, I want to do more projects with pallets," Sheri Wall said.
Overall, Bustachio was show ready, but plans are in process for a few modifications.
The next phase includes installation of a rooftop deck and a solar panel power system.
"I designed the system to have very low power consumption," Marty said. "We do have a rooftop RV heat pump, but it is meant to be used only when shore power is available."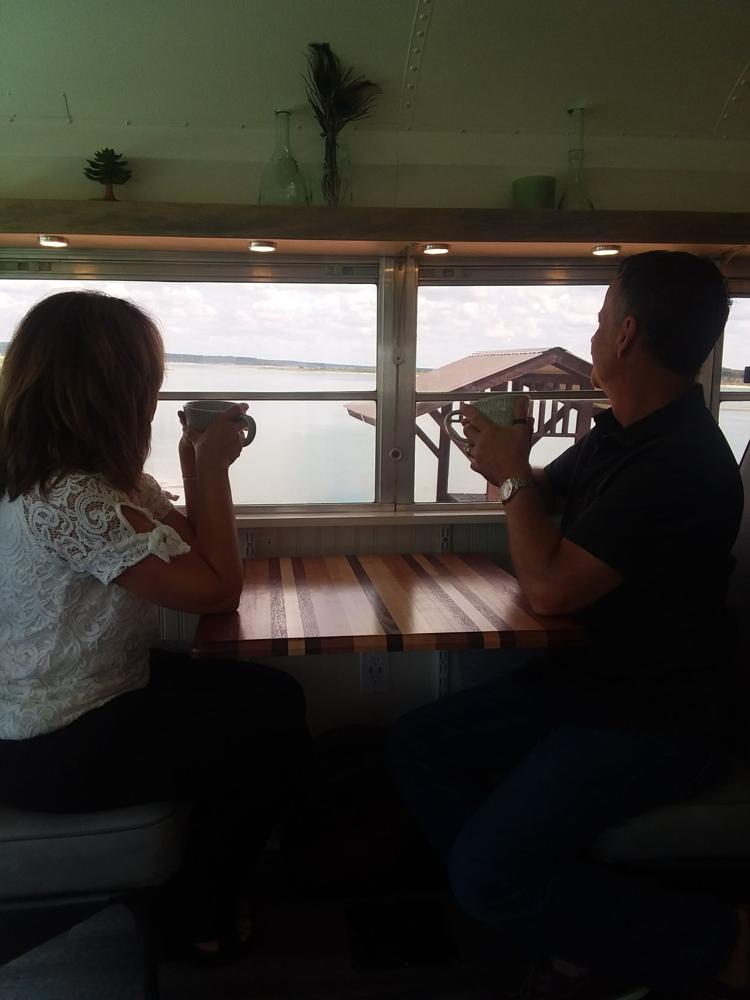 The bus has L.E.D. lights, outlets for USB charging and small appliances that are powered by a lithium portable power station.
A two-burner propane camp stove is used for cooking. Sheri and Marty appreciate the cozy atmosphere of their bus.
For more information on Bustachio's journey visit www.wallsonthebus.com and follow wallsonthebus on Instagram.