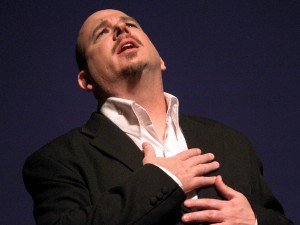 Paul Ciupec acts out a character from his one-man performance of "The Story of Scrooge" during a rehearsal at Vive Les Arts Theatre in Killeen. He takes the stage tonight and Saturday.
One-man 'Christmas Carol' at VLA
"The Story of Scrooge" runs for two hours with an intermission. Performances start at 7 tonight and Saturday night at the Vive Les Arts Theatre, 3401 S. W.S. Young Drive.
tags
Christmas Carol
,
The Story Of Scrooge
,
Paul Ciupec
cost
Tickets are $15 for adults and $10 for students
details
Schedules
Occurred Friday, December 21st, 2012 at 7:00 PM to 9:00 PM CST
Occurred Saturday, December 22nd, 2012 at 7:00 PM to 9:00 PM CST
venue information
3401 S W S Young Dr
Killeen, TX 76542