Business Info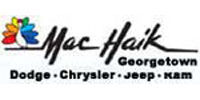 Mac Haik Dodge Chrysler

5255 S Interstate 35 Georgetown, TX 78626

Phone: 512-930-7900
Ad Tools
2014 Lincoln MKS
Call 512-930-7900 for more information.
Free CARFAX Record Check
Condition: New
Drive Train: FWD
Make: Lincoln
Miles Per Gallon: 28
Model: MKS
Trim: Base
Stock Photos:
Posted: Oct 16, 2015
The 2014 Lincoln MKS greets you with an unexpected combination. It exudes the strength of its athletic shape| split down the front as if slicing the wind. At the same time| it glows with subtle confidence| reflected in the sparkle of tasteful chrome accents and LED taillamps. Inside| it surrounds you with sophisticated refinement. The acoustically engineered cabin channels the pure sounds of 365 horsepower| yet invites you to carry on the most important conference call. Talk hands-free| while gripping the corner so tightly you have to search to find a word to describe it. Thanks to Lincoln Drive Control technology| the MKS is uniquely prepared for both cornering and delivering a comfortable driving experience. In spite of ups and downs| twists and turns| it feels as if the car is specifically engineered for the exact stretch of pavement you are on. The standard 3.7-Liter V6 DOHC powerplant delivers 304 Horsepower| 280 lb.-ft. of torque and 28 mpg hwy with high peak horsepower| low-end torque and impressive fuel economy. Vents in the front grille automatically close at speed to help you slip through the air with less resistance and enhance fuel efficiency. A second engine option on the MKS is the 3.5-Liter EcoBoost V6 twin-turbocharged| direct-injection engine with active noise-control. This precisely designed engine puts out more power than most 6-cylinders could ever promise: a staggering 365 Horsepower with 350 lb.-ft. of torque and 25 mpg hwy. The MKS interior surrounds you with luxury; the front seats| trimmed in rich Bridge of Weir leather| are cooled for your comfort. New for 2014| Lincoln has made standard Lincoln Premium Audio| MyLincoln Touch| Remote Start| SYNC Services| and the Rear View Camera. The Technology Package| optional on the 101A Equipment Group is new for 2014 as well. It includes Collision Mitigation with Adaptive Cruise Control| Lane Keeping and Active Park Assist. Drive the 2014 Lincoln MKS today!
Mac Haik Dodge Chrysler
Details
Condition: New
Drive Train: FWD
Engine Type: Regular Unleaded V-6 3.7 L/227
Fuel Type: Unleaded
Make: Lincoln
Mileage: 60
Miles Per Gallon: 28
Model: MKS
Price:

$46,141

Stock: 140107
Transmission: Automatic
Trim: Base
VIN: 1LNHL9DK3EG601391
Year: 2014
Map
Listing ID: 84b83617-1aae-550d-86a0-4be23e0cb75c