Business Info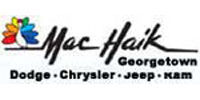 Mac Haik Dodge Chrysler

5255 S Interstate 35 Georgetown, TX 78626

Phone: 512-930-7900
Ad Tools
2014 Silver Ford C-Max Hybrid
Call 512-930-7900 for more information.
Free CARFAX Record Check
Condition: New
Drive Train: FWD
Make: Ford
Miles Per Gallon: 40
Model: C-Max Hybrid
Trim: SE
Stock Photos:
Posted: Oct 16, 2015
The 2014 C-MAX Hybrid and C-MAX Energi plug-in hybrid - the all-new family of fuel-efficient| multi-activity vehicles from Ford. Maximized style and real-car performance are now available with a reduced carbon footprint. The first dedicated hybrid vehicle line from Ford in North America| C-MAX is filled with innovative features and intuitive technology designed for living life to the max. C-MAX Hybrid runs on a combination of gas and electric power to deliver up to 43 MPG combined| as well as a range of 570 miles on a tank of gasoline. With its charge port and larger lithium-ion battery| C-MAX Energi lets you plug in and achieve 100 MPGe combined| with an all-electric driving range of 0 to 21 miles| and a gas-plus-electric driving range of 620 miles. Fuel efficiency and ultra-low emissions are only the beginning. When you step on the accelerator| C-MAX Hybrid and C-MAX Energi both deliver a truly engaging driving experience. The advanced eCVT (electronically controlled continuously variable transmission) smoothly transfers 188 system net horsepower (best-in-class on C-MAX Hybrid) and 129 lb.-ft. of torque to the pavement. The 2014 C-MAX includes Curve Control| the latest enhancement to the AdvanceTrac. If you are taking a curve too quickly| Curve Control can help you slow the vehicle by as much as 10 mph in approximately one second. The C-MAX interior delivers the flexibility you expect from a multi-activity vehicle. The passenger volume of 99.7 cu.ft. offers versatile seating for 5 covered in comfortable cloth or trimmed in luxurious leather (C-MAX Hybrid). Heated front seats help ward off a chill on cold mornings. For the driver| there's a 10-way power-adjustable seat (class-exclusive on C-MAX Energi). Plus| you'll breathe easy thanks to a standard cabin air filter that helps prevent pollen from entering the vehicle the vents (class-exclusive on both). Go further in a 2014 C-MAX.
Mac Haik Dodge Chrysler
Details
Color: Silver
Condition: New
Drive Train: FWD
Engine Type: Gas/Electric I-4 2.0 L/122
Fuel Type: Gasoline Hybrid
Make: Ford
Mileage: 30
Miles Per Gallon: 40
Model: C-Max Hybrid
Price:

$28,585

Stock: 141882
Transmission: Automatic
Trim: SE
VIN: 1FADP5AUXEL506460
Year: 2014
Map
Listing ID: 8880dddc-e571-546e-a262-4052e11a4d04