It's time to put down the phone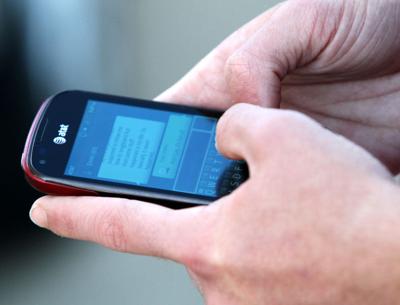 And just like that it's pumpkin-everything season and my twins are 8 months old.
I was sitting in my living room the other day watching my daughter whirl around in her exersaucer and her brother bouncing away in his jumper when I immediately reached for my phone to record them.
That's when I realized I wasn't living in the moment. I was watching them from behind my cellphone, constantly.
Every time they do something funny or for the first time I find myself with my phone in hand ready to capture the moment so I can share it.
During rare moments of down time, I find myself scrolling through news feeds, commenting on other people's life events and pining things I am never going to actually make.
When did I become addicted to my phone and even more to social media?
Why do I feel compelled to share everything with the world?
Why can't I keep things to myself?
Luckily I am not the only one with this issue.
During a small pilot study in March 2014 in the Journal of Pediatrics, researchers from Boston Medical Center observed parents interacting with their children during meals in fast-food restaurants. They noted that one-third of the adults used their phones continuously during the meals, and 73 percent of them checked their devices at least once.
When a parent who was glued to the phone was interrupted by a child, the parent was apt to react negatively, according to the study.
No post or viral video is more important than your kid, and snapping at them because they interrupted you mid text message is something I will not allow myself to do. They are only little once, and everything else can wait, even if your best friend is having a bad haircut crisis.
It's time to put the phones away and to start being more of an active participant in life.
Before we go wagging the finger at all parents who use their smartphones, let's keep in mind that most of us have trouble putting the mobile devices away. One British survey found that 66 percent of people are afraid to be separated from their cellphones. Another study by Time noted that 84 percent of respondents said they couldn't go a single day without their cellphones, and 20 percent said they check their phone every 10 minutes.
Being a stay-at-home parent, my cellphone is like my portal to the outside world. Without it, I feel disconnected and trapped in my own little bubble.
The Pew Research Center states that Millennials are the "always on generation." We text and Snapchat our friends, because who calls people anymore? We Instagram what we are eating and post what we are doing on Facebook. I'm so deep in it myself, I get anxiety when my phone battery level turns red. I might miss something or may not have enough juice left to take pictures of my kids.
We aren't experiencing life. We're losing moments with every tap and swipe. It's sad, really. We may be physically present but we're also liking a photo, tweeting or reading the latest HuffPost or BuzzFeed article.
Put down the phone.  Be present and be in the moment. Enjoy the conversation of those that are physically with you, without glancing at a screen. Life is too short, and childhood even shorter, so leave the phone inside and go play.