With the hustle and bustle of the holiday season upon us, it's easy to forget about healthy eating. But here's a few sample recipes from the "Heart Smart Cookbook Third Edition" by the Detroit Free Press and Henry Ford Health System.
The cookbook was a collaborative effort by the Free Press and Henry Ford Health System's Edith and Benson Ford Heart and Vascular Institute. The new spiral-bound edition of this popular cookbook series features 200 new recipes and includes a color photo section.
In addition, each recipe has tips from the Detroit Free Press Test Kitchen and nutritional information. The book also includes scannable codes linked to instructional videos, information on meal planning, health and fitness, dining out and reading nutrition labels. To order the book, go to http://freepressbookstore.stores.yahoo.net or call 800-245-5082.
MUSHROOM BOLOGNESE WITH WHOLE WHEAT PENNE
Preparation time: 15 minutes
This dish is an excellent source of fiber.
2 tablespoons olive oil
1 medium red onion, finely chopped
3 carrots, finely chopped
2 celery ribs, finely chopped
3 garlic cloves, minced
(8-ounce) package mushrooms, coarsely chopped
¾ cup dry red wine
1 (6-ounce) can tomato paste
1 (14.5-ounce) can fat-free, reduced-sodium chicken broth
½ cup fat-free half and half
½ teaspoon salt
½ cup plus 1 tablespoon grated Parmesan cheese
6 cups cooked whole wheat penne pasta
In a large, heavy pot, heat olive oil over medium heat and sauté the onion, carrots, celery and garlic, stirring occasionally, until vegetables are tender, 8 to 10 minutes.
Add the mushrooms and red wine and cook until the wine has almost evaporated, 12 to 15 minutes. Add the tomato paste, stirring occasionally until the mixture is lightly browned, 8 to 10 minutes.
Add the chicken broth to loosen pan renderings. Add the half-and-half and salt and allow the sauce to simmer until it is thick and creamy, 10 to 15 minutes.
While sauce is cooking, prepare pasta according to package directions, omitting the fat and salt.
To serve, top 1 cup cooked pasta with ¾ cup Bolognese and sprinkle with 1½ tablespoons grated Parmesan cheese.
Nutrition per serving: 355 calories (20 percent from fat), 8 grams fat (2 grams sat. fat, 0 grams trans fat), 54 grams carbohydrates, 16 grams protein, 510 mg sodium, 7 mg cholesterol, 157 mg calcium, 7 grams fiber.
Preparation time: 15 minutes
Total time: 2 hours, 30 minutes
Place the flat iron steak in the freezer for 20 minutes to make it easier to cut into even cubes. Patting the meat dry with paper towel before browning helps develop a nice sear on the beef cubes, sealing in the juices.
1 pound flat iron steak or lean beef stew meat, cut into ½-inch cubes
3 tablespoons all-purpose flour
1 tablespoon canola oil
¼ cup sherry
1 cup fat-free, reduced-sodium beef broth
2 cups onion, cut into ½-inch chunks
2 cloves minced garlic
5 carrots, peeled and sliced
4 celery ribs, sliced
1 (8-ounce) package mushrooms, quartered
1 (14.5-ounce) can no-salted-added diced tomatoes, undrained
2 tablespoons Worcestershire sauce
½ teaspoon dried thyme
1 teaspoon paprika
2 bay leaves
½ teaspoon ground black pepper
1 tablespoon cornstarch
2 tablespoons cold water
½ teaspoon salt
Preheat the oven to 375 degrees.
Coat beef with flour, shaking off excess. In a large Dutch oven or other stovetop and oven-safe pot, heat the oil over medium-high heat. Add the beef and sauté until browned on all sides, about 5 minutes. Remove beef from pot.
Add the sherry and broth to the pot, loosening the bits from the bottom of the pan. Add the onion, garlic, carrots, celery, mushrooms, tomatoes, Worcestershire sauce, thyme, paprika, bay leaves and black pepper. Add browned beef.
Stir to combine, cover and place in the oven for about 2 hours or until meat and vegetables are tender. Remove from the oven and place on stovetop.
In a small bowl or measuring cup, combine the cornstarch and water until dissolved. If you want to thicken the stew, mix the cornstarch mixture into the stew and allow to thicken, stirring constantly, over medium heat. Stir in the salt and remove bay leaves.
Each serving yields about 1 cup.
Cook's note: You can serve this stew on its own or with a crusty multigrain baguette, yolk-free egg noodles or brown rice.
Nutrition per serving: 237 calories (29 percent from fat), 7 grams fat (2 grams sat. fat, 0 grams trans fat), 22 grams carbohydrates, 19 grams protein, 412 mg sodium, 37 mg cholesterol, 61 mg calcium, 4 grams fiber.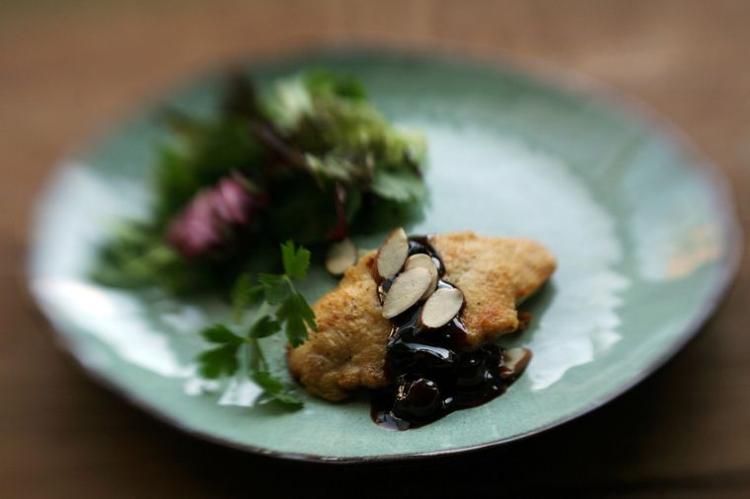 CHICKEN WITH CHERRY BALSAMIC GLAZE
Preparation time: 5 minutes
1 tablespoon trans fat-free margarine
1 tablespoon olive oil
¼ cup all-purpose flour
½ teaspoon salt, divided
¼ teaspoon ground black pepper, divided
4 (4 ounces each) boneless, skinless chicken breasts, pounded to ¼-inch thickness
½ cup cherry preserves
2 tablespoons balsamic vinegar
2 tablespoons slivered almonds, toasted
In a large nonstick skillet, heat the margarine and oil over medium heat until margarine melts.
In a shallow dish or pie plate, combine the flour, ¼ teaspoon salt and 1/8 teaspoon black pepper. Dredge the chicken breasts in flour and sauté until golden brown on each side and cooked through, about 5 minutes on each side.
Remove the chicken to a serving platter and keep warm.
In a small saucepan, heat the cherry preserves and balsamic vinegar until warm. Season chicken breasts with remaining salt and pepper, top with cherry sauce and sprinkle with toasted almonds.
Nutrition per serving: 354 calories (25 percent from fat), 10 grams fat (1 gram sat. fat, 0 grams trans fat), 36 grams carbohydrates, 28 grams protein, 337 mg sodium, 72 mg cholesterol, 32 mg calcium, 1 gram fiber.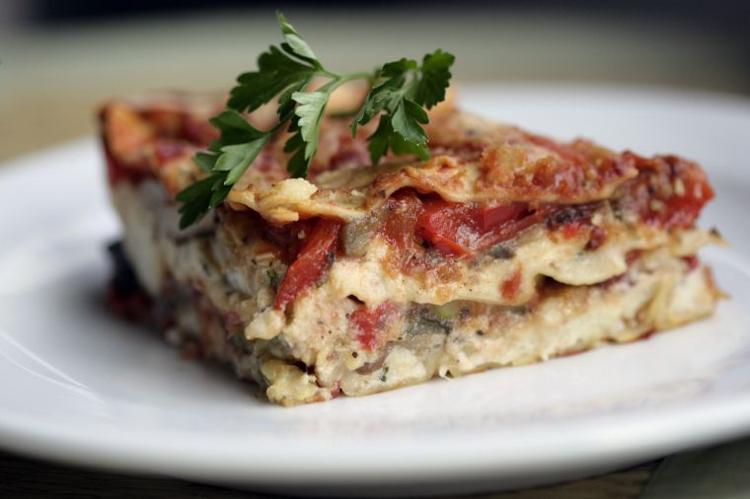 ROASTED VEGETABLE LASAGNA
Preparation time: 45 minutes
Total time: 1 hour, 30 minutes
Don't be discouraged by the long recipe. Once you prep all the ingredients and roast the vegetables, the lasagna goes together fairly quickly.
3 cups sliced zucchini
3 cups sliced mushrooms
3 cups eggplant, peeled and quartered
2 red peppers, seeded and sliced
5 tablespoons olive oil, divided
3 teaspoons dried oregano, divided
¾ teaspoon salt, divided
¾ teaspoon ground black pepper, divided
8 cups plum or Roma tomatoes, quartered
3 cloves garlic, peeled, sliced
½ teaspoon fennel seed
1/8 teaspoon red pepper flakes
2 teaspoons sugar
1 container (15 ounces) low-fat ricotta cheese
2 cups shredded mozzarella cheese
½ cup grated Parmesan cheese, divided
2 tablespoons fresh parsley, chopped
Nonstick cooking spray
9 no-boil lasagna noodles
Preheat the oven to 400 degrees. Have ready 2 large sided baking sheets, such as a jelly roll pan.
On one baking sheet place the zucchini, mushrooms, eggplant and red peppers. Drizzle with 3 tablespoons olive oil, 2 teaspoons oregano, ½ teaspoon salt and ¼ teaspoon black pepper and toss to coat.
On the other baking sheet, toss the tomato wedges with the remaining 2 tablespoons olive oil, garlic, remaining 1 teaspoon oregano, fennel seed, ¼ teaspoon black pepper and red pepper flakes.
Place both in the oven and roast uncovered for 15 minutes. Turn the vegetables over and bake an additional 15 to 20 minutes. Remove roasted vegetables and roasted tomatoes from oven.
Carefully place the tomatoes and all pan juices in a bowl and add the sugar and remaining ¼ teaspoon salt. Mash the tomatoes to create a sauce.
In a medium-size bowl, combine the ricotta cheese, mozzarella cheese, ¼ cup Parmesan cheese, parsley and remaining ¼ teaspoon black pepper; set aside.
Coat a 9-by-13-inch baking pan with nonstick cooking spray. To begin layering the lasagna, place about 1/3 cup of tomato sauce in the baking dish, spreading to cover the bottom of the dish. Top with 3 noodles, half the ricotta cheese mixture, half the roasted vegetable mixture and one-quarter of the tomato sauce. Begin again with 3 noodles, remaining cheese mixture, remaining roasted vegetables and remaining 3 noodles. Top noodles with remaining tomato sauce and a ¼ cup Parmesan cheese. Bake lasagna uncovered for 30 to 35 minutes or until edges are bubbly and the cheese topping is golden brown.
Nutrition per serving: 277 calories (42 percent from fat), 13 grams fat (5 grams sat. fat, 0 grams trans fat), 26 grams carbohydrates, 14 grams protein, 369 mg sodium, 25 mg cholesterol, 284 mg calcium, 4 grams fiber.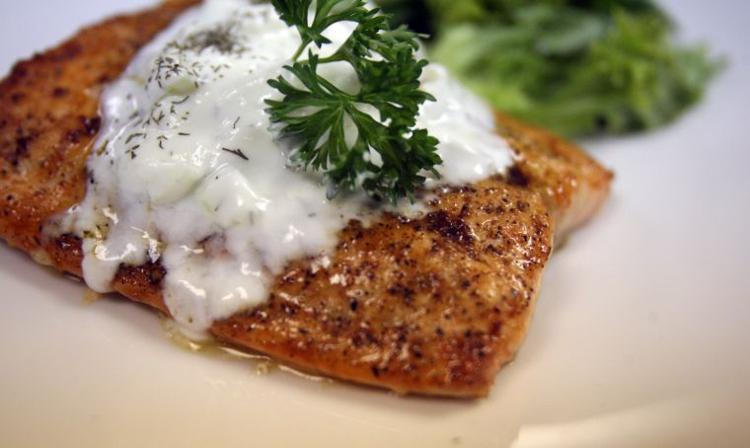 BROILED SALMON WITH YOGURT SAUCE
Preparation time: 10 minutes
4 small salmon fillets, about ¾-inch thick, with skin (about 1 pound)
2 tablespoons trans fat-free margarine, melted
¼ teaspoon salt
¼ teaspoon freshly ground black pepper
6 ounces fat-free, plain yogurt
3 tablespoons reduced-fat mayonnaise
1 teaspoon dried dill weed
1 teaspoon lemon zest
1 minced garlic clove
½ cup peeled, seeded and coarsely chopped cucumber
Set oven to broil. Spray a broiler pan. Place the salmon fillets on the broiler pan. Brush the salmon with the melted margarine and sprinkle with salt and pepper.
Broil fillets about 4 inches from the heat source for about 8 minutes or until cooked through.
To prepare the yogurt sauce: Mix the yogurt, mayonnaise, dill weed, lemon zest, garlic and cucumber together in a small bowl.
Remove salmon from broiler and top each salmon fillet with ¼ cup of yogurt sauce.
Nutrition per serving: 242 calories (48 percent from fat), 13 grams fat (2 grams sat. fat, 0 grams trans fat), 6 grams carbohydrates, 24 grams protein, 302 mg sodium, 64 mg cholesterol, 105 mg calcium, 1 gram fiber.