Jeri Wood Copperas Cove TX 254-501-7470 Coppers Cove Herald News
102 Cove Terrace Shopping Center
Copperas Cove
,
TX
76522
Last Updated: February 20, 2015
About Jeri Wood Copperas Cove TX 254-501-7470 Coppers Cove Herald News
Copperas Cove News and Events for the City of Copperas Cove, TX Lampassas Tx and Gatesville Tx. To report breaking news call 254-501-7470 to place ads call 254-501-7499 the cove herald prints every friday.
More About Jeri Wood Copperas Cove TX 254-501-7470 Coppers Cove Herald News
I am a wife and mother and relatively new to Copperas Cove. My husband is a retired sailor and moved us here to Texas so that I could be close to my family. In the 13 months I have been here, I have become quite enamored of our little city. It has its ups and downs like any other city but overall it has proven to be just what my family needed.
Shortly after I arrived in 2014, I started working for the Killeen Daily Herald in the Cove Herald office. My job has introduced me to some of the oldest residents of this wonderful town. I feel honored to work with and for the people of Copperas Cove. My job at the Herald is taking care of my fellow citizens and to let them know what is going on around the city.
Working on my new life here, I have also been on a quest to get healthier. One of my friends in Virginia introduced me to a company called ItWorks Global. I started using the products and last March decided to be a distributor. Most people know the company and distributors because of the "crazy wrap thing" we call the Ultimate Body Applicator, but ItWorks has a line of lifestyle products also. These supplements have changed my life. That is why I chose to sell these products.
My family is very active in our new city. My son is a student at Copperas Cove High School, a member of the Pride of Cove Marching Band and several other organizations within the school. He is also a boy scout in Troop 258. We are all members at Robertson Avenue Baptist church. My husband and I look forward to many happy years here in Copperas Cove.
Is this your business?
Promote your business through our innovative Marketplace system! It's free to sign up!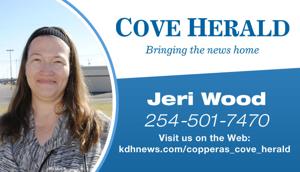 Brought to you by the Killeen Daily Herald