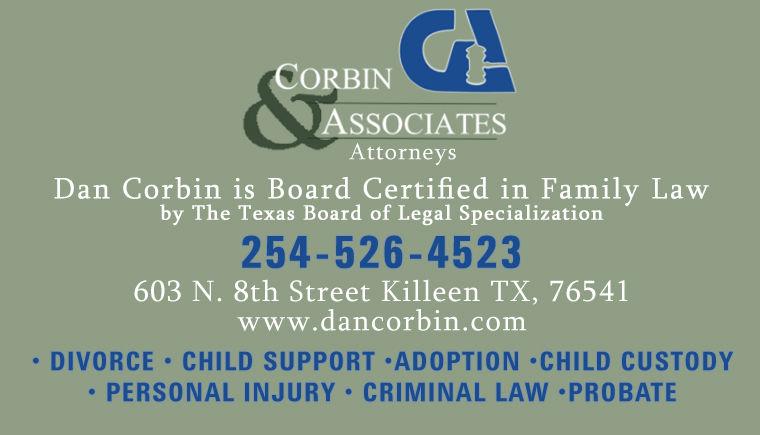 Personal injury – Family Law – Criminal Law – Probate and Civil Litigation
We represent clients in Killeen, Harker Heights, Copperas Cove, Lampasas and the greater Fort Hood, Texas area. Our offices serve all of Bell County, TX, Coryell County, TX, Lampasas County, TX and surrounding counties.
WE ARE A FULL SERVICE LAW FIRM
We have a team of attorneys and paralegals standing by ready to help you with all of your legal needs. Our firm consists of four attorneys, eight paralegals and all the support staff necessary to help you throughout the legal process. Corbin & Associates was established in 1983, and has assisted clients in various legal situations. We have the experience and professionalism you need standing next to you in the court room. At Corbin & Associates, we care, and we can help. Call today for a free initial consultation. Saturday appointments are also available.
Practicing Law Ethically and Effectively
Being an effective lawyer has nothing to do with bending the rules or abusing the system. Our clients want to be represented in defending their rights under the law without compromising their principles, and we have shared their honorable goals for more than 32 years.
From personal injury representation to family law, probate & civil litigation and criminal defense our goal is to help Texas state's injured people secure their home, family and future. Contact us today to put our three decades of experience to work for your injury case.
Many of our clients never expected to be in a position to have to make a injury-related claim. But, when you have to make decisions on protecting yourself, your home, your family and your future, meeting with our staff of local personal injury law experts to explore your rights and options is well advised, even if you may not need legal representation at this moment.
At Corbin & Associates we strive to exceed your expectations.
We return your calls
We take the time to understand your case
We are active in the community
We offer free initial consultations
We understand military law
Our goal is to help the injured, disabled or victimized across central Texas protect their future, whether it is collecting the compensation they need to function successfully or obtaining long term disability benefits. Our practice is focused on:
For more information regarding our areas of personal injury law practice, our approach to litigation or to discuss your legal matter, contact us today by phone at 254-526-4523
Corbin & Associate's legal team is dedicated in assisting the injured worker.
Killeen Personal Injury Lawyer
Residents across the state of Texas and throughout the greater Fort Hood area have successfully recovered compensation owed to them with our law firm. If you believe you are entitled to receive damages under the law from another person, a business or an insurance company and are met with resistance, Corbin & Associates will help you.
LAMPASAS, TX OFFICE
We maintain our office in Lampasas by appointment only.
1412 Live Oak St.
Lampasas, TX 76550
Phone: (254) 526-4523
Fax: (254) 526-6711
Email: legal@corbinlegalteam.com
Business ID: 1132579772 | Universal ID: 597b328b-650c-53a6-a493-68c14c234242
Testimonials

Jared G.
"The best family lawyers in the city so far. Me and my ex-wife didn't have any problems settling the terms and agreement. Everything went so smoothly. We're both very happy."