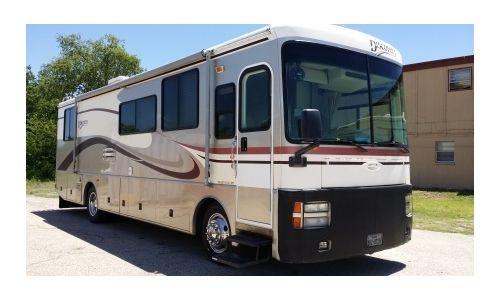 We are a family run business, with deep-rooted passions for the RV lifestyle and the adventures it brings. We love to share our stories and listen to the exciting new journeys of others.
The Owner: Joseph O'Rourke is a career military man who has served 16 Years in the United States Army and 4 years in United States Navy. During his Army career he served as a combat UH-60 Blackhawk Pilot, while deployed to harsh lands such as Iraq and Afghanistan the dream of RisingSunRV was born! His son Joseph decided to study business and took over the daily operations of the company. Joseph the II is a born leader with vision that mirrors that of the owner. Together this father/son team will see RisingSunRV grow to an empire within its industry. Along with two other young adults in the family, they too will see their place within the corporation. His daughter has been accepted to the University of San Antonio and will pursue law, while the youngest RisingSunRV member is seeking a basketball scholarship. Together, we are working very hard to satisfy our customers, bring them great units and build relations with our owners.
We wish to provide an outstanding RV experience for all of our clients and become a household name in Texas! Provide 5-star customer service, quality units, and memories that will last a lifetime!
Business ID: 4000052411 | Universal ID: 7fbff707-ea17-50a4-9a47-f5dc50978ca5
Testimonials

Joseph O'Rourke
RisingSunRV is the fastest growing RV rental company in Texas! We firmly believe in what we are doing and where we are going. Our mission is to be a household name in Texas! with locations throughout.
Mart, Tx
very smooth process. nice to rent from. will rent from them again until i buy 1 of my own. thanks again." – james
Dawn, Copperas Cove, TX
Though I was not able to use them for what I needed, they were very helpful and understanding. Rising Sun RV went out of their way to help me the best they could and even recommended another place of business to check out since they were unable to supply what I needed. I would recommend Rising Sun RV to others.
Eugene, Austin, TX
These guys are GREAT to work with. When I arrived the RV was clean and ready to go. Joe did an awesome job teaching me about the different aspects of the RV. I would rent from these folks again and I sure will tell ALL my friends.