Currently closed. Opens Monday at 8:00 AM.
1809 Florence Rd, Killeen, TX 76541
tel. 254-501-7483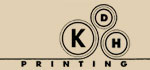 1 image
Here at KDH Printing we help people every day create beautiful products that promote their business at an affordable price. We look forward to hearing from you and working with you on all of your printing and marketing needs.