Lott Vernon & Company, P.C.
109 E Avenue B, Killeen, TX 76541
tel. 254-526-0571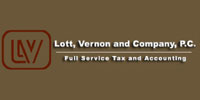 0 image
Welcome to Lott, Vernon and Company, P.C. We have provided services to the Central Texas area since 1954. Our philosophy of complete service focuses on the value that our clients receive from a thorough, high quality product provided in a timely manner. We believe we have the team in place to assist our clients to achieve success in their endeavors.