FORT HOOD — Stronger than the frigid air Saturday on post was the memory of a tragedy overseas one decade ago shared among dozens.
On Feb. 9, 2009, five lives were lost to a bomb blast from a van loaded with explosives in Mosul, Iraq. Their names are Lt. Col. Gary Derby, Sgt. Joshua Ward, Spc. Albert Jex, Pfc. Jonathan Roberge and an interpreter, Jevan Ali Othman.
The five men killed by a suicide bomber were honored by the 1st Cavalry Division at a memorial ceremony Saturday afternoon. Gold Star families, alongside current and former soldiers from 3rd Battalion, 8th Cavalry Regiment, 3rd Armored Brigade Combat Team "Greywolf," 1st Cavalry Division congregated at the 1st Cavalry Division Memorial on Cooper Field to pay respects on the 10th Anniversary of the tragedy. Derby was the battalion's commander when he was killed.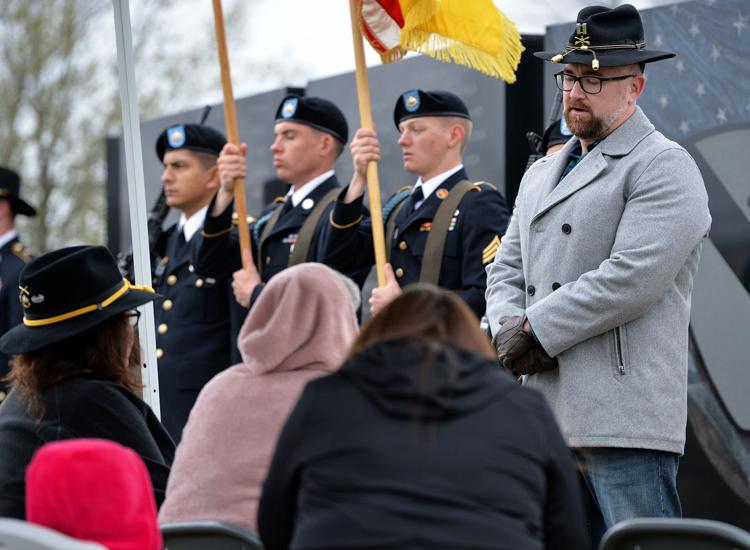 Former Capt. Jason Bates, who was the platoon leader for the security detachment at the time of the attack, helped organize the ceremony, in which veterans shared tributes of the soldiers lost on Feb. 9, 2009. Tales of their service painted a picture of brotherhood, both in the labor and leisure they shared.
Bates told those in attendance the memory the soldiers lost has never escaped him.
Bates gazed among his fellow brothers both in somber remembrance and playful joy as he recalled the soldiers and each of their quirks.
"I think everyday we stand in the shadow of what they gave and who they protected. They fought for brotherhood and they died for their brothers and they served their country. That's an example that I could never forget, and I hope to instill that into my three children as I raise them," Bates said. "I hope I can be a fraction of a man your men were for my wife and my children.
"I will be always grateful and always regretful."
Patti Ward, mother of Sgt. Joshua Ward, said though she still feels the same she did 10 years ago, the outpouring of support from those surrounding her is priceless. More than once, she was embraced by friends and family as she stood before a row of boots holding a rose for each life lost in Iraq that day.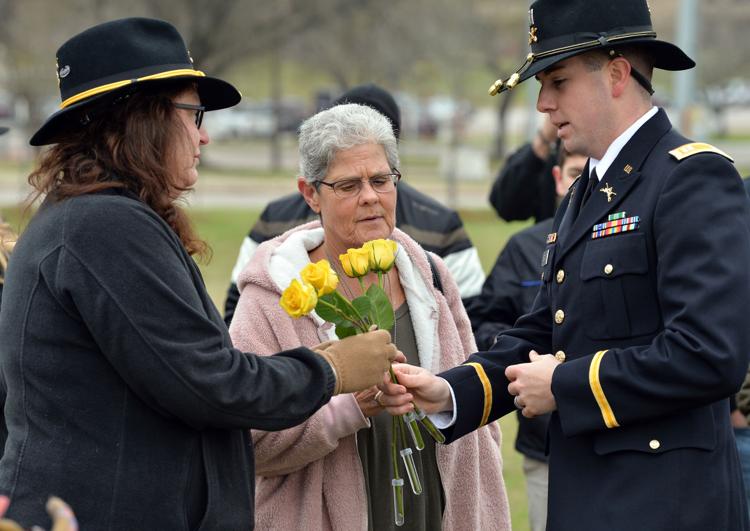 "It just means so much to me," Ward said.
Ward was joined by Cathleen MacFarlane, mother of Spc. Albert Jex, who likened her memories 10 years after the tragedy to a flesh wound on the mend.
"Memories are good and bad in some ways. A scab … if you pick at it, hurts again," MacFarlane said. "It's sort of like that when you bring up memories, but a lot of these guys I call my 'military sons,' they're so near to my heart."
Two of MacFarlane's military sons have named their children after her late son, she said.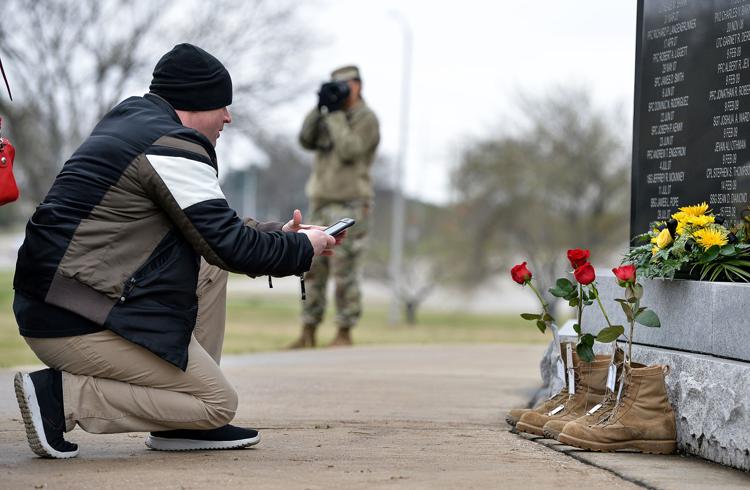 "It warms my heart they remember my son," MacFarlane said. "At times, as a parent growing up, you hope your kids do something great. Ten years later, my son is being remembered."