Brave Rifles officially home at Fort Hood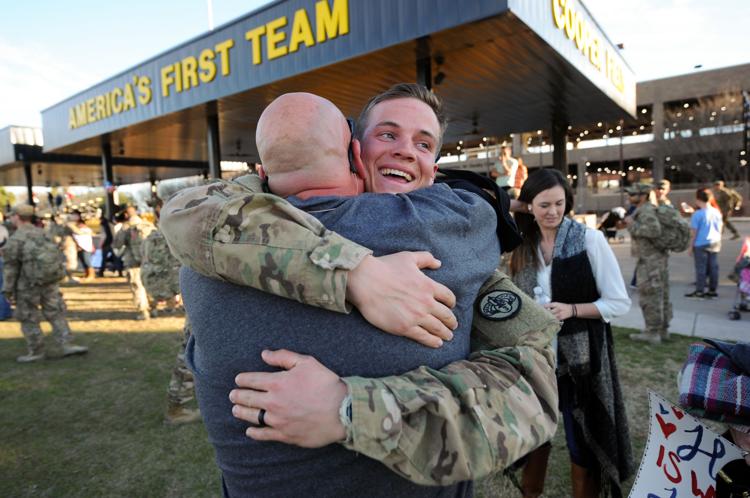 FORT HOOD — The 3rd Cavalry Regiment uncased the unit colors to signify the final troopers are home from a nine-month deployment to Afghanistan as the final 200 soldiers were welcomed home Thursday at Cooper Field.
The regiment deployed about 1,200 soldiers in late May and early June in support of Operation Freedom's Sentinel to train, advise and assist Afghanistan National Army forces in taking control of their nation. An additional 500 soldiers deployed in July.
The unit passed control of the mission to the 1st Brigade Combat Team, 1st Armored Division, from Fort Bliss.
Col. Robert Whittle, 1st Cavalry Division home station commander, welcomed the soldiers home before releasing them to their families.
"Col. (Kevin) Admiral, Command Sgt. Maj. (Bryan) Barker and the troops of the 3rd Cavalry Regiment deployed to Afghanistan nine months ago at the beginning of the fighting season," Whittle said. "They've done a phenomenal job of training, advising and assisting Afghan security forces across 14 provinces. To our magnificent Cav troopers, welcome home — we are incredibly proud of you."
Admiral, the regimental commander, said the troopers trained extensively for the mission prior to deployment, which contributed to their success.
"Across the board, we think the Afghan Security Forces have done a great job in helping improve security in the area and give citizens in the region the a chance at the life they deserve," Admiral said. "The soldiers did a great job and I'm very proud of them. It's a great honor to be the regimental commander."
The commander said he was happy to be home and planned on surprising his daughter at her basketball game later in the evening.
Regimental Chaplain Maj. Kevin Mucher was able to meet his wife, five sons — James, Bryan, Caleb, Liam and Samuel — and 5-week-old daughter, Willow, on the field.
"It's awesome to see the family here. This is our first girl, but I tell you, our boys have been phenomenal taking care of their mother and holding the fort down until we all came home," he said.
James, 12, the oldest of the boys, said he was glad his dad was home and he could give his dad back the "man of the house" duties.
"I'm so glad he's home finally — it's so exciting," he said. "It wasn't as hard (taking care of a new sister) because I have four younger brothers, but it was incredible having a baby sister finally."
Jennie Mucher was happy to have her husband home safely from his fourth deployment.
"He's been there for every other baby, so that's a blessing. In the Army, it's kind of expected," she said about having a baby while her husband was deployed. "He was able to remain on Facetime for the entire birth. The boys were a big help — I probably asked more of them than I should have, but that's what we do. We're family, and we help each other out."