Brave Rifles welcome home troopers from Afghanistan on Valentine's Day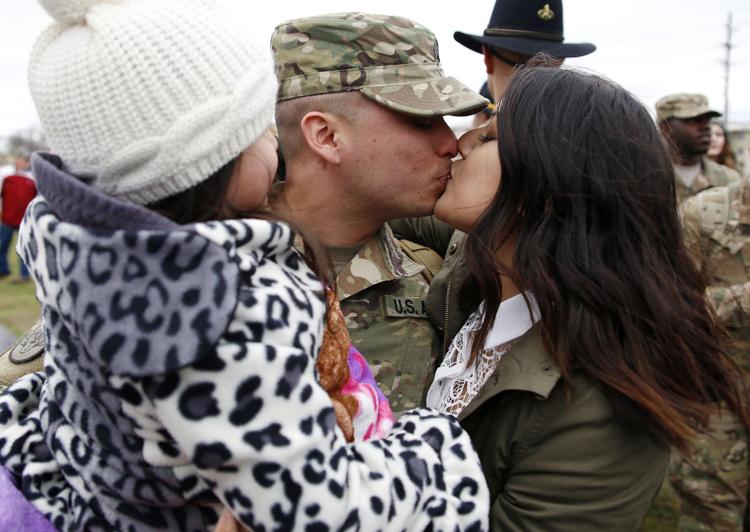 FORT HOOD — Family members of about 200 3rd Cavalry Regiment "Brave Rifles" troopers were in for a Valentine's Day treat Tuesday as the 1st Cavalry Division welcomed the soldiers home from a nine-month deployment to Afghanistan at Cooper Field.
Col. Robert Whittle, 1st Cavalry Division home station commander, gave a brief speech to the soldiers before releasing them to their families.
"To our Brave Rifles troopers, welcome home — we are incredibly proud of you," he said. "To the families, thank you — you make us 'Cav Strong.' To all, be safe and take care of each other. We need you."
The regiment deployed about 1,200 soldiers in late May and early June in support of Operation Freedom's Sentinel to train, advise and assist Afghanistan National Army forces in taking control of their nation. An additional 500 soldiers deployed in July.
The unit is passing control of the mission to the 1st Brigade Combat Team, 1st Armored Division, from Fort Bliss, and expects to have the final soldiers back at Fort Hood on Thursday.
Sgt. Ismael Robles III was met by his 4-year-old daughter, Isabella, girlfriend Samantha Garza and his parents.
"It feels amazing to be home," Robles said as he held his daughter. "The best thing about being home is family."
A grinning Isabella was enthusiastic about her daddy being home and told him she was going to "tie him to tree" to keep him from leaving again.
Did she miss him? "Uh-huh," said the girl.
Garza said it felt great to have Robles home.
"Him being away was the worst part. This was my first deployment," she said. "It takes a lot to get used to. I surprised him for Valentine's Day — I told him I wasn't coming!"
Robles' dad, Ismael Jr., was emotional at seeing his son come home safe from his third deployment.
"I worry about him all the time — we hear the news when the worst happens to others," he said. "This is my baby boy."