FORT HOOD – Retired Army Sgt. Daniel Cowart was awarded the Distinguished Service Cross, the nation's second highest award for valor, behind the Medal of Honor, during a ceremony on Cooper Field in front of the 1st Cavalry Division headquarters, during a ceremony on Wednesday attended by hundreds of people.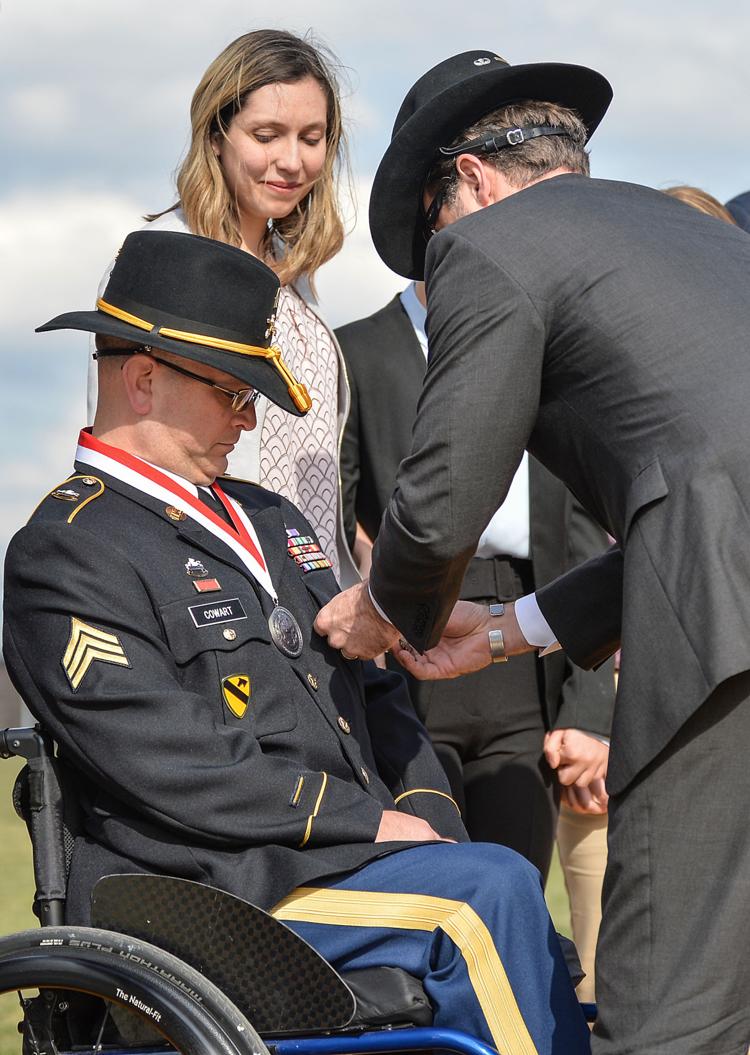 Cowart was on a combat patrol along a main supply route near Samarra, Iraq, with Delta Company, 3rd Battalion, 8th Cavalry Regiment, when his platoon stopped to conduct a traffic checkpoint on May 13, 2007. A vehicle approached the checkpoint and its occupants refused to exit, so Cowart and three soldiers dismounted their vehicle and took up positions to engage them, according to Army documents. An occupant exited the vehicle and began firing a rifle at two soldiers nearby. Cowart engaged the other occupant of the vehicle in hand-to-hand combat but was unaware that the occupant was an insurgent wearing a suicide vest. Cowart tackled the man which caused them both to be hurled away from the vehicle, but the insurgent was able to detonate the suicide vest, causing traumatic injuries to Cowart to include the loss of his leg, and killing the platoon leader, Lt. Andrew Bacevich Jr.
Cowart's actions prevented any additional loss or injury to the other soldiers and civilians in the vicinity, according to Army leaders.
"It is because of men and women like (Cowart) that our nation exists and thrives as a free land," said Lt. Gen. Paul E. Funk Jr., commander of III Corps and Fort Hood. "Our country gives special order to these soldiers for going above and beyond the call of duty."
"It's overwhelming, I'm blessed and amazed that all my friends and family, and all my Army buddies are here to share this with me today because it's really not all about me," Cowart said. "I'll be honest, I don't feel like I deserve it, I feel blessed that I'm here to accept it, and that my friends and family are here with me."
Cowart was originally awarded a Silver Star in 2008 for his actions, but his award was upgraded following a review of military awards that was ordered by the then Secretary of Defense Ash Carter.
Cowart, originally from Orangefield in southeast Texas, now resides with his family in Santa Fe near Houston. He medically retired from the Army following the combat injury.