Fort Hood deploying 4,000 soldiers to Kuwait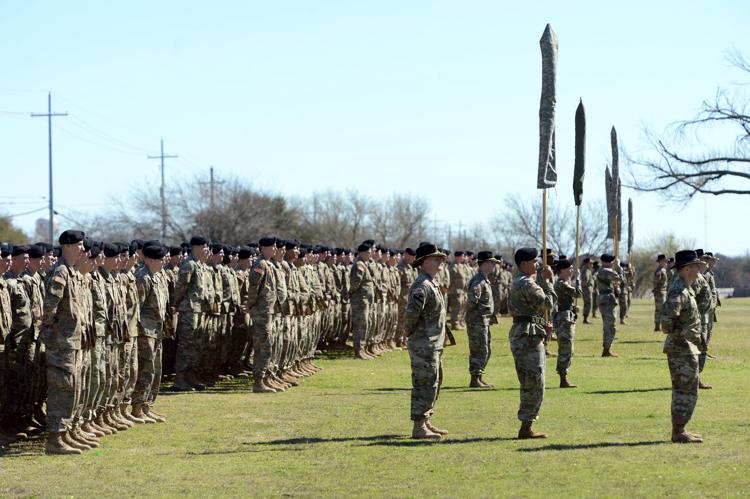 FORT HOOD — The 3rd Brigade Combat Team, 1st Cavalry Division, officially cased the unit colors Thursday during a deployment ceremony on Cooper Field.
Casing the colors signifies the unit is no longer active at its current location. The "Greywolf" Brigade is deploying approximately 4,000 soldiers to Kuwait for a nine-month deployment in support of Operation Spartan Shield to support regional partners with operational missions, bilateral, multilateral military exercises and theater security cooperation activities in the Central Command, also known as Centcom, area of responsibility, which covers the Middle East.
The brigade is scheduled to replace the 3rd Brigade Combat Team, 1st Armored Division.
"The brigade has had a rigorous train-up for nine to 10 months preparing for this missions," said Col. John Woodward, brigade commander. "They are absolutely ready to deploy in support of the Centcom commander and the entire Centcom area of operations."
Woodward said the brigade will fulfill the role of the Centcom commander's theater reserve, which consists of multiple missions but will primarily serve the purpose of reassuring allies of U.S. commitment to the region. The brigade will also deter adversaries from negatively influencing the region.
"They are absolutely ready — we're ready to go now," Woodward said. "The hardest part of leaving is obviously leaving your families behind, but we'll be there with our second families. We're a tight-knit group."
Col. Robert Whittle, 1st Cavalry Division home station commander, said the weather was perfect for sending off the Greywolf soldiers.
"The colors on the field today provide a good visual of the 1st Cavalry Division," Whittle said. "The division colors, along with those of its sustainment brigade, are cased here on the field in front of us but they fly proudly in Afghanistan today. Now we just witnessed Col. Woodward and Command Sgt. Maj. (Alfred) Ronneburg case their colors, the colors of the 3rd Brigade Combat Team. Greywolf has undergone a rigorous training program in preparation for deployment. They are ready to deploy, fight and win."
Prior to the color casing, the division also honored eight retirees who represented more than 200 years of honorable service to the nation. The honored retirees were Lt. Col. Michael Goudeau, Maj. John Miller, Command Sgt. Maj. Christopher Riley, 1st Sgt. Michael Fuller, Sgt. 1st Class Jamie Slagle, Staff Sgt. Paul Menz, Staff Sgt. Brian Moore and Staff Sgt. Deforest Robinson.