FORT HOOD — Fort Hood hosted a memorial and dedication ceremony for the Gen. Richard Cavazos Mission Training Complex, Building 2244, on Thursday.
A sign bearing the name of retired Army Gen. Richard E. Cavazos and a street sign named Spearhead, were unveiled during the ceremony. Cavazos was a former III Corps commander, and the first Hispanic four-star general in the U.S. Army. Cavazos earned two Distinguished Service Crosses during the Korean and Vietnam Wars. He passed away in 2017.
His son, Thomas Cavazos, and retired Lt. Gen. Paul E. Funk Sr., a former colleague of Gen. Cavazos spoke during the ceremony.
"Today we got together with old friends and dedicated a training center here at Fort Hood to him," Thomas Cavazos said. "(Training) was always very important to my father and it's very appropriate to put his name on this to remind everybody where his emphasis was during his career."
Thomas Cavazos said being at the ceremony and hearing feedback and love from the community was very touching.
"He was a soldier and was always ready to get down in the most austere conditions and the key was to always be prepared and learn how to learn and learn how to teach," Thomas Cavazos said.
The younger Cavazos said his father spoke of his tenure at Fort Hood and said he had fond memories and love for his soldiers and always had their welfare on his mind.
Funk said he wanted to emphasize the humanness and dedication of Richard Cavazos.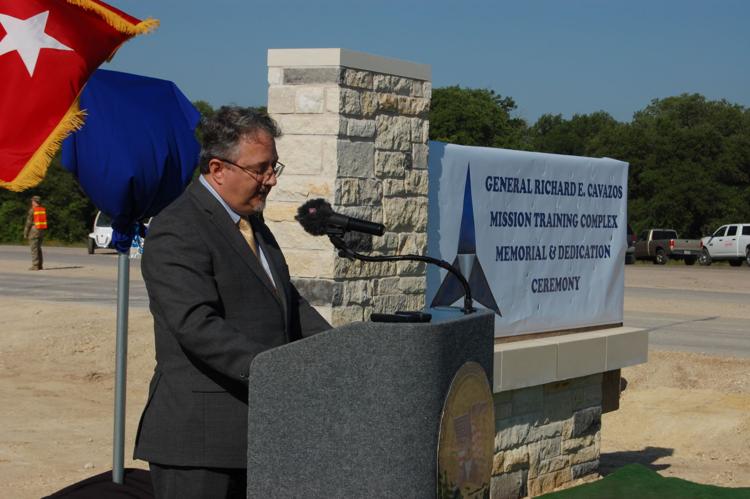 "The most admired soldier of my time in the Army was Gen. Dick Cavazos," Funk said. "He made us laugh, he made us cry, he made us care, and above all, he made us want to be better at being soldiers in the U.S. Army."
Funk said Richard Cavazos was one of the few people he has met that is even better than his reputation that proceeded him and would instruct today's soldiers using the facility named after him, to remain tenacious.
"Most important thing is tenacity, never give up, and that's what he would tell soldiers today," Funk said.
The contractors MW Builders, from Temple, began construction on the $63 million facility near Murphy Road and 62nd Street in November, and estimates the facility will open during late summer 2020. The training complex will support soldiers through collective, simulation-driven mission command training for III Corps and Fort Hood units.