Funeral attendance shows power of social media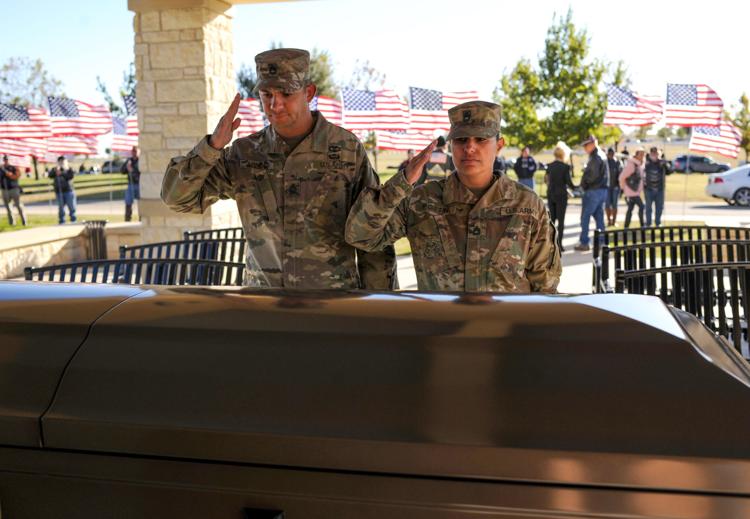 In 2003, social media was used to organize what would become known as "flash mobs" — instantaneous gatherings often organized by teenagers and young adults for entertainment.
On Wednesday, however, the power of social media to organize meaningful events was apparent as more than 250 residents from the Killeen-Fort Hood area gathered at the Central Texas State Veterans Cemetery in Killeen to pay their final respects to Galen Bruce Pearson.
Pearson was an Army veteran who served his nation for 23 years and retired to Harker Heights. He was 61 when he died and had no known family or friends available to arrange his burial.
Thanks to Facebook and similar social media sites, the word quickly passed around the nation that a lone veteran needed his extended family to provide his military honors at his funeral. By the time of the funeral, the Daily Herald's Facebook posting had been shared about 370 times and was seen by more than 26,000 people.
"Believe it or not, my nephew, who is in the Navy in California, sent me the link on Facebook yesterday," said Michael Morin, a Copperas Cove resident and Army veteran. "He said through Facebook, 'Uncle Mike, you need to go.' Roger that, I'm here. The word gets out. A lot of people know about this."
The funeral was the first unaccompanied veteran funeral Morin had attended, but he said it would not be his last.
"I'm trying to not get emotional," he said.
Dozens of active-duty service members attended in uniform, including Fort Hood soldiers, several airmen and a Marine in dress uniform.
"No soldier, no person — but especially a soldier who served this county — should be buried alone," said Sgt. 1st Class Sean Arnold with Fort Hood's 1st Medical Brigade. "This is never about 'I' or 'me,' it's about 'us.' It's bigger than the organization. It's about the brotherhood and sisterhood we have with one another."
Arnold and fellow 1st Medical Brigade soldier Sgt. 1st Class Margaret Pottin found out about the event from Frank Cash, the Fort Hood chapter captain of 22 Until None — a local organization trying to fight against active-duty and veteran suicides — who also learned of the funeral through Facebook.
"This is the first (unaccompanied veteran funeral) I've been to. When Frank asked us to come out and be a part of this, I thought it was a great invitation," Pottin said. "We're brothers and sisters — we may not be blood-related, but we're family. This makes me feel proud to be a soldier, knowing that I'll never be left alone. Even if all my family members have gone and passed and I've outlived everyone, I know I'll always have someone by my side."
MORE: 'We leave no man behind'