Texas legislators learn how to 'soldier' at Fort Hood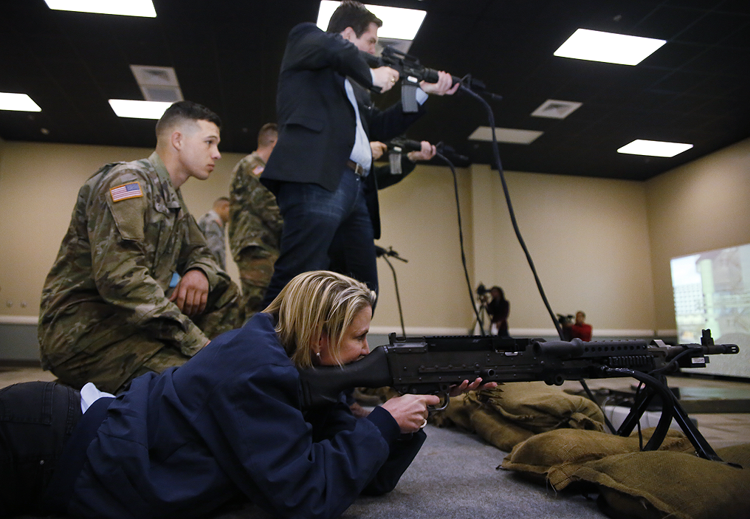 FORT HOOD — More than a dozen new members of the Texas state Senate and state House toured Fort Hood to get a firsthand look at what it's like to be a soldier Friday during the post's Texas Legislative Day.
The event was a daylong opportunity for Texas government officials to see the training areas at the Army post and to interact with soldiers preparing for combat.
"This is an outstanding opportunity for us to be able to come out to Fort Hood, The Great Place, and see what soldiers do day in and day out as they are preparing and training to go into battle," said Texas House District 24 Rep. Scott Cosper, R-Killeen. "It gives us a glimpse of what it's like to be a soldier. It's also an opportunity to see how big Fort Hood is and what the many moving parts are — from the motor pools, the training areas to the command post."
Cosper said that, because less than 1 percent of the nation has served in the military, the opportunity to learn what soldiers do gives legislators and their staff members the chance to see first-hand what it takes to make a soldier ready for combat.
"It's good for us to understand the importance of providing the support they need to come out and do their jobs," he said.
Newly elected District 24 state Sen. Dawn Buckingham, R-Lakeway, said the tour really gave the legislators a greater appreciation of just how big the military installation is.
"Not just the biggest post in the free world, but (it provides) over a $35 billion impact to the state," she said. "Our message to the rest of the Legislature is clear: Fort Hood is important. We need to take care of its needs."
The tour was Buckingham's first, so the chance to jump in a tank, get in a helicopter and shoot a machine gun really made her day, she said.
Her district includes Fort Hood.
"I'm a gun girl, since I grew up shooting guns," Buckingham said. "So I just walked up and said 'dibs' on the biggest one."
Coming Wednesday: Read more about the legislators' tour in the Fort Hood Herald.