A man charged with the unauthorized use of a vehicle in Killeen was arraigned by Justice of the Peace Claudia Brown Thursday.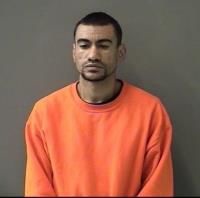 Jesus Dominguez Diaz, 35, was arrested on Jan. 30, after police pulled him over while he was driving a car that was reported stolen, according to an affidavit for arrest. 
Police met with a woman on Monday who said that she left her car in front of a home in Killeen, and when she returned later, the car was gone. The woman told police that no one had permission to use the car.
While interviewed, Diaz said that he received the keys to the car from the owner's son, police said. Officers knew that couldn't be true, because her son was arrested when the car was left in front of the home, according to the affidavit.
Police said that Diaz later told police he received the keys from the owner of the home in which the car was parked in front of, and did not have permission to use it.
Diaz was held in the Bell County Jail on $50,000 bond as of 5:20 p.m. Thursday.
In an unrelated case, Anthony Devin Cooley was arraigned on a charge of forgery by passing. Cooley, who is listed as a Converse resident, is in the Bell County Jail on a $50,000 bond.