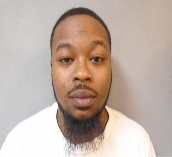 Harker Heights police have arrested someone in connection to a fatal Feb. 10 shooting.
Parish Dionte Young, 25, of Killeen turned himself into police around 8:30 a.m. today. He was arraigned by Justice of the Peace Bill Cooke on a charge of murder. His bond has been set at $1 million.
On Feb. 10, police found a man laying in the middle of West Beeline Lane not breathing with a gunshot wound in his neck, according to a news release. Officers began CPR, but quickly realized that he had multiple gunshot wounds, police said. The man died on scene.
HHPD identified the victim of the shooting as Larry James Sterling, a 35-year-old man from Killeen, according to a news release. Sterling's girlfriend told police that he went out with a friend to shoot some pool. She called him at 2 a.m., and told police that Sterling sounded angry on the phone. That was the last time she spoke to him, according to an affidavit for arrest.
The friend that was with Sterling that night told police that the two of them had been together at several different clubs throughout the night before they were kicked out of R&B Karaoke in Killeen. Sterling and Young were riding in a car together when they began to argue, according to the affidavit. Sterling punched Young while they were both in the car, then once more through an open car window after he got out of the car, police said.
After he punched Young a second time, Young shot him through the rolled down car window, police said. Young then pointed the gun at the driver of the car, and demanded that he drive away, police said.