The man who police said stole a U-Haul and crashed it next to a bridge on U.S. Highway 190/Interstate 14 in Nolanville has been identified as Charles Kristopher Smith.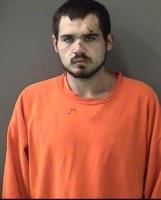 Smith, 25, was in the Bell County Jail as of 9 a.m. Tuesday, held on a charge of fleeing the scene of an accident. His bond is $1,500. He has listed addresses in Harker Heights and Killeen, according to Nolanville Police Chief Dan Porter, and is listed on the jail roster as a Temple resident.
He will be arraigned on a charge of auto vehicle theft as well, according to Porter.
The Nolanville Police Department learned about a U-Haul truck driving erratically from Belton about 6:45 a.m. on March 9, Porter said.
As the vehicle crossed Nolan Creek near Nolanville, it hit a guard rail and lost control. Then, it crashed into the median and started flipping over before continuing into a culvert of Nolan Creek. Smith fled the scene, and was later found at a gas station on South Main Street near U.S. 190, said Nolanville Police Chief Dan Porter.
Two bloodhounds from the Bell County Sheriff's Department assisted in the search.
Nolanville Police reached out to the U-Haul company and learned the vehicle had been returned by the renters Thursday evening at approximately 7 p.m. to a location in Temple, Porter said. It was stolen at some point overnight.
The Temple Police Department received a call at 9:01 a.m. Friday that reported two vehicles and a drop box with keys were stolen from U-Haul Moving & Storage of South Temple, 215 SW HK Dodgen Loop. The caller said a cargo van and a 15-foot box truck were missing, Ellen Morton, Temple Police spokeswoman, said.
Porter said a fireman who responded to the scene said the U-Haul truck's cargo area was empty. The chief said officials, including multiple tow trucks, cleared the scene, and other than about a "quart of transmission fluid," there is no environmental damage to the water in the culvert and adjacent Nolan Creek.