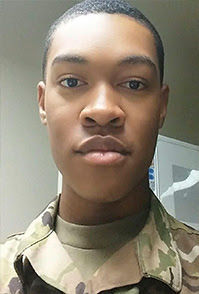 It has been eight months since the body of Fort Hood soldier Justin Lewis was found in an abandoned lot in downtown Killeen. The mystery of what happened still weighs heavy on an Army friend of his.
Logan Duty met Lewis at Fort Benning in Georgia. Though they were both from North Carolina and grew up in towns just a few hours apart, he "couldn't tell him from Adam." That changed one day when Duty was doing a detail during basic.
"I was having a rough day," Duty said in a phone call last week. "He came up to me and busted my chops. 'Are you having some fun in the sun? Did you find the drill sergeant's favorite rock in a gravel pit?'"
The two became close by going to church services together, and hanging out in their downtime. It had been awhile since Duty and Lewis last talked; when Duty learned of his friend's death, he was shocked.
Lewis was found dead by police in an empty lot in the 700 block of West Avenue C about 11:20 p.m. on April 17. Police were sent to the area in reference to a shots-fired call. Justice of the Peace Bill Cooke pronounced Lewis dead at 12:34 a.m.
Police did not have any updates in the case as of Wednesday, according to Killeen police spokeswoman Ofelia Miramontez.
For Duty, one of the biggest tragedies was that Lewis never got the chance to be deployed. Duty has a long lineage of family members who served in the military and says dying in combat is just a way of life. It pains him to see a good friend fail to get the chance to fight for his country.
"He was just gunned down in the middle of the night, and no one's able to find out why," Duty said. "If I was there, and I was one of the detectives, I wouldn't rest until I figured out why. ... (Lewis) wanted to help others, willing to lay his life down defending someone, I haven't met anyone who was dedicated to serving like him."