Killeen school officials look to staff, student and community input for suggestions on new high school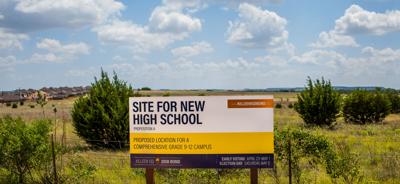 The Killeen Independent School District Board of Trustees approved a contract with PBK Architects, Inc. at its meeting Tuesday for construction of a new high school and will break ground on the new building in summer of 2019.
In the meantime, district officials said they will be working on the academic program planning of the $171 million campus and seeking input from the community, with the ultimate goal to design the campus around the programs.
When built, it will be Killeen ISD's fifth traditional high school; however, school officials are calling it "High School No. 6" because they are also counting KISD's Early College High School, which is housed in a former middle school at Fort Hood.
"Ideally that's what's so exciting about this project is you've got a blank campus and you're designing the building to accommodate the academic program planning," said Superintendent John Craft. "We really haven't been in this type of a position in quite some time. It's typically been let's take a program and try to make it fit into an existing facility."
Craft said it's too early in the process to predict exactly what elements will be at the new school and that the district will be starting a series of meetings with teachers, counselors and students to discuss the potential academic program.
District officials will also be calling upon the local community for input.
"It's pretty wide open with the caveat that we've got to create a facility and an environment that can accommodate future growth," Craft said.
Building a Solution to Overcrowding
District officials said one of the most important elements of the new high school will be the alleviation of overcrowding that has long plagued KISD.
"The alleviation of overcrowding is the big first thing. When we open that new high school, that eliminates overcrowding at the other high schools, that's huge," Chief Communications Officer Terry Abbott said.
The new high school campus will be 400,000 square feet and is projected to hold 2,500 students.
Harker Heights High School currently has the largest student enrollment, with 2,379 projected for the 2018-2019 school year, including Early College High School and Career Center students.
"When we open the new school in 2022, high school attendance boundaries will be rezoned," Abbott said.
"Killeen High School, by design, we're hoping will be redrawn to be our largest high school. We're doing this because what we're seeing at Killeen High School is a very slow decrease in annual student enrollment numbers," Craft said.
Craft said the district will try to bring the four main high schools: Killeen, Ellison, Harker Heights and Shoemaker, back to within their building capacity and that the new high school, slated for construction on Chaparral Road in the southern part of Killeen, will be opened at 55 to 60 percent capacity to allow for potential growth.
"If we were not able to build the new high school, we project that by 2022, the schools would have been overcrowded by several hundred more students," Abbott said.
Voters approved the money for the new school and renovations during a bond election in May.
KISD has seen an enrollment growth of 7,520 students since the last bond was levied in the 2007-2008 school year and the district projects an increase of 4,637 students in the next 10 years.
"Our only real option would have been to continue to house students in portables," Abbott said.
KISD currently has 232 portable buildings and a total of 290 portable classrooms.
"We anticipate we will alleviate the need for portable buildings at all of high schools, that's our goal," Craft said.
District officials said the removal of portables will also inherently increase campus safety by bringing students back into the main buildings of campuses.
Abbott said trailers are less secure than permanent buildings because they are outside the protective envelope of the main building, and can be accessed by doors directly into the classrooms.
"The impact, other than the provision of space, will be that it will make our campuses much safer," Craft said.
The district is also planning on potential security measures at the new campus to include scannable identification badges for students, among other technology features.
STEM and other technology in the design plans
The new school will likely include a science, technology, engineering and mathematics, or STEM, academy, a school within a school, according to Craft.
"We anticipate that we will need this campus as part of our programs of choice to accommodate the ninth- and 10th-grade STEM programming, that will allow the students to go ahead and transition to Central Texas College for 11th and 12th grade," Craft said. "It also keeps in line with our programs of choice that we already have at our high school campuses."
Craft said Shoemaker High School houses KISD's existing STEM academy, but that the district will be expanding the program as a result of demand.
He said district officials are also considering the addition of arts at the new high school.
"One of the things that we will be exploring and talking about is including arts, creating a STEAM program," Craft said.
Craft said the campus will be a state-of-the-art, wireless facility featuring the most updated technology possible.
"In fact, we're even a little bit early in starting to spec it out simply because we're four years out and we know technology is likely to change," Craft said.
He said the physical design of the campus will be similar to the aesthetics at Smith Middle School.
"It's got a Southwest type of tone, with some natural rock and brick and fascia," Craft said. "Of course, we're going to try to go very efficient with greenery and flexible, useable common spaces, durable surfaces like solid vinyl tile which should not require wax."
The district is still evaluating the necessity of traditional lockers but is currently projecting that they will not be included, Craft said.
Bond voters' input welcomed
The facility will be the first full high school the district has built in 20 years and is among several construction projects that KISD will be funding through the $426 million dollar bond approved by voters.
Proposition A of the two-part bond, for $235 million, will pay for construction of the new high school, an elementary school and renovations to existing schools for ADA compliance and security upgrades.
Proposition B, for $191 million, will pay for consolidation of some schools, as well as renovation of Killeen High School and other campuses.
At a meeting last week, the school board approved contracts for those projects with PBK Architects Inc. for fees of $8,024,000 (for the new high school) and $3,540,000 (for the $75 million renovation of Killeen High School.)
The district welcomes feedback and will be creating forum space online for the community to get involved, as well as to receive information about all the bond projects, Craft said.
"Just these kinds of conversations, the culmination of information and the design for the high school, it will be the full academic year because we want to make sure we're doing it right," Craft said of the interim year before construction begins. "Those details will be hashed out through the conversations that we're engaging with our community and our district, to include students, in the coming days."