KISD cameras to be turned on Monday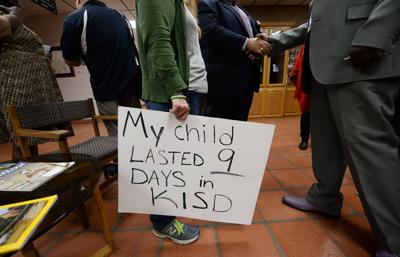 Six local special education families have been waiting more than three months for classroom camera monitors to be purchased, approved, installed and turned on.
On Monday, the audiovisual monitors will be operating in the classrooms that had installation requests, according to Killeen Independent School District officials.
The monitors were installed on Nov. 11 but were not activated, according to KISD officials.
The state law requiring school districts to place cameras in special education classrooms upon request became effective in August. Since then, six KISD families filed requests to have monitors placed in their special education students' classrooms to protect the students from possible abuse or harassment. Two of the six students are in the same classroom.
The bill applies only to students who attend special education classes for more than 50 percent of their academic day and have more than 50 percent of their curriculum taught in the same classroom by the same teacher.
KISD delayed getting parents the proper paperwork to fill out pending approval of the school board's policy and procedures on the issue. The board approved the policy in October. The district then created a form necessary for an official request. The district didn't provide a number of official requests fulfilled, or say why they would not be activated until Nov. 28.
On Nov. 7, notice of the camera requests were sent to all students in the five classrooms to inform other students of the new monitors being requested. Last week, each student in the five special education classrooms received a five-day notice informing their parents that monitors have been installed and will begin use on Monday.
In the Self-Contained Classroom Video/Audio Request Form, KISD explains how parents can request to review recorded content if they believe an incident has occurred in class.
"A person may notify the District of an alleged incident occurring in a self-contained classroom or other special education setting where video/audio surveillance is in effect by completing an Incident Report form and providing it to the campus principal. The Incident Report form may be obtained from the 'Students and Parents Resource' tab of the Killeen Independent School District website. The person making the Incident Report should be as specific as possible regarding the date, time, and location of the suspected incident, should include any witnesses, and should describe the suspected incident as clearly as possible. The Incident Report should be provided to the campus principal as soon as possible preferably no later than 2 business days after the reporter becomes aware of a suspected incident."
Angela Garvin's family was one of the families requesting the cameras.
Garvin first felt the need to request cameras in her son's classroom December 2015.
Garvin's son has global developmental delays, seizure disorder, hypotonia, chromosome abnormality and cerebral palsy. Garvin said she and her family moved to Killeen after being awarded a free house from the Military Warrior Support Foundation in November 2015.
After her son spent only nine days in a KISD classroom, Garvin withdrew him from the district in December 2015. According to Garvin, her son became extremely sad, depressed and refused to go to school. Previously, her son typically had been a very happy child who loved school.
"He's so happy, and it was a fight to get him out the door to go to school," Garvin said.
Garvin and her husband were not allowed to sit in their son's class, they were not allowed to walk their son on campus. Garvin then felt this became a growing issue.
"My son is nonverbal and has to use communication cards, but when I asked recreational aides and my son's teacher about whether they were using them, they told me they were unaware that my son had been bringing them to school to be used." Garvin said.
The communication cards used by Garvin's son are called the Picture Exchange Communication System.
Garvin's son attended private school for the remainder of the 2015-2016 school year. Garvin said she made numerous attempts to speak with KISD officials about her past experiences in KISD with the hope of enrolling her son in KISD again for the 2016-2017 school year — as long as necessary changes were made.
"If monitors are placed in my son's classroom, I believe the current issues would become nonexistent," Garvin said.
According to Garvin, she attempted to set up a formal meeting with KISD officials during the spring of 2016 about her issues with her son's first experience in the district, and she was forced to wait nearly seven months before hearing back from the district.
Garvin's son moved from his school in Killeen and now attends Cavazos Elementary in Nolanville, where camera monitoring is to begin Monday.
KISD had a number of issues stemming from parent concerns that were not immediately addressed.
A previous Herald report noted that KISD's special education problems were uncovered in March 2015 by the Texas Education Agency. The agency investigated the district's special education department and found services for special education students had been delayed over the past seven years and that kept students from getting the proper services and appropriate education.
The findings were made public at a KISD board workshop in July 2015.
In May 2015, Laura Thomas, a Killeen special education mom, placed a recorder in her son's backpack after having concerns her son was being mistreated. When she was able to listen to the tape, she said, she heard a teacher and two aides angrily interrogating another child.