KISD says ignore 'lunch shaming' email sent to Clear Creek parents
An email from Clear Creek Elementary School at Fort Hood this week told parents to pay school lunch bills so their children's lunch trays wouldn't be pulled, but Killeen Independent School District officials said Thursday that email should be disregarded.
"Students are embarrassed when their trays are pulled. Please do not let this happen to your child," according to the email from Clear Creek, which was sent to local media, including the Herald, on Tuesday night.
After complaints from parents and questions from the media, Killeen ISD released the following statement Wednesday morning from district Superintendent John Craft: "Neither the District nor Clear Creek Elementary School have plans to implement a 'lunch shaming' policy. Furthermore, the previous correspondence pertaining to such a plan should be disregarded. Parents are being provided further clarification immediately. The District has plans and procedures in place to ensure all students receive nutritious meals on a daily basis."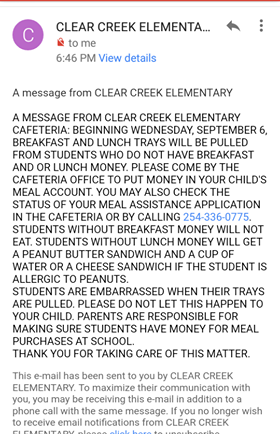 Those "plans and procedures" were stated in a statement released to parents Wednesday. The district said students would be able to charge two meals at their normal eligibility rate. If students do not have enough money left to cover their next meal, the current KISD policy for providing a meal would go into effect. Students who have delinquent accounts may be provided an "alternate" lunch of a peanut butter and jelly sandwich or a cheese sandwich (depending on food allergies) and a cup of water.
The district said school staff and the district would make every effort to notify parents of students with negative account balances, but did not specify the timeframe of when notifications would be attempted. The district said telephone calls, e-mails, daily notes for elementary students, the online Blackboard program and Paypams would be used to notify parents.
NEW STATE LAW
In June, Gov. Greg Abbott signed Senate Bill 1566, which includes a measure to help stymie the practice of lunch shaming by creating a grace period which would allow students to continue eating their normal lunch while the parents put more money into the child's account. The grace period is undefined in SB 1566 and is meant to be set individually by each school district.
The policy says schools "must allow a student whose meal card or account balance is exhausted or insufficient to continue, for a period determined by the board, to purchase meals" until the end of the grace period, during which the parent must be notified that the student's account balance is empty.
The school's statement does not mention a grace period, only saying food trays will start being pulled today if a student's account is empty and reminding parents to put money in the account.
The Herald reached out to KISD with several questions relating to statements issued by the district:
• Has a student already had their lunch pulled this early into the school year?
• Is this happening at any other schools in the district?
• Is this a new policy, or has this been the policy for several years?
• Under Senate Bill 1566, there is supposed to be a grace period in which students are still allowed to receive lunches while the parents put more money into their child's account. Does Clear Creek allow for a grace period? If so, how long is it?
The district did not respond to the questions by press time.