BELTON — When 366 students walked into the Bell County Expo Center on Friday evening, they made history as the largest graduating class in the history of Texas A&M University-Central Texas.
The graduating Warriors followed Dr. Austin Vasek, assistant professor of educational leadership, who carried a very large and impressive sword before them.
Vasek held the sword high until the last graduate had taken her place.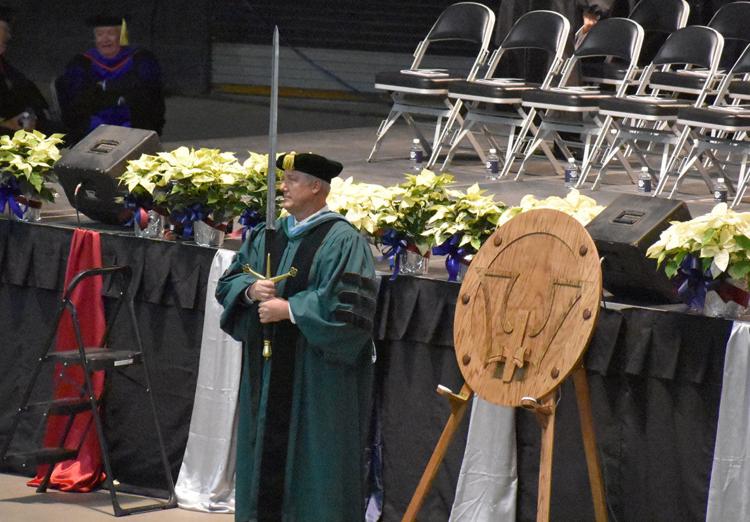 Among those graduates was Krystal Marcotte, who saw this graduation as the culmination of a dream. Her mortarboard reflected that sentiment, decorated as were those of some fellow education majors.
Two of that group already have jobs in their chosen field. Audra Pittman will teach at Raye-Allen Elementary, and Joy Shields will teach at Cater Elementary, both in the Temple Independent School District.
Graduate Frantz Gourgue, originally from Haiti, covered all his bases for whatever the future might bring. He earned a bachelor's degree in liberal studies, focusing on mathematics and criminal justice.
"I wanted to be a math teacher," Gourgue said. "The math major took too long." So, next month, he'll start with Region 12 and, by August, be teaching in a classroom.
"Just in case I'm needed, I have the criminal justice background," Gourgue added. He also tutors in Spanish and French, for a well-rounded set of skills.
Nearly a dozen of graduate Bill Alexander's family attended the ceremony to support him.
"He's been working on this, on and off, from war zones for most of his life," said his sister, Terry-Gene Elliott.
Alexander, 61, an Army retiree, served in Korea, Operation Desert Storm, Afghanistan and other deployments, according to his other sister present, Sherry Layman. "We're very proud of him."
During the graduation exercises, Mark Stone, chief information officer for the Texas A&M University system, acted as representative of the university's chancellor in College Station to confer upon A&M-Central Texas' president, Dr. Marc Nigliazzo, the authority to confer the degrees on the graduates.
"It's just a formality," Stone said.
For his part, Nigliazzo addressed the graduates prior to the ceremony, and coaxed their loud cheers of "Warriors!" as he asked them who they were when the entered the university, who they were while studying at the university, and who they will always be now that they've graduated.
Nigliazzo also made certain, as he presented each individual with a diploma, not to let go until he saw a flash over his shoulder.
"I don't care if they take a picture of the back of my head," he said. "I don't want them to have to take a picture of the back of yours."