Low income trends may also be to blame for low-ranking local schools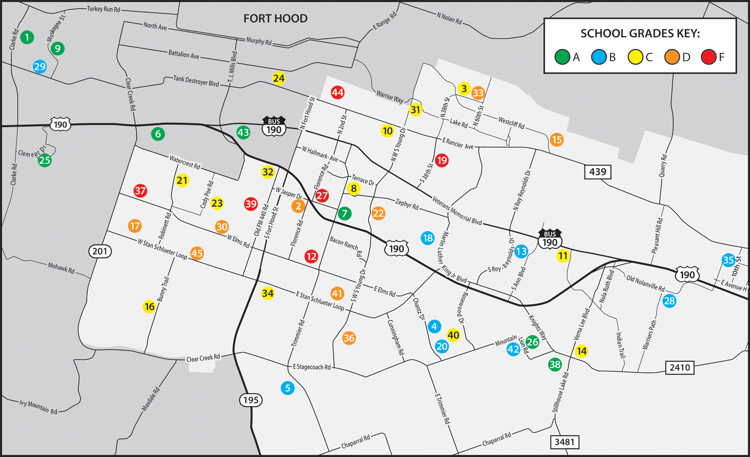 While Killeen Independent School District officials say high mobility rates have affected school ratings done by Children at Risk, a Texas-based nonpartisan research organization, the district's performance grades may also reflect schools in lower income areas struggling academically.
Typically elementary and middle schools in south Killeen (east of State Highway 195), Harker Heights and Nolanville have fared well on the Children at Risk rankings, receiving mostly As, Bs and Cs.
Four of the top five elementary schools are in south Killeen (east of Highway 195), Harker Heights, and Nolanville. Four of the top five middle schools are also in those areas.
Elementary and middle schools in north Killeen (north of Interstate 14/Highway 190) and west Killeen (west of Highway 195) have not fared as well, receiving mostly Cs, Ds and Fs, according to Children at Risk's scores. Four of the lowest ranked elementary and middle schools are in north Killeen (north of Interstate 14/Highway 190) and west Killeen (west of 195).
However, KISD has stood firm, saying that high mobility rates are the biggest reason the district did not fare well on the Children at Risk's statewide school rankings.
In a statement released Wednesday, KISD's Superintendent John Craft said, "The Killeen Independent School District has one of the highest mobility rates in the state, and failing to track the graduation rates of students who leave the state and graduate from high schools within another state will continue to have an impact on the results associated with the "Children at Risk" study. The Killeen ISD graduation rate as reported by the most recent Texas academic performance report exceeds both the State and Region graduation rates," Craft said.
While KISD's spokesman Shannon Rideout and board member Minerva Trujillo have agreed with Craft's statement previously, Children at Risk's results showed that all six KISD campuses at Fort Hood received largely As and Bs. Fort Hood currently has five elementary schools and one middle school on post.
Audie Murphy middle school and Clear Creek Elementary school, both on Fort Hood — have continued to fare well as the district's top elementary and middle school.
Online readers left hundreds of comments on the Herald's Facebook page criticizing the district's ratings. One of the biggest concerns readers voiced online was the three F grades KISD high schools received. Six of KISD's schools received an F grade, including Ellison, Shoemaker and Killeen high schools.
On Wednesday, Craft said in a statement that the evaluation criteria used by private independent groups doesn't meet statewide standards and should not be taken as an appropriate grading scale.
"The Killeen Independent School District does not track the release of the independent study results published by the private entity, 'Children at Risk.' This report remains a private organization's analysis. However, it is noteworthy that Killeen ISD high schools received similar letter grades as other high schools across the state with similar military-­­connectedness and mobility rates," Craft said.
Craft also added that the district has not made plans to make major changes to its policies, procedures, or curriculum as a result of this report.
"The results of this study will not be used to drive school improvement." Craft said. "Preparing all of our students for academic excellence remains a priority of the district regardless of the independent study's results. Our goal remains to provide exceptional instruction that enables students to reach their maximum learning potential."
CHILDREN AT RISK RESPONSES
On Friday, Children at Risk spokeswoman Claire Treacy explained what constitutes an F grade in the organization's evaluations.
"An "F" grade campus is a school that is performing in the bottom 25 percent of all schools across Texas," Treacy said. "That means that there is low achievement and low growth at these schools — even when they are compared to other schools with similar levels of poverty. An "F" graded campus may not even have a minimum number of students doing reading and math on grade level and is performing very poorly compared to other schools with similar levels of poverty."
Treacy said similar military connected districts have performed on a similar level to KISD this year.
"We do not include mobility in our school rankings calculations. However, poverty and mobility are closely related and we do account for high levels of poverty at a campus by comparing how a school is performing with other schools with similar levels of poverty."
THE CRITERIA
The rankings evaluate various criteria, including: student achievement on State of Texas Assessments of Academic Readiness reading and math tests, campus performance, growth index and college readiness (high school students).
The organization said the study aims to "generate conversations not just about the data used in the ranking, but around how schools and districts are performing overall in creating college-ready students."