While Killeen and Copperas Cove State of Texas Assessments of Academic Readiness scores have dropped in the last five years, so too has the state average, bringing attention to possible solutions that range from more parental involvement to scrapping the standardized test altogether.
Over the past five years, Killeen, Copperas Cove and Texas students overall have struggled to pass the English portion of their State of Texas Assessments of Academic Readiness exams. Students had noticeably lower passing rates in reading, writing and English during the spring testing periods. Michelle Cox — a CCISD parent of two — said the testing curriculum is progressively becoming too advanced and difficult for students.
"These exams are more about testing stamina then they are about whether a child understand the curriculum," Cox said Friday.
"A lot of these tests aren't developmentally appropriate at certain levels, and have had a negative effect on test scores," Cox said.
As a solution Cox expressed the need for parents to become more involved in the conversation with teachers and to help their children read every day.
"While I know it's hard for many working parents to take time and help their child learn, if education isn't important to the parent it won't be to the child either," Cox said.
Cox also said districts need to hold on to some of their hands-on learning styles used in the past.
"So many times kids struggle to learn because they can't disconnect from their devices and truly read a book or learn in an engaging manner," Cox said
Over the last five years at the high school level students are especially struggling on the STAAR exam in comparison to the 2012 numbers. Both KISD and CCISD test high school students in five subjects, KISD has improved in only one (U.S. History) and CCISD hasn't improved in any of them since 2012.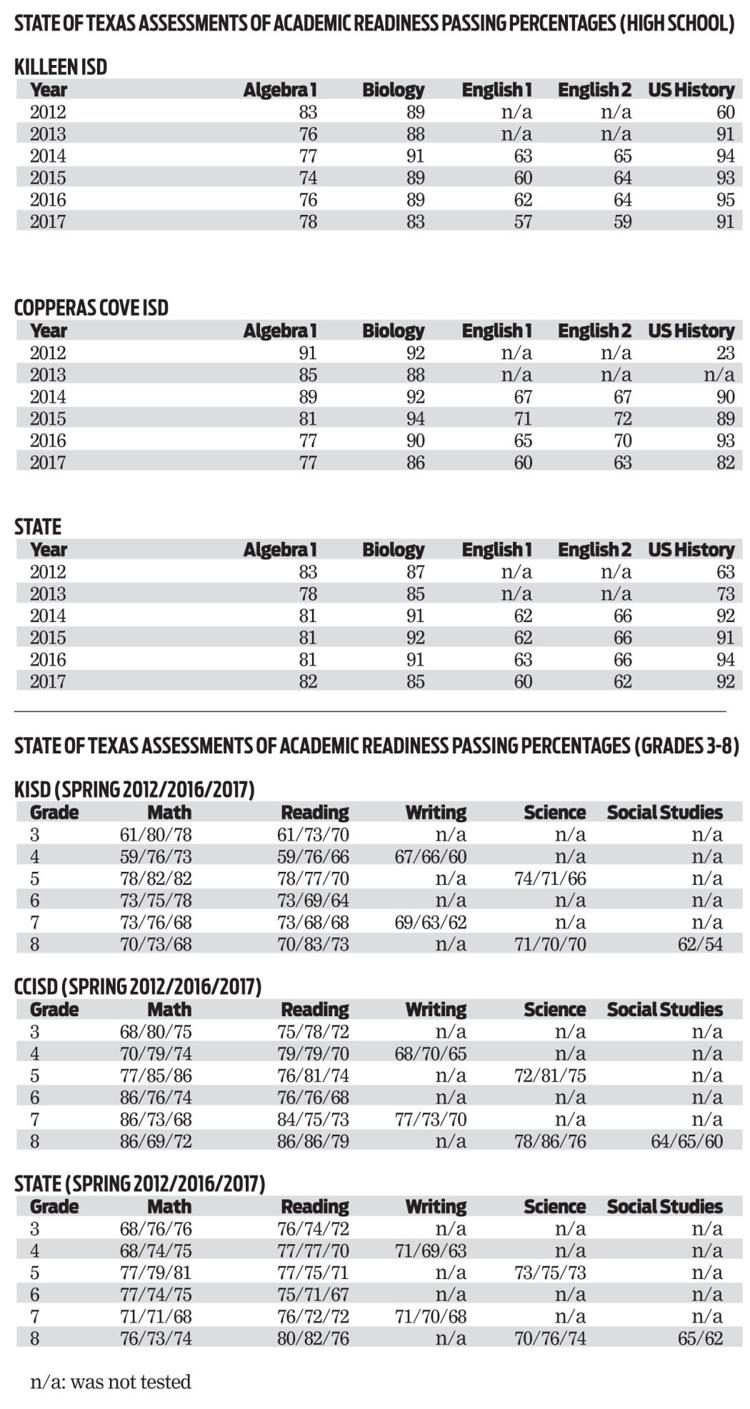 KISD
In 2014, 64 percent of Killeen Independent School District's high school students passed the English exam, however, this year only 58 percent passed. The district's passing percentage has been in somewhat of a steady decline since 2014, and 58 percent is the lowest percentage for English in the last five years.
While KISD struggled in English, the district's performance in math has been better: 78 percent of all KISD students passed their algebra 1 exam this year. Last year 76 percent passed. Still, both are down from 2012, when the district had 83 percent of student pass the algebra 1 test.
The district's best passing rate this year came in biology, when 83 percent of students passed, compared to 89 percent last year and 89 percent in 2012.
COPPERAS COVE ISD
Copperas Cove Independent School District had about 62 percent of its students pass their English exam this year, while last year nearly 68 percent passed. Similar to KISD, that number is CCISD's lowest score in English in the last five years. In 2014, 67 percent passed the exam. While CCISD also struggled in English, the district performed well in science as 86 percent of students passed the biology exam. Last year, 90 percent passed. However the 86 percent rate is still higher than the current state average of 85 percent.
STATEWIDE
Texas overall has also seen a decline in STAAR scores during the last five years.
The percentages of students statewide who passed the STAAR exams in the spring were lower in most subjects compared with last year's results. Students struggled the most on reading, writing and English exams.
Only 61 percent of all high school students statewide passed their English exams, according to a press release from the Texas Education Agency. That number is down nearly 3 percent since 2014 when 64 percent of all students passed the English exam.
At the elementary and middle school levels — where students are tested in reading and writing — the downward trend is also consistent. In the spring, an average of 68 percent of all students in grades three though eight passed their reading or writing exam. In 2012, an average of 76 percent of students passed their reading and writing exams. In KISD, an average of 66 percent of students in grades three through eight passed their reading and writing exam in this spring. In CCISD an average of 71 percent of students in grades three through eight passed the reading and writing exam in 2017.
SOLUTIONS?
Richard Beaule, president of the Killeen Educators Association, suggests the state needs to get rid of the exam altogether.
"The best thing to do is just get rid of the STAAR altogether as a primary measurement of student progress. That means lots of calls, letters, posts and tweets to state lawmakers and education officials. Short of that, parents can be of big help — whether the test stays or not — in helping educators show their children how concepts apply in their daily lives. That's always a huge help and very positive reinforcement in a child's development," Beaule said.
Faculty members across the state have regularly expressed their displeasure with the format, content, policy and reasoning behind the STAAR exams as many teachers believe the exams are not a fair or accurate depiction of student progress.
Beaule said the exam is not allowing students to learn in a reasonable or natural way.
"I think that what you're seeing (lower STAAR scores) is the culmination of the system that the TEA has set up and forced on Texas districts and school children," he said. "The STAAR is a test that is designed to fail. No matter what is said by state education officials, it was never designed to promote student success. It was designed — right down to the curriculum and sequencing — to create an environment to cause public schools to struggle and/or fail, and create data of that failure through the distorted lens of accountability,"
Beaule said the time in which students have take to take the test has also decreased, which makes the exams more stressful and difficult for children to pass.
READING IS KEY
KISD board President Corbett Lawler said increased reading frequency will be a key to improving the test scores.
"We need all our kids to read more, and as parents, we have to give them avenues to gain an interest in reading both for entertainment as well as for learning purposes," Lawler said Thursday.
Lawler said that the district must do a better job of making students aware, and parents aware of their students' reading level so that they can stay on track with the rate of reading they should be able to handle.
"It's not just about how much students read but it's also important that we help our students improve their reading comprehension, to better understand what they read as opposed to simple recall of information," Lawler said.
While Lawler expressed some concern with the level of performance on the STAAR exam in English, reading and writing, he did stress that he believes the test may have become more difficult for students over time. He said when comparing year-to-year, statistics may not be an accurate depiction of how students are performing because each year a new group of kids take the test.
"If we can make more parents aware of ways that they can help their children read on a daily basis, I believe these test scores will improve and students will have an easier time learning overall," Lawler said.
CORRECTIVE ACTION
KISD officials said Thursday that while performance levels may not be the same as they were five years ago, the district says are doing the correct things to help educate students.
"The district has seen recent improvements with the STAAR results. However, as a district we remain committed to providing high quality, rigorous instruction each day to ensure students are not only well prepared for standardized exams, but more importantly well-equipped for post-secondary education success," KISD officials said in a statement.
KISD would not say if it has a specific plan to improve STAAR scores.
The district did say that data provided through these assessments is used to help guide appropriate instructional adjustments, as well as determine appropriate future professional development opportunities for teachers and instructional support. As part of KISD's continuous improvement process, STAAR assessment reports as well as many other metrics will continue to be used to plan and implement instructional programming opportunities.
Cove ISD Superintendent Joe Burns said parents should only use the STAAR exam results as a part of the evaluating the district's success rate.
"While it is appropriate for families and communities to take into consideration how districts perform on the state assessments, the STAAR test does not provide a complete picture of the quality of education offered in a school district," Burns said Friday via email.
Burns added that CCISD's plans will continue to focus on improving STAAR performance and is committed to providing the education possible to students.
"Our plans for student success are always focused on educating the whole child. CCISD desires to make sure teachers and campuses are meeting students' social/emotional needs, academic needs and their need to be prepared for life beyond high school," Burns said. "Campuses and departments have completed needs assessments focused on identifying strengths and weaknesses and developing goals for addressing the issues they find that might be roadblocks to student learning. Over the summer all staff are engaged in professional learning opportunities focused on operationalizing their plans for student success."
STATE LEVEL
Texas Education Agency spokeswoman Lauren Callahan said that while some teachers and parents may believe the STAAR exam should be terminated altogether, the TEA believes the exams accurately depict where student progress should be for each grade level.
"The STAAR exams meet the same standards across the state, regardless of district, and the STAAR test accurately evaluates student performance," Callahan said Friday.
According to Callahan, the STAAR test is one of multiple ways a district is evaluated. While the results hold weight, she said that other factors also should be taken into consideration by parents when choosing a school district or campus to send their child to. Those other factors include graduation rates, attendance numbers, college readiness, and the A-F accountability system — a relatively new accountability system that KISD called unfair after receiving poor grades.
STATE SOLUTIONS
In 2015, the TEA began implementing reading academies across the state to help support students who struggle with reading.
"As a person who has been involved with education for a while, I understand how hard teaching reading classes can be, but I also understand that learning how to read effectively is just as difficult for many of our students," Callahan said.
Callahan said the TEA is not making any major changes to its policies as a result of the exam performance, and does not have future plans to, unless legislation requires it.
Killeen Mayor Jose Segarra — who owns Exit Homevets Realty — said STAAR test results have not played a huge role in the local real estate market.
"Most home shoppers who come to Killeen prioritize affordability, proximity to the things they need, and home features more than STAAR test scores," Segarra said Friday.
Segarra's company manages 20 real estate agents in the Killeen area and said that new home purchasers usually only consider school age and teacher-to-student ratios.
While parents moving to the area do consider the STAAR results of the local school their children may attend, Segarra said it's not been a high priority for most of his customers.