Editor's note: This is one in a series of reports about the potential health hazards to military personnel who had been deployed to areas with airborne toxins from trash burning pits, oil fires and desert sandstorms.
Yoshenobia Harris is on a mission: Find the cause of the cancer that killed her husband.
The Kempner resident is still baffled more than a year after her husband's death about how a healthy, 41-year-old Army retiree who didn't smoke and loved CrossFit could suddenly develop a cancer that would kill him in a matter of months.
And the cause of that cancer is a mystery, even to the doctors who cared for retired Staff Sgt. Jimmy Wayne Harris at both Scott & White in Temple and MD Anderson Cancer Center in Houston. Cause of death listed on the death certificate: "Malignant tumor of unknown origin."
The only reason Yoshenobia Harris can think of for her husband's death was his exposure to the toxic smoke coming from open burn pits during his six deployments — two to Afghanistan and four to Iraq, the 43-year-old widow said.
More than 3.7 million active-duty service members and veterans have been exposed to the toxic smoke from trash burning pits while serving in areas such as Iraq and Afghanistan during the War on Terror, and many of them are beginning to get sick with illnesses and cancers they can't explain.
Burn pits were used to destroy plastics, batteries, medical waste, ammunition and everything in between. They were a common way to get rid of waste and helped ensure some items — such as military uniforms and items that could potentially be used against military troops — did not fall into enemy hands. Burn pits have been in use in Southwest Asia since August 1990 at the beginning of Operation Desert Shield and used throughout the wars in Iraq and Afghanistan.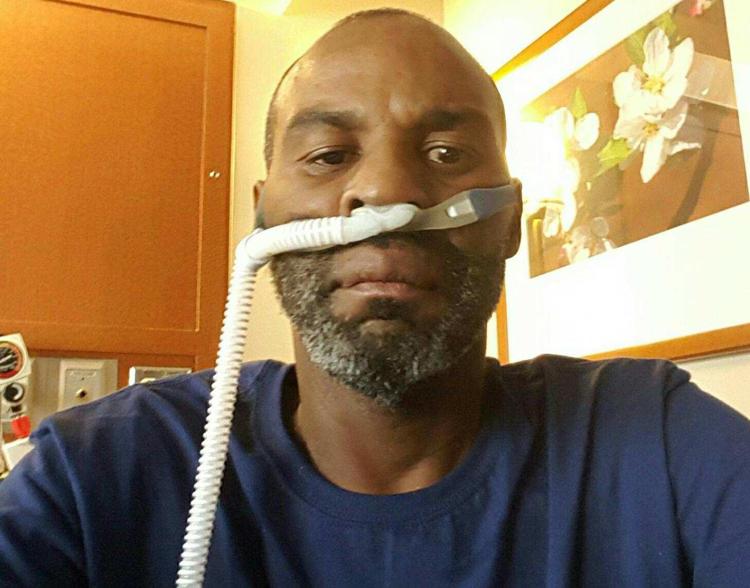 It all begin in October 2017.
"He had been retired maybe two years before we found out he had cancer," Yoshenobia Harris said. "At first, he was coughing a lot, so he went to (Carl R. Darnall Army Medical Center on Fort Hood) and they thought maybe he had a cold. Then it was no, maybe a sinus infection, so that's what we're going to treat it as."
The coughing ended up getting worse, sending the former soldier to the emergency room at Darnall. The first time, the doctors figured he may have developed pneumonia, so treated him for that and sent him home, Yoshenobia Harris said.
"I don't think we were home for 24 hours and then we went back," she said. "At this point, I just drove up, had him stay in the car and I ran into the emergency room and I was like ... somebody needs to come and get my husband because he cannot breathe."
The doctor at the emergency room found that Jimmy Harris' lungs were filled with fluid, which would need to be drained. As Darnall didn't have the resources available to do the draining, he was sent to Scott & White in Temple the first week of November 2017, Yoshenobia Harris said.
"We were informed that the doctors were running a battery of tests because a hit had come back that said cancer," she said. "But they could not see a tumor or a lesion anywhere in his body. The doctors were wondering what was going on."
The fluid in his lungs ended up being the cancer — something that mystified the doctors because they could find no point of origin for it, she added. The cancer was already at stage four and the fluid was being drained daily.
That's when they decided to go see the specialists at MD Anderson Cancer Center in Houston.
Before Jimmy Harris could be transferred to MD Anderson, however, Scott & White had to release him from care in order for Tricare — the military insurance provider — to approve the change in doctors, the widow said. The lung specialist at Scott & White asked Jimmy Harris to first do all the tests he had already gone through all over again. Then the results could be sent to MD Anderson for the new doctors.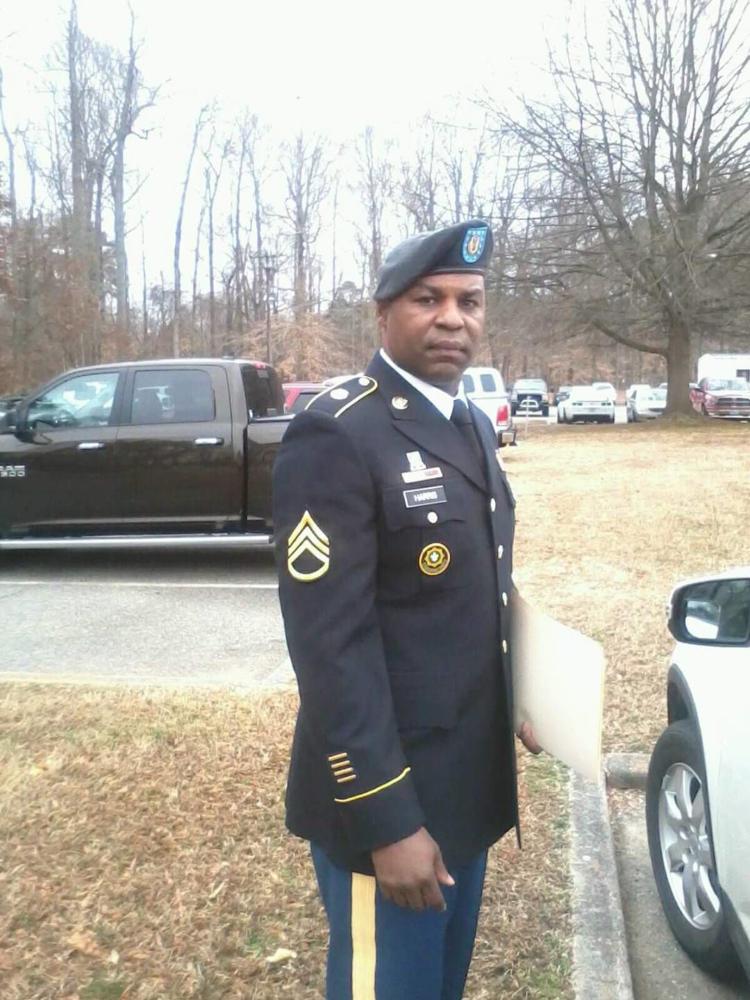 "He looked at Jimmy and said, 'from what I can tell you, the survival rate of this is slim to none,'" Yoshenobia Harris said. "I'm just sitting there bawling, and the doctor said 'I hate to tell you this; this is something I've never seen before, but I know the survival rate is slim to none.'
"My husband was like, 'how many years do you think I have?' The doctor said 'you don't have years. I can give you a couple of months — less than five.'"
After the additional tests, the doctor said the fluid was getting to the point where it could not be drained because it was beginning to coagulate. It was something the doctor said he had never seen before in his medical career.
"Of course, he asked Jimmy what he did and Jimmy told him he was retired military," Yoshenobia Harris said. "The doctor asked if he served overseas, and Jimmy told him yes, he'd deployed six times. The doctor said he didn't know what the relation was, but he betted the deployments had something to do with the cancer."
MD Anderson Cancer Center
On Jan. 3, 2019 — the Harris' 14th anniversary — Jimmy was met at MD Anderson by a team of specialists.
"They told us when we got there that there was a debate — some on the medical team felt he could benefit from some form of chemotherapy, but his primary doctor felt that his lungs weren't strong enough," Yoshenobia Harris said. "The chemo would take him out because his lungs couldn't handle it."
The doctors told her that the fluid ended up becoming so coagulated it could no longer be drained, she said. Her husband's body had to push the fluid out somehow, so it began pushing the fluid out through the pores on his legs and arms.
"One morning, he couldn't get up. When they came in to bathe him, it shocked the nurse. It was like blisters on his legs and thighs," Yoshenobia Harris said.
On Feb. 5, 2018, Jimmy Harris died in his sleep.
Yoshenobia Harris said she does not recall much of what happened the day her husband died, but one thing stood out: The doctor asked her if it would be OK to do an autopsy.
"They wanted to do more research, because they still didn't know what caused the cancer," she said. "I remember telling my pastor — everything else that happened that day, I don't remember. But that I remember."
With still no answers for what caused the cancer, the grieving widow readily agreed to an autopsy.
The doctor who ordered the autopsy was Dr. Ahsan Azhar, Jimmy Harris' lead physician. The report raised more questions than answers, however.
In the final anatomic diagnosis, the autopsy report showed extensive metastatic adenocarcinoma, tumor cells, within Jimmy Harris' stomach, lungs, liver and even in the bone marrow. The findings showed that the cancer most likely started in the stomach.
According to the U.S. National Library of Medicine, adenocarcinomas are the most difficult metastatic tumor to accurately identify the primary site.
Although the report states signet ring cells of adenocarcinoma were found in the stomach, no actual tumor was found that could explain where all the cancerous cells were coming from.
A few months after her husband's death, Yoshenobia Harris was struggling with the Department of Veterans Affairs over her eligibility to receive her benefits as a widow. The VA denied that Jimmy Harris' cancer was due to his service, denied that his death was related to his service, and denied Yoshenobia Harris any Dependency and Indemnity Compensation.
According to va.gov, Dependency and Indemnity Compensation is a tax-free monetary benefit paid to eligible survivors of military service members who died in the line of duty or eligible survivors of veterans whose death resulted from a service-related injury or disease.
"I had been going back and forth with the VA about all this, and someone told me there was an article in the Killeen Daily Herald and that I needed to contact (the woman in the article) to find out what's going on," she said.
That was when she met Diane Slape, a Belton resident whose husband — retired Army Sgt. 1st Class Frederick Slape — died of multiple unexplained cancers, to include ovarian. Slape, director of Gold Star families for the nonprofit Burn Pits 360, was able to provide the help and support Yoshenobia Harris needed.
"After meeting Diane, I have been keeping up on the burn pits issue on social media and stuff, because it just blows my mind that I'm not the only one having to go through this," Yoshenobia Harris said. "It's sad — I was visiting my husband's grave, because he's buried here (at Central Texas State Veterans Cemetery in Killeen), and I was talking to a man who was visiting his son's grave — who died of brain cancer. They're dying so young."
Slape could not agree more, she said.
"I just had one of Fred's soldiers contact me; he's still active duty, getting ready to be medically retired, and just found out he has kidney cancer, leukemia and he's on his second round of bone marrow transplants," she said. "He's not even 40 yet."
On April 30, veteran organizations and nonprofits such as Burn Pits 360 will be attending a Congressional briefing on burn pits in Washington, D.C.
The nonprofit is bringing with them doctors who are currently doing research on the direct effects of exposure to the toxic smoke from burn pits to that briefing, said Slape.
"We have more and more people getting behind us," she said. "It's really been a motivator."
One of the honorary hosts of the briefing, U.S. Rep. Joaquin Castro, D-San Antonio, has a personal investment in seeing legislation put in place to help veterans affected by burn pit exposure. The Congressman has approximately 60,000 veterans in his district to look out for.
Castro is currently sponsoring bills in Congress to make the VA's Airborne Hazards and Open Burn Pits Registry available to family members and to revise the registry to account for those who have already died from unexplained illnesses and cancers.
Castro said, in an emailed comment,  "I had heard from Veterans in my district that they were being denied benefits for their conditions that stem from exposure to toxic burn pits during their military service. Our country needs to do right by its veterans, which is why I introduced two bills this Congress that would allow family members to participate in the burn pit registry, and amend disability ratings to include obliterative bronchiolitis. I know these bills will be critical, and necessary, to recognize illnesses that are related to burn pit exposure. We should care for our servicemembers just as they protected us during their time on active duty."
Jimmy Harris' doctor, Yoshenobia Harris said, told her he was starting to see too many veterans in their 30s and 40s with unexplainable cancers and the only thing they had in common was deployments to the Middle East. She is now firmly convinced her husband's exposure to the burning trash pits during his six deployments was the cause of the mysterious cancer that killed him.
She has now joined Slape in her role with Burn Pits 360 advocating on behalf of family members who lost a loved one through illnesses they believe were caused by exposure to burn pits and other airborne hazards while deployed to Southwest Asia. The two widows are also working to ensure more information is available to those families about what to expect when their veteran dies.
"I'm in it for the long-haul. The information needs to be out there," Yoshenobia Harris said. "We're just trying to find out what's going on — help other people. It burns me up to see families struggling and no one helping them. There are others who are going through the same thing as me."