County Democratic party slams state candidate after forum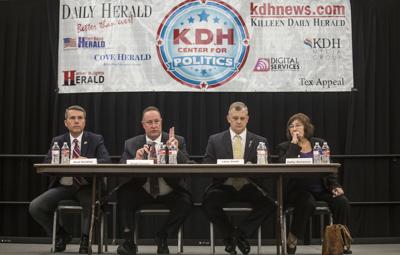 In a move that breaks traditional practices, the Bell County Democratic Party announced it is distancing itself from Kathy Richerson, the only Democratic candidate for the Texas House District 54 race, saying she filed her candidacy without consultation and lacked knowledge on local issues.
In a news release Monday — hours after Richerson answered questions at the Herald's District 54 candidate forum — county party chair Chris Rosenberg and state party representative Bill Rosenberg said Richerson appeared unknowledgeable and unprepared in her responses.
"The Bell County Democratic Party cannot endorse and will not support Ms. Kathy Richerson for the office of Texas House District 54," the release said.
But on Thursday, the Rosenbergs trotted back their language in the release, saying they were not "disowning" the candidate despite their concerns over her ability to run and any effect that could have on otherwise competitive county races.
"I don't know if we meant to say we're disavowing her, because we're really not," Bill Rosenberg said. "This is a candidate that is particularly weak, and as a party you hate to say that because our job is get Democrats elected. We don't disagree with her desire to run, but we have a problem with her having no idea what it takes to run."
District 54 encompasses most of southern and western Bell County and all of Lampasas County. Richerson lives inunincorporated Bell County.
Richerson told the Herald Thursday she would remain in the race despite the withdrawal of support and said she was asked by the county party to withdraw her candidacy because she hadn't been vetted and wouldn't be supported.
"I had already been told I wasn't going to get any help from the beginning," she said. "I don't want to talk about someone's personal preference. (Chris Rosenberg) might have her own personal preference, but I'm the only Democrat in the race."
In addition to what the Rosenbergs called a poor showing in front of 250 potential voters Monday, the relationship between Richerson and the party has been tense since her filing.
Chris Rosenberg said the party learned of Richerson, a retired Realtor and rural land owner, running Dec. 11, the last day of the filing deadline. The party said it reached out to Richerson to get a grasp on her knowledge of local issues and her ability to run but received little feedback or cooperation.
"I called her, and I said 'please come to my office, my candidate committee chair is with me and we'd like to talk about what running for office entails," she said. "She said "no, I'm going to file and I'll meet with you afterward."
When Richerson did come to the office, the Rosenbergs said, she had little knowledge of basic administrative responsibilities for a state campaign, including filing finance reports and arranging a social media presence.
"She was completely unknowledgeable on how to run a successful campaign," Bill Rosenberg said. "We attempted to explain to her that all of these were necessary, but she didn't seem to agree."
Richerson said she faced a steep learning curve when she filed due to never having run for office and not having much experience with websites and social media platforms.
"It's a bigger undertaking than I understood," she said.
Richerson told the Herald she decided to run after being contacted by EMILY's List, a Washington D.C.-based political action committee that supports pro-choice rights female candidates for office. Richerson said she was told the group sought a candidate for the District 54 race, and she decided to self-fund a campaign.
Richerson argued her platform is in line with Democratic ideals — even if it isn't in line with the Rosenbergs'.
"Nobody from up in Austin has called me and said anything," she said. "As far as I'm concerned, I'm the Democrat, and I'm running."
The chilly relationship with Richerson reached a head at the Herald forum Monday, when the Rosenbergs said the candidate's answers to moderators' questions were "shallow" and appeared to show a lack of understanding.
Three and a half hours after the forum ended, the party issued the release saying it would no longer support Richerson and was walking away from her campaign.
On Thursday, the Rosenbergs backed off the wording in the release.
"I think a lot of things happened very quickly in light of that forum," Bill Rosenberg said. "What she demonstrated at that point was a lack of knowledge of key local issues."
The Republicans running for the District 54 state seat — incumbent Scott Cosper, Brad Buckley and Larry Smith — were also at the forum.
The Herald asked the four candidates a range of questions on topics including property tax reform, drought planning and public education, among others.
Richerson said she reviewed video footage of the forum and saw room for improvement in her performance but not her beliefs.
"I felt uncomfortable with the forum, because I've never done anything like that," Richerson said. "I can't do anything about my personality, and I'm not much of a public speaker."
Richerson said she asked Chris Rosenberg about possible coaching on public speaking and was rebuffed.
"(Chris Rosenberg) said she wanted more of a community activist," Richerson said. "I'm not an activist, but I believe most of the issues people care about as Democrats, I'm pretty well aligned with all of them."
The Rosenbergs said Thursday they would continue to offer advice and assistance to Richerson if asked, but feared her perceived lack of knowledge could hurt the credibility of other county Democratic candidates.
"What we will do is what we do for all candidates: if she has questions we will respond to them — she is free to take or discard our advice," Bill Rosenberg said. "There's a real concern when we're block walking, if someone asks us about Kathy Richerson, it puts us in a difficult position to generate enthusiasm in our base."
Richerson said she intended to run the race to the end without the county party's aid.
"I can say what I want to say, and I can be who I want to be," she said. "I'm not affected if someone doesn't agree with me."
The public spat highlights concerns that the county party could not run a groomed candidate in a 2018 state race it considers competitive.
Bill Rosenberg said the party courted a number of viable candidates who ultimately did not file due to family concerns, a lack of urgency or a "wait-and-see" attitude toward the possible redrawing of district lines before 2020.
"The responses we've gotten back are 'we're interested but not prepared to run,'" he said.
Richerson said she believed the county party seeks uniform candidates that follow a specific platform — stifling differences of opinion.
"They feel like they can pick the candidates that run," Richerson said. "In the Republican party, I'm sure there are different types of Republicans that have different opinions about things. That seems like it isn't happening with the Democrats."
Nancy Boston, chairwoman of the Bell County Republican Party, said the group didn't "vet" candidates but asked for them to sit down with party leadership to help understand the responsibilities and requirements of running for office.
"It's not my decision to say 'yea or nay, you cannot be a candidate' because I do not elect them," she said.
Boston said the party accepted differences of opinion in candidates and encouraged voters to make informed decisions on whatever candidate files as a Republican.
"I know we don't agree on everything, but if you agree with someone 85 percent of the time — take what you can get," she said. "We don't need to criticize someone for what they think."
In Lampasas County, which is in District 54, the Democrat party vets candidates in similar fashion, and the party leader there said there is still an open door for Richerson.
"I didn't know anything about her until after she filed," said Cyndy Burleson, chair of the Lampasas County Democrat Party.
Burleson said the candidate called her not long after Richerson filed in December, and the two talked briefly about campaign funds.
Burleson invited Richerson to attend the monthly county party meeting, which Richerson has yet to do, but the offer still stands, Burleson said Friday.
The two have not talked since, Burleson said.
Burleson, who took over the position in October, said the party doesn't do much with candidates prior to the primary other than invite them to talk at the monthly meetings. After the primary, however, the party will organize fundraisers for Democrats running in the general election. And that fundraising is something Richerson could tap into if she shows interest, Burleson said.
Despite the Rosenbergs' claim that there are plenty of possible candidates, few have materialized in 2018 county races where only two Democrats filed for 12 seats.
Those two candidates, John Driver and Louie Minor, both of Killeen, are running for the same seat, Bell County commissioner precinct 4, meaning one of them will be taken off the board after the March primary.
Bill Rosenberg said the party felt confident of its chances in that race and is frequently in communication with local communities to seek out Democrats for county, state and national races.
"We have been speaking to community leaders and said this is important to get candidates out there," he said. "It's not that there are no serious people."
However, it remains unclear why Killeen — the most populous and Democrat-leaning city in Bell County — cannot turn out more candidates.
In the 2016 general election, nearly all Killeen precincts voted blue in national races, highlighting the significant political gap between Killeen and the rest of the District 54 electorate.
District 54 is one of nine Texas House districts under scrutiny by the U.S. Supreme Court for possible racial gerrymandering.
In the 2016 District 54 election, Cosper beat out Democrat challenger Sandra Blankenship with 54 percent of the vote. In Bell County, Cosper narrowly edged Blankenship by 0.6 points — a mere 276 votes. In Lampasas County — where there is not a single Democrat in any 2018 county race — Cosper ran away with the electorate with 79 percent.
Jacob Brooks with the Killeen Daily Herald contributed to this report.
Editor's Note: This story has been updated to correct the positions of Chris and Bill Rosenberg.