For the first time since its creation in 2002, U.S. House District 31 has been "targeted" by the Democratic Congressional Campaign Committee as a competitive election to unseat nine-term GOP incumbent Rep. John Carter.
However, Democrats in the District 31 primary election bristled Friday after one of the candidates called that designation an endorsement of her race alone.
As part of its nationwide effort to flip the U.S. House of Representatives back to Democratic control in November 2018, the committee, a campaign arm of congressional Democrats, has targeted House races — including five in the state of Texas — where it is seeking to provide national visibility to potentially competitive elections.
The list of "battleground races" covers 101 House districts — the most in a decade, according to the committee.
On Friday, candidate M.J. Hegar, an Air Force veteran and author of a bestselling autobiography, said on Twitter her campaign was central to the committee's targeting and appeared to say her campaign alone was being highlighted.
"After working our tails off getting out the vote, out raising our entire field on #TX31 in grassroots individual contributions, and having independent, legitimate polling showing our pathway to victory, we've become a targeted race!" Hegar wrote.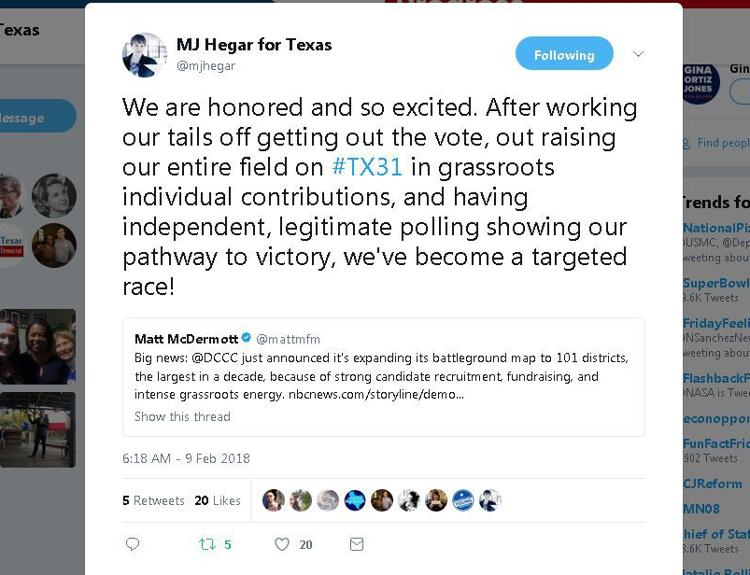 But the campaign of another candidate in the race, Kent Lester, a former Belton school teacher, said Hegar "misrepresented" the situation.
"They're not targeting candidates in this race — they're targeting the race itself," said Lester's campaign manager Tom Gilliam. "The reason they're watching our race is regardless of where the money comes from they see two candidates with a lot of money."
According to year-end 2017 campaign finance filings due to the Federal Elections Committee, Hegar's campaign is far outpacing her Democratic and GOP challengers in individual, non-political action committee fundraising.
Hegar reported $79,973.99 in itemized individual contributions and $21,176.13 in unitemized individual contributions — or donations less than $200. That's a more than $40,000 lead over Carter, R-Round Rock.
Lester led the field in outright contributions in the last quarter of 2017 with $154,287 in contributions and loans — but those numbers are propped up by a $100,000 loan Lester gave to his campaign and another $40,000 contribution Lester gave to himself.
Gilliam and Mike Clark, an Austin Democrat in the race, said Hegar and her campaign manager, Christian Walker, gave a stump speech Thursday in front of the Williamson County Democratic Party Executive Committee that implied the national committee was specifically targeting her campaign as the most viable.
"Her presentation as well as her campaign manager's presentation made it seem like she was being endorsed," Clark said.
The fourth Democratic candidate, Dr. Christine Eady Mann, said she was pleased with the national recognition.
"We are thrilled that the DCCC has acknowledged what our campaign has been saying since last summer," she said. "The Texas 31 race is a winnable seat for Democrats."
Walker told the Herald Friday the Hegar campaign had been working closely with the national committee for months but backed off statements the campaign was being singled out for support.
"We're excited about them paying attention, we have been working very closely with the DCCC and they see potential in the campaign," he said. "We are working with them, and we have been working with them for months now on fundraising and various things."
Walker did not confirm he and Hegar presented the targeting as a specific endorsement of her campaign.
"I don't have her exact statement, but she did communicate that the DCCC reached out to us — which they did — and congratulated us for being a part of this list," he said.
On Friday, Cole Leiter, regional press secretary for the committee, said the committee targeted the race because of the vulnerability of the GOP incumbent.
"Capitalizing on the political climate 2018 will bring starts with building the biggest battlefield in a decade," he said. "That's what people from the grassroots on up to the DCCC are doing and Texas's 31st District is a part of that because there are strong candidates already running people powered campaigns focused on fixing a broken Washington."
Despite the unprecedented support for a possible general election opponent, Carter's campaign said it was remaining vigilant in its race for a 10th consecutive term.
"Congressman Carter runs every campaign as if he's behind and doesn't take the continual support of his constituents for granted," said Carter spokeswoman Emily Taylor. "He looks forward to discussing his past accomplishments with the voters, and listening to his neighbors' current and future goals so he can continue to fight for their values in Congress."