Former Killeen mayor starts new life as state legislator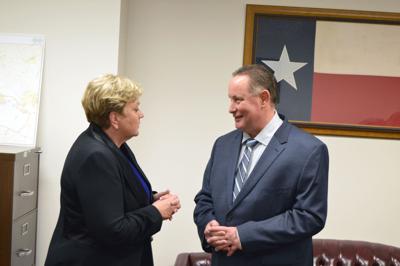 AUSTIN — Neither Scott Cosper's father, Wayne, nor his wife, Christy, could have foreseen the situation they were in Tuesday afternoon. Both stood next to the new House representative for District 54 as he was sworn in, along with 149 other representatives at the state Capitol.
It was something that was hardly a thought on anyone's mind back in 2014, when Cosper first became the mayor of Killeen.
"I had no idea that this was even part of our future; you know, we just live every day and see what comes next," Christy Cosper said. When her husband said he wanted to run for the House, "I think I asked 'are you sure?'"
Cosper was joined on the floor by several members of his family, including his two daughters, for his swearing-in. After some of them left to wait for him downstairs in his office suite, he and Christy Cosper listened to Speaker of the House Joe Straus, who was re-elected unanimously just minutes prior to giving his speech.
That, along with speaking with Gov. Greg Abbott at a dinner the night before, made the Cospers step back and appreciate everything.
"I won't say it was overwhelming," Cosper said. "But it was certainly humbling and eye-opening."
Straus laid out his priorities, and many of them align with top concerns of Central Texas residents. He called for the improvement of the public education finance system, as well as changes to Child Protective Services and the way Texas approaches mental health issues.
"Compromise has become a dirty word in politics," Straus said. "It's a good word in this House."
Ask nearly anyone around the Capitol from the personnel office to the photographers on the House floor, and they will all tell you the same thing: Day One is chaotic. Cosper's staff hadn't gained internet access until just an hour before he arrived in his office after the session ended. Ryan Marquess, Cosper's chief of staff, said there was some housekeeping to do before things really got underway, and though he might begin meeting with some people here and there, that likely wouldn't pick up steam until the House members receive their committee assignments. That will likely happen at the beginning of February.
But that chaos is nothing new. In fact, the man Cosper replaced, Jimmie Don Aycock, said that the chaos is the first thing he remembers about his first day, 10 years ago. Aycock, who had decided not to seek re-election, stopped by his successor's office after the session ended Tuesday afternoon, and said that his advice was straight to the point.
"Enjoy the first day," he said. "You've got 139 more to go, and it's a whole lot of work."
Cosper's two staff members each have ties to Aycock. Marquess, was the Public Education Committee's clerk during the 84th Legislature, when Aycock was the chairman of that committee.
Lucy Taylor, the district director, held that role under Aycock for more than seven years. Still left to hire is a legislative aide, Marquess said, but they haven't found the right fit yet. Two Central Texas College students will likely become legislative interns as well, Marquess said.
"We're here, we're sworn in, it's finally official," Cosper said. "And we're looking for ways to balance that budget and to serve the citizens of District 54."