200 gather in Killeen to protest gun violence in schools
As the nation mourns the death of 17 teens shot and killed Feb. 14 at a high school in Parkland, Florida, around 200 demonstrators gathered in Killeen to say "never again" Saturday as part of the national March For Our Lives anti-gun violence rally.
Arranged in rows of five – and bearing signs reading "enough is enough" and "kids are the future" – the demonstrators marched from north to south across the W.S. Young Drive bridge to an outdoor pavilion at the Killeen Community Center.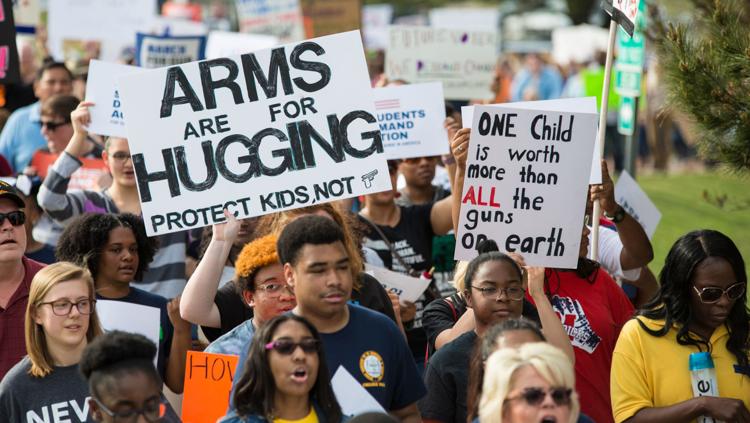 The event, coordinated by the Bell County Democratic Party and the Killeen chapter of the NAACP, had two student speakers, as well as Chris Rosenberg, chairwoman of the county Democratic Party, and TaNeika Driver-Moultrie, executive committee member of the local NAACP.
Dakota Widenor, 18, a student at Shoemaker High School, gave a fiery speech in front of the demonstrators, saying he had been touched by the loss of two friends to gun violence.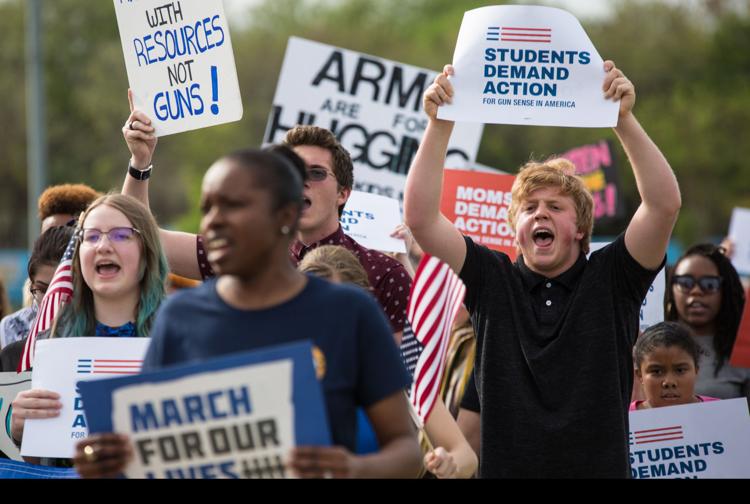 "We are marching not because we want to take away guns, we are marching because we want to feel safe in our own communities," he said. "For the sake of our lives, we must join the rest of the world in enacting sensible gun violence prevention legislation. We do not advocate for the banning of all firearms. We understand that it is people who kill people, which is why we want to keep those who are unhinged, violent and irresponsible from owning weapons and using them to kill us. Is that such a difficult request?"
Widenor called for a range of new legislation, including a national firearm registry, universal background checks and the placement of the AR-15 semiautomatic rifle on the list of weapons banned for civilian purchase.
"We call upon you Texas lawmakers to listen now and listen well," Widenor said. "If you do not enact these measures by November, you will be voted out in favor of someone who can."
Following the Parkland shooting in February, a debate in Charlotte Prymer's history class at Ellison High inspired her to want to hold a protest.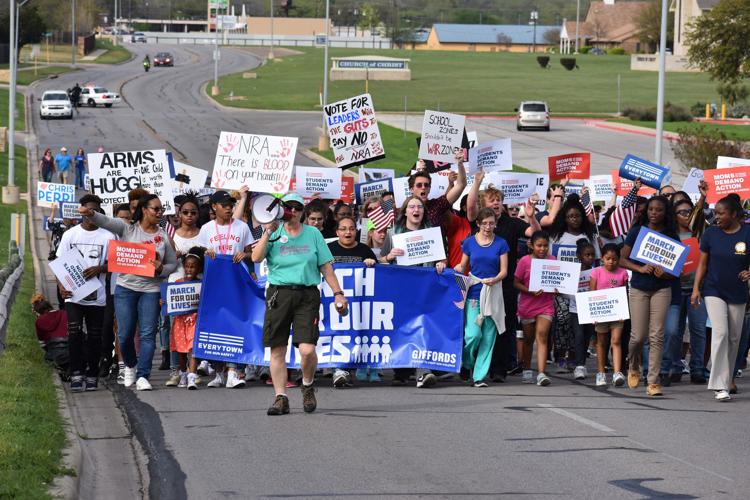 "Then I heard that this one was already being organized so I brought her along with me," Prymer said of inviting her friend, Annjessica Simmons-McRae, a student at Killeen school district's Early College High School.
Two Democrats in a May 22 runoff election for the Congressional District 25 nomination, Julie Oliver and Chris Perri, were among the marchers Saturday. District 25 encompasses an area including western Austin, Coryell County and parts of west Killeen.
Oliver, an Austin attorney and health care advocate, said the march would hopefully act as an impetus for meaningful gun control legislation.
"It's going to be these kids that change everything going forward," Oliver said. "I am so inspired and excited that we came here and participated. We have still got to work legislatively, but these kids are going to make sure there is change in the future."
As the teens spoke, a group of around 40 counterprotesters gathered around 30 yards away with "Don't Tread On Me" flags and signs encouraging teaching students the U.S. Constitution.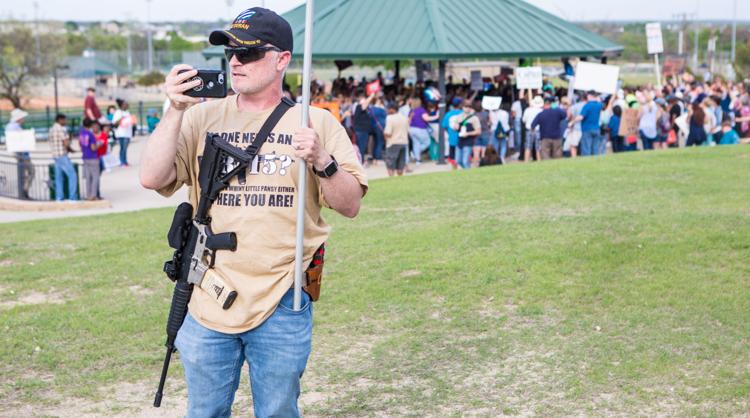 C.J. Grisham, founder of Open Carry Texas and leader of the counterprotesters, said his group supported an end to gun violence in schools but wanted to present different options than tighter gun restrictions.
"They're blaming a failure in government on gun laws," Grisham said. "It wasn't gun laws that failed those kids (at Stoneman Douglas High School in Parkland) — it's the government that's failing those kids."
Among the measures the group called for was the end of "gun-free zones" on school campuses, allowing teachers to arm themselves as a deterrent to school shootings and making schools "harder targets" for potential shooters.
"This (march) is a result of the liberalization of our school system," Grisham said. "Our kids are being brainwashed into thinking this is how you solve issues by banning guns. They're taking over our education system, and now they're weaponizing our children against liberty."
Widenor said he respected the counterprotesters exercising their rights, asked them to join the movement to help end gun violence — and offered a warning.
"If you want to secure the life of our children, then please join us in the fight to end gun violence," Widenor said. "But if you try to intimidate us, if you think that we are merely meek students who will be turned away by your voices then you are dead wrong."
Herald Reporter Felisa Cardenas contributed to this report.