Highway 190 is officially Interstate Highway 14 from Cove to Belton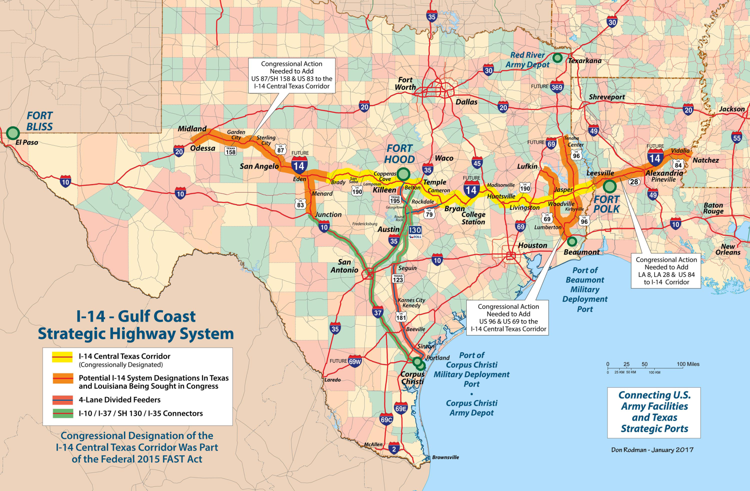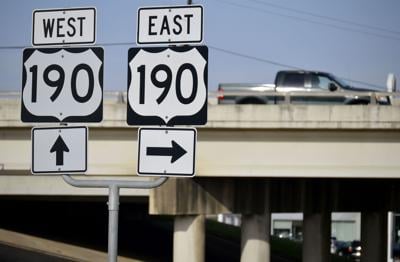 AUSTIN — The Texas Transportation Commission announced Thursday that U.S. Highway 190 from Copperas Cove to Belton has received its official designation as Interstate 14, according to a release by State Rep. Hugh D. Shine, R-Temple.
Shine said he applauded the commission and the communities who worked diligently to develop the change to Central Texas' highway system.
"This is an important first step to a much larger highway network that will strategically link Fort Hood and military installations across the southern United States with ports on the gulf coast," Shine said in a news release. "This highway network will ultimately enhance, expedite and facilitate the deployment of military assets whenever necessary for our national defense. Additionally, the surrounding communities will be able to expand their economic development by attracting new businesses in Central Texas."
The Transportation Commission finalized the 25-mile segment designation during its regular meeting in Austin. The segment will run concurrent with U.S. Highway 190 from the junction of Business U.S. Highway 190 East in Copperas Cove to the I-35 Interstate and Highway 190 junction in Belton. The designation spans Coryell and Bell counties.
Texas Department of Transportation spokesman Ken Roberts said local residents should start seeing smaller signs for I-14 in the Killeen area by August or September of 2017.
"The larger signs will take longer to manufacture," he said. "Whenever we have built roadways or bridges, commercial development usually springs up nearby. We anticipate this will be a boon to local economies."
Representatives from cities within the Greater Fort Hood area have been working with the Gulf Coast Strategic Highway Coalition since 2000 for the I-14 system. The goal is to connect military installations from Texas to Georgia and provide faster access to highways and ports.
Congress had approved renaming U.S. Highway 190 to Interstate 14 in December 2015.
Retired Maj. Gen. Kendall Cox, executive director of the Killeen-based Heart of Texas Defense Alliance, said in a Herald interview at the time Congress approved the renaming that the Interstate 14 plan provides "the road network" needed to move military equipment from Fort Hood to the Port of Beaumont for deployment.
The highway "will enhance Fort Hood's ability" to deploy, making the journey to the port faster, he said.
Interstate 14 is also known as the 14th Amendment Highway, receiving its designation for the amendment passed in 1868, which granted citizenship to "all persons born or naturalized in the United States," which included former slaves recently freed.
Individual states will have a hand in the project, to include construction and approval of the suggested route, according to the Gulf Coast Strategic Highway Coalition's website. There is no date set for completion of the project.