'I'm in despair,' daughter writes
Puerto Ricans escape chaos after Maria, make way to Killeen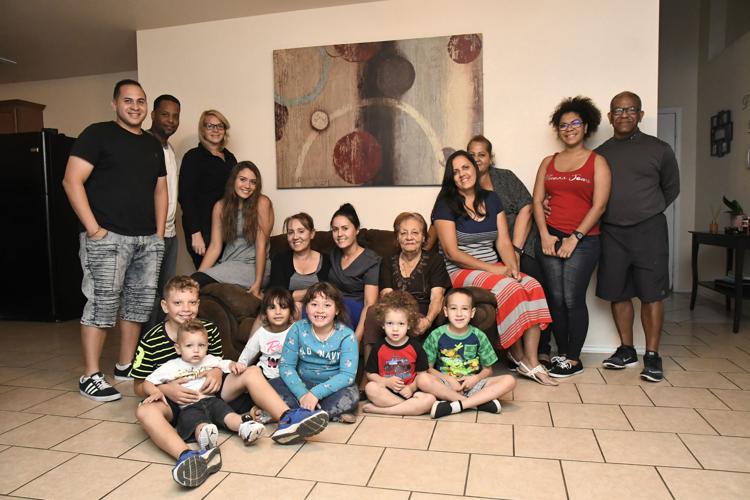 When 17 family members and friends get together it's typically to celebrate a wedding, a quinceañera, Thanksgiving, Christmas or Easter, but for a local Puerto Rican family within the last week, survival is the occasion.
"We bought their airplane tickets without telling them," said Crysthal Diaz, 31, of Killeen, in Spanish. "The situation was desperate: They didn't have water, they didn't have electricity, they didn't have food."
For weeks, Diaz had no communication with family in the south-central coastal town of Coamo after Hurricane Maria caused catastrophic damage and created a humanitarian crisis for Puerto Rico's 3.4 million inhabitants. More than three weeks after Maria's Sept. 20 landfall, 90 percent still don't have power and one-third don't have water, according to status.pr, the government information portal maintained in Spanish.
Forty-five deaths in Puerto Rico have been blamed on Maria, which tore across the island with 150 mph winds. The government says it hopes to have electricity restored completely by March, according to the Associated Press.
What prompted the flight was a phone call from an uncle, Diaz said. He told her of the immediate need, described the scene as chaotic and that something had to be done.
Diaz's mother, Mandry Lopez, 53, of Coamo, was surviving by eating spoonfuls of honey. Grandmother Onelia Colon, 88, also of Coamo, was at risk due to diabetes and her insulin had spoiled.
An unsettling fear creeped in.
"Until she arrived she didn't have access to insulin, and even now she's only on pills," she said.
Diaz shared her anguish in a public Facebook post to a Hurricane Maria relief/update group Sept. 27. The translation from Spanish:
"I'm in despair, things are terrible in PR… my grandmother's insulin was damaged and she needs it. Yesterday I spoke with my mom and she said they had just two bottles of water left, and I feel powerless. … She doesn't have cash and can't buy anything. I'm afraid about what could happen. We bought them plane tickets but there are still 10 days left."
Like so many people who have friends and family in the U.S. territory, Diaz and her husband Orville Moreno, 34, of Killeen, took matters into their hands by coordinating with local and regional aid groups to send provisions.
Some of the food, water and supplies intended for certain municipalities, however, did not make it.
Shipments that arrived in San Juan ports not collected within 24 hours were confiscated by the Federal Emergency Management Agency and Red Cross, which then distributed the goods to areas those agencies saw fit, Moreno said.
Although the shipments successfully made it to Puerto Rico, what wasn't picked up within the timeframe was handed to residents of San Juan and the metropolitan areas — at least an hour's drive away from Santa Isabel and Coamo, with obstacles and debris littering the road, and with gas a scarce commodity.
"Santa Isabel's First Lady Arlene Questell was left waiting, expecting the shipment," Moreno said.
Questell, wife of Santa Isabel's Mayor Enrique "Quique" Questell Alvarado, used a satellite phone to break the news to Moreno that 36 containers filled with bottled water weren't received, he said.
Concerns regarding contaminated water were confirmed Wednesday when Puerto Rico Gov. Ricardo Rossello announced four deaths were being investigated as to their connection to infected water sources, according to the AP. A total of 10 people have come down with suspected cases of leptospirosis, Rossello said at a news conference. Leptospirosis is a treatable bacterial infection that occurs in two phases: the first, causing symptoms such as fever, headache, chills, vomiting and diarrhea that can be mistaken for other diseases; the second phase is severe, causing kidney, liver failure or meningitis, according to the Centers for Disease Control and Prevention.
It was necessary to get everyone out, Moreno said.
"Thank God everything is calmer for us now."
About 10 people are now living in the Moreno household, and all have a place to sleep, he said. Others are staying at a rented house. At 6:45 p.m. Wednesday, an additional flight from San Juan brought about seven or eight more, and next Thursday, four more people are expected.
A handful of children that made the trip Saturday from San Juan to Killeen via Austin are enrolling in Killeen schools, and one began elementary school Thursday after checking off a last-minute requirement — a routine shot.
Now it's about getting everyone moving forward, and that includes employment, Moreno said.
Jaime Alomar, 55, of Santa Isabel, has been looking for work in Killeen since Monday.
"Basically our goals are to … contribute to the state and become Texas residents," Alomar said. "We're staying positive. We've already had interviews."
Alomar has a law degree from a prestigious university in Puerto Rico but never worked as an attorney. He's worked in government and in manufacturing, though.
Diaz works in Temple at a Montessori school, and Moreno owns a modest car dealership and detailing center on Business 190 in Copperas Cove. They have lived and worked locally for three years.
They like it here because there are many "Boricuas" — a name given affectionately to the people of Puerto Rico.
"The mayor is Puerto Rican, Councilman (Juan) Rivera is Puerto Rican, … this is a good place," Moreno said. "We're eager to get started."