Killeen airport sees lowest ridership in decade, data shows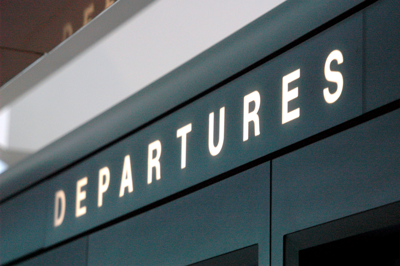 As Killeen city officials take steps to prove to residents the city's financial house is in order, revenue and ridership at the Killeen-Fort Hood Regional Airport are in free fall.
Passenger boarding in 2016 was down 9 percent year-over-year, and data furnished to the Daily Herald shows it was the lowest air ridership and passenger activity in more than a decade.
The steep falloff created a sense of urgency with Executive Director of Aviation Matt Van Valkenburgh, who last week formally requested and received approval for an Air Service Development agreement.
Council members unanimously approved receiving $90,000 from the Killeen Economic Development Corporation to go toward targeting flight frequency to existing markets, attracting additional destinations and luring an additional airline.
To do that, Oregon-based Sixel Consulting, advising airport officials the past three years in 12-month, no-bid contracts, will again try to put Killeen in the best possible position to defend and draw business.
"I wish we could snap our fingers and get air service," said Jeremiah Gerald, Sixel's executive director of air service strategy and development, who works directly with Killeen.
"What (the public doesn't) see is that the industry is very complex. It's bigger than just Killeen," he said. "Retaining (air service) is the core strategy."
That's a success, but there's work to do, he said.
The firm again will help in air service efforts for economic development, Van Valkenburgh said in an email to the Daily Herald, because the airport is an "an economic engine for the community."
The aviation hub is a pillar of community and economic importance to the region, he said, bringing with it employment opportunities and serving as a gateway to the city.
Boardings and deplanements in 2016 dropped from 289,020 to 277,054, a 4.1 percent decrease over 2015, continuing a year-over-year slide since 2013 when the airport reported 339,416.
The airport's best year was 2010, with 424,147 inbound and outbound passengers.
Since 2010, the airport saw a 34.7 percent decrease in passenger activity — nearly 150,000 fewer enplanements and deplanements a year.
The development agreement, along with a U.S. Department of Transportation grant Van Valkenburgh is eyeing, could help turn around those numbers, Van Valkenburgh said.
But it's easier said than done.
A world-class hub in Austin, now easier to access via State Highway 195 and the State Highway 130 toll road, is poaching customers, and Van Valkenburgh said something needs to change to remain competitive.
"The rise of the Austin airport ... makes it necessary to continually talk with airlines about the positives of (Killeen's airport) and the community to show our commitment ... and what more we have to offer," he said.
In 2016, Killeen airport officials had meetings with several airlines to get that point across, including: American (4 times); United (3); Southwest (2); Alaska (2); GLO (2); Delta (2); Allegiant (2); SkyWest (1); and JetBlue (1).
American, United and Delta in Killeen offer flight service to Dallas, Houston and Atlanta hubs.
The atmosphere now is different from 2012, when the Daily Herald reported passenger boardings alone were increasing about 10 percent yearly.
Van Valkenburgh described the recent downward trend as varied and complex.
Airlines reduced capacity in flights and seating last year — an 18 percent reduction in flights resulting in a corresponding 11 percent reduction in seats, he said. Although American and Delta added larger aircraft that included two-class seating, losses were not offset.
Killeen airport revenue consistently dropped yearly for four years, city data shows.
In 2011, airport revenue was about $2.9 million but slipped to about $2.8 million the next year. Revenue recovered in 2013 to a figure between the first two years. In 2014, the revenue edged above $2.8 million, slightly lower than the previous year, but was again knocked down to about $2.7 million in 2015 and $2.5 million in 2016.
Competition with Austin's airport again was mentioned.
"Austin has more destinations and nonstop direct flights; Austin has more airlines from which to choose," Van Valkenburgh said. "It is easier to reach."
Military and military-related travel also has decreased, he said.
Another reason? "Perceived" disparities in airfare with Austin, Van Valkenburgh said.
The latest market and carrier fare information available from the Transportation Department show in the second quarter of 2016, the average one-way fare was $270 at Killeen-Fort Hood Regional Airport, and $230 at Austin Bergstrom International Airport. In the previous quarter, the fare was $264 and $232, respectively. Data is submitted up to six months after a quarter.
Disparity in airfare alone isn't a cause for the decline, Gerald said. Some of it has to do with a change in airline strategy, he said, and at times, even weather.
"It's that complex," Gerald said. "It doesn't mean that there's a less reasonable fare — it's a supply and demand market, (and) we're trying to educate people that's it's not just about the fare."
For example, the cost for a business traveler to reach another airport incurs not only fuel expense and time lost traveling but also a loss in airline loyalty perks. Flying from Killeen to another airport qualifies as a segment that can't be made by driving, he said.
"Yes, there will be fare disparity … but (the difference is) actually closer than you think," Gerald said.
Competition breeds lower fares, especially when an ultra-low-cost carrier enters a market to challenge legacy companies, according a 2016 study by the International Center for Air Transportation at MIT.
Researchers studied a relatively new business model deployed by companies such as Allegiant, Spirit and Frontier airlines.
"By keeping their labor costs low, unbundling their fare products and focusing on strategies that increase return on invested capital, (ultra-low-cost carriers) have been able to offer low base fares in the markets they serve," the analysis says. "Customers have responded to these low fare offerings, and in recent years, these three carriers were among the most profitable in the nation and have had the highest domestic load factors among U.S. airlines."
Researchers found fares in markets with heavy competition were 21 percent lower than average in 2015.
On the flip side, the report said that, while ultra-low-cost and low-cost carriers resulted in a 14 percent average decrease in fares a year after entry, ultra-low-cost carriers are three times more likely to abandon a market within two years of entry.
Carrier retention is a primary concern for Killeen's Van Valkenburgh and is a reason he says Air Service Development agreements and other initiatives are important.
"Without continuing meetings with the airlines at their headquarters and the specific (air service) conferences, the airlines could believe the community has no interest in their service and either reduce service or leave the market," he said. "Airlines do and have done that in communities our size annually."