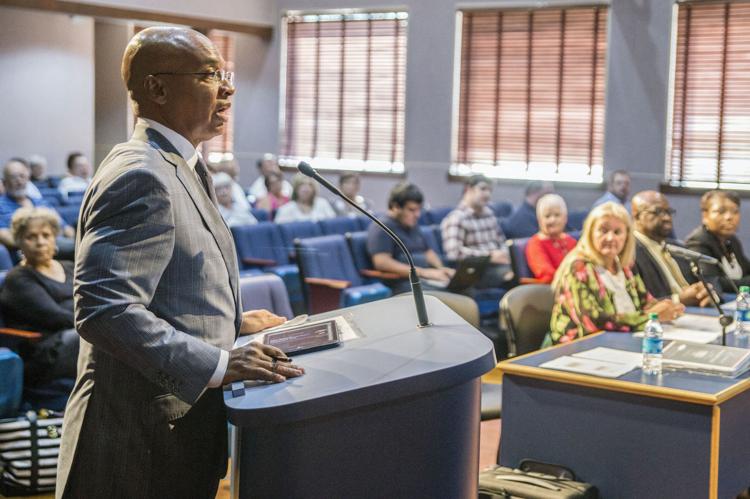 After a public accounting firm in September told Killeen city leaders municipal finances had been damaged by years of poor decision-making, changes are coming in the way public money is managed.
External auditors McConnell & Jones, after a public call for an investigation and city approval for a management review, concluded overspending from fiscal years 2007 to 2016 and a lax leadership at the top, harmed Killeen's financial health. As a result, 26 recommendations are being implemented into financial policy changes.
Financial reviews won't end with the external audit, however. Under City Auditor Matthew Grady, plans for the first of several internal audits to monitor policy changes and examine other areas of city finances are underway.
"The first one out of the gate, which I've already started, will be the KCCC (Killeen Civic and Conference Center) liquor operation audit, which is mandated by contract," Grady said in an email Dec. 14. "Normally, this would be a quick turnaround type of audit, but it's best to keep an open mind for areas of interest outside the normal scope that might present themselves."
Grady is in the preliminary phase and should have a better feel for a timeline once the scope of the review is established. There was no date set for completion, but the former federal auditor in August laid out plans for at least one audit per quarter.
The Killeen Civic and Conference Center has documented concerns, including: large inventory variances that were not investigated; a month's purchases incorrectly reflected in an inventory report; errors in sales calculations for three months; and reported revenue in August 2015, according to an August 2016 city auditor report.
The city uses Jesters as a management company, but provides all supplies, including beer, liquor, soda and wine, and other items like cups, according to documents. Jesters is paid 40 percent of gross receipts monthly on alcohol sales service charges.
The August 2016 report determined a checking account belonging to the conference center, which was active and open for 14 years, violated the City Charter. Other issues, according to an August 2014 city review, showed deposits were not submitted during three weeks in December 2013, which caused more than $13,000 in revenue to be delayed in posting.
The KCCC audit is not the only financial review residents will see in the new year.
After successfully facilitating the management audit of city finances with McConnell & Jones doing the heavy lifting, Grady set his sights on the Killeen Police Department state seizure fund, city planning and funding for vehicle replacement, city policies governing the authorization and use of compensatory time and Animal Services.
His first solo audit, the results of which were released Nov. 21, scrutinized a 10-year-old city credit card program that was never audited. In his report, Grady pinpointed the misuse of city credit cards by senior managers and other top leaders during the years 2008 to 2012, when the program had little oversight. Expenditures amounted to less than $10,000 over several years, and although the amount was not extravagant, "(expenditures) were inappropriate uses of public dollars, and were symptomatic of an attitude of permissiveness on the part of senior management," the report said.
"Significant corrective action" was already taken to address program weaknesses, the report added.
The scope of the earlier McConnell & Jones management audit was a piece of the city's financial puzzle. Grants management, for example, is an area not specifically examined by the management audit that had documented problems.