Killeen-Fort Hood Regional Airport 'up to the task'
Plans underway to make you want to fly Killeen, director says
It's no secret the Killeen-Fort Hood Regional Airport is facing challenges — from revenue to passengers to infrastructure — but even after funneling more than $700,000 to marketing it over the past three years, the bleeding hasn't stopped.
Airports are trying new things to claw back slipping ridership, in addition to subsidies, to maintain or start service, according to George Hobica, founder and editor-in-chief of Airfarewatchdog.com.
Hobica said he is seeing frequent-flier programs that belong to airports, social media use to promote advantages and airfare comparisons, and newsletters to communicate with potential passengers.
But there's no doubt regional airports are struggling, Hobica said.
Airports fight each other for airline resources allocated to a market, and the best organizations lure their business through a committed ridership, according to Matt Van Valkenburgh, the city's executive director of aviation.
Killeen's commercial aviation center is a pillar of community and economic importance to the region, Van Valkenburgh has said, which brings employment opportunities and serves as a gateway to the city.
Challenges persist, however, and competition with airports in Austin, Dallas and Waco play a role in revenue erosion.
In February, the executive director described a downward trend as varied and complex.
Airlines reduced capacity in flights and seating last year — an 18 percent reduction in flights resulted in a corresponding 11 percent reduction in seats, he said. Although American and Delta added larger aircraft that included two-class seating, losses were not offset.
Killeen airport revenue consistently dropped yearly for four years, city data show.
Passenger boarding in Killeen last year was down 9 percent year over year, and data show it was the lowest air ridership and passenger activity in more than a decade. Although the best year in total passengers was 2010, there has been a yearly decline since 2013.
During a budget presentation to the City Council last week, City Manager Ron Olson painted a dim view in his overview of the airport's health. If nothing changes, the city could be forced to keep it afloat in just a few short years.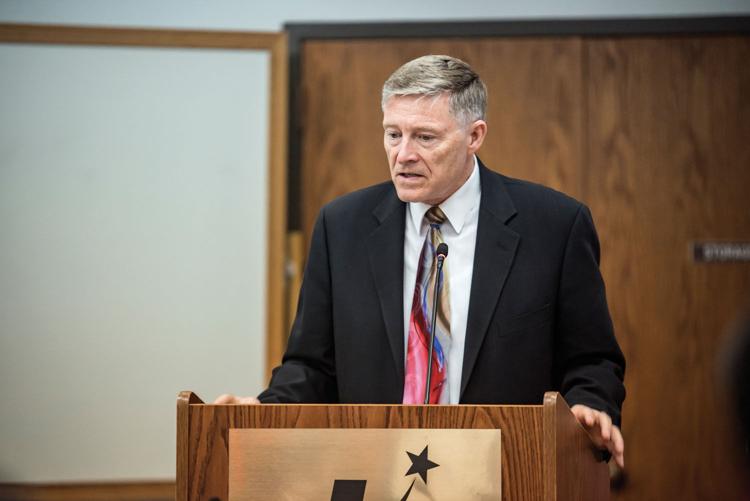 Van Valkenburgh is hopeful.
"We continue to work diligently with airlines on their airfares to make us competitive; we will initiate a marketing plan that will mirror our demographics (it will be multifaceted); we will continue to deliver an excellent level of service, along with our airline partners, that will make customers want to use our airport," he said.
"This may be one of the ways to change the perception of those who 'feel they need to drive an hour or more.'"
GETTING THE WORD OUT
"Everybody" is a marketing target, Van Valkenburgh said, choosing to focus on an area that includes Lampasas, San Saba, Burnet, Copperas Cove, Gatesville, Killeen, Harker Heights, Nolanville, Belton, Temple, and toward Georgetown. Fort Hood, its soldiers and families are also a focus, as well as leisure and business travelers.
American Airlines, Delta and United serve the airport.
Killeen-Fort Hood Regional Airport historically has received financial help from the Killeen Economic Development Corporation in the form of a contribution, which must typically be approved for receipt by the City Council.
Since before the airport's revamp and grand opening in 2004, a peak in passengers in 2010, and throughout the decline in ridership since 2013, Killeen-based Dynamic Designs has worked to promote the facility and its services.
The company bills itself as a custom design powerhouse and as an embroidery shop with an emphasis on branding, screen printing and promotional products, among other services.
Cindy Davis of Dynamic Designs is in charge of the account, but declined to explain individual expenses provided by the city, and specifically, how money was spent.
"I'm an advertising company — if I tell people my secrets how I pick, advertising wouldn't go over too well," Davis said.
The most expensive line item in 2014, for example, noted as "Prime Time Gabriel Pkg 12 Month Campaign," was logged March 17 of that year for $20,790.
"I have no clue about 2014, but anyway, Dynamic Designs just basically meets with ... used to meet with a committee and then the executive director, he directs me on what he wants to be done, we work with advising different marketing ideas, and move forward from there," Davis said.
When redirected back to the 2014 expense, she said: "That's something that's put on our invoices, which I'm not at liberty to discuss. ... What kind of piece are you writing that you want to know about specifics?"
The city was asked by the Herald to furnish the contract with Dynamic Designs, but it had not provided it as of Friday.
The company and city relationship was bid out and vetted, according to Davis, but specifics were not provided.
"I think we've had to do it three different times if I remember correctly," she said. "It's nothing consistent."
Expense data provided by the city show more than $700,000 in KEDC money and nearly $48,000 of city appropriations were allocated to Dynamic Designs the last three fiscal years.
In 2014, the entire $270,000 KEDC contribution was spent during a period that saw a 2.7 percent dip in total passengers. The marketing initiative was in the red by $50.80.
In 2015, $241,248.75 of a $260,000 KEDC contribution was spent during a 12.5 percent nosedive in total passengers.
In 2016, $167,378.05 of a $200,000 KEDC contribution was spent during a 4.1 percent decline in total passengers.
In addition to KEDC contributions, the airport used public money appropriated by the city to buy luggage tags, balsa wood gliders, "chip clips" and blue totes — purchases were diverse.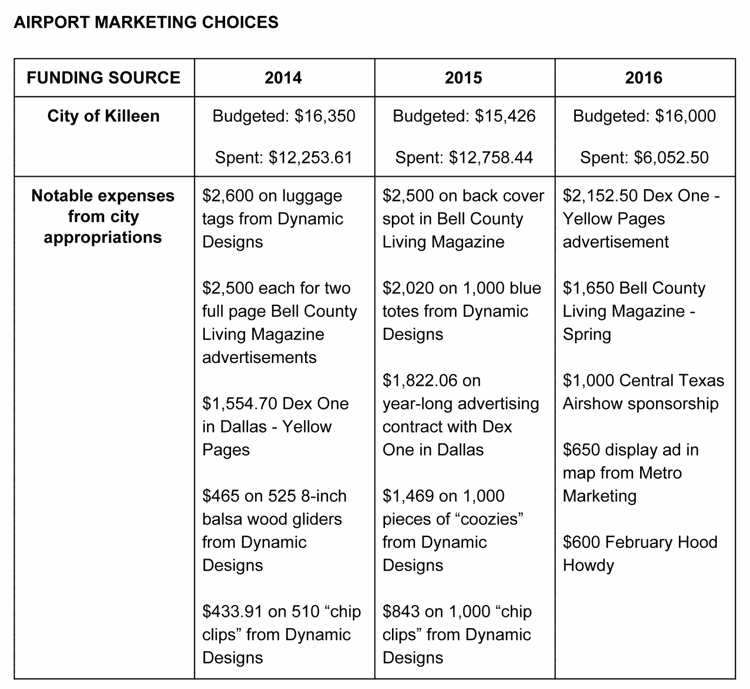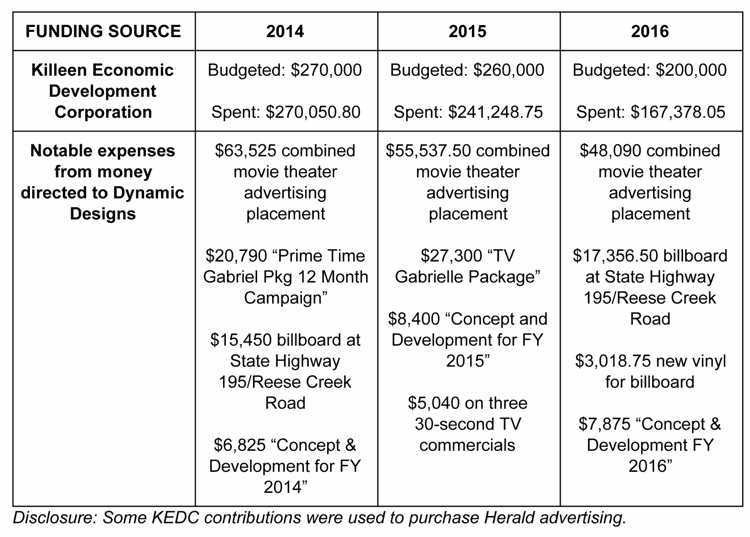 Van Valkenburgh recognizes a change in consumer habits.
"We have used traditional marketing strategies such as print, theater, television, radio, sponsorships, mailings, banner ads, etc., the past several years to 'get our story' into the traveling public mind," he said. "We recognize the traveling public is very tech savvy; thus we will be shifting to target these folks in the future."
It would be a big leap forward because it would provide feedback, be measureable, and be adaptable to change rapidly to meet the need of the consumer, Van Valkenburgh said.
Strategy is the emphasis.
Van Valkenburgh grew up fueling aircraft on a dirt airfield in Arizona. He continued on to his pilot's license, was a Navy officer for 18 years, and clocked several thousand hours in the twin-jet Grumman A-6 Intruder.
Angles of attack is a familiar concept to him. "We will be generating new business profiles, a new incentive policy, researching business and consumer loyalty programs, and pro-formas per airline requests to further our discussions with each airline," he said in February.
Since then, the airport successfully pursued a $90,000 incentive contribution from the KEDC and applied for a passenger service fee, as it has done yearly since 1992, to raise $1.54 million for building improvements, among other steps.
Some of the core areas the airport is working on include airfares with airlines to get closer to what Austin and Dallas offer; aircraft size to accommodate bags and people (airlines are downsizing fleets); working with airline schedulers to offer more flights in market (filling current flights will help drive this); air service development to sustain and add flights; and upgrading airport equipment.
Is the airport competitive?
"Yes!" he said in an email to Herald questions.
"We strive daily to provide the best in services to our customers and to let them know we appreciate their use of our airport and we want them to come back," Van Valkenburgh said. "We know there is work to be done and we are up to the task."
The best year in ridership for the Killeen airport was 2010 with 424,147 total inbound and outbound passengers, but to boost the fewest passengers in a decade, seen last year — thinking outside of the box is required.
It's important because, according to Van Valkenburgh, the airlines are always watching airport use.
"It's simple; if you don't use it, you can very well lose it," he said.
---
TOTAL PASSENGER ACTIVITY
2004: 225,541
2005: 320,021
2006: 360,752
2007: 378,817
2008: 381,733
2009: 404,589
2010: 424,147
2011: 364,685
2012: 335,582
2013: 339,416
2014: 330,173
2015: 289,020
2016: 277,054
Source: Boardings and deplanements, according to city data, compiled by Angel Sierra