Killeen City Auditor Matthew Grady previewed what to expect from his first solo audit that's been underway for seven months.
He chose city credit card use because of the risk factor for fraud — and the fact the 10-year-old program has never been audited.
On Wednesday, the biblical story of Lot was Grady's launching point into his update to the Audit Committee at City Hall.
"I'm risking turning into a pillar of salt," Grady said, referring to Lot's wife, who was turned into a pillar of salt when looking back at the destruction of Sodom and Gomorrah.
It's the second time in the past two months Lot's story was front and center. On Sept. 5, the day Houston-based accounting firm McConnell & Jones revealed 26 finance recommendations to the council after completing its management audit, City Manager Ron Olson related Lot's story, saying it was time to follow the example of looking forward, not backward.
"(But) there are some problems — some real problems," Grady said Wednesday.
Without being too specific, he said some of the most glaring issues he's found so far include:
• Controls to help safeguard public money were inconsistent or not in place
• City leadership didn't make program accountability a priority
• There was no real p-card program administrator from 2008 to 2011
• About 40 percent of purchases didn't require pre-authorization
• No training program on how to use city purchasing cards
• No refresher training program for purchasing violations
• Policies did not require statement reconciliation.
• There was no system for tracking violations
"It was a little amuck," said Grady, a former federal auditor. "There was some real systemic internal control weaknesses."
Key problems stem from the very beginning, while others are still being addressed today, he said.
Killeen resident James "Jack" Ralston, one of two members of the audit committee, asked whether any "overt" expenditures — implying intentional misuse or misapplication — were detected.
None that were major, according to Grady, but he did identify smaller or lesser examples, such as buying a cellphone charger on public dime for personal use. Purchases of that nature are common in the private sector, too.
Councilman Juan Rivera asked whether someone could get away with purchasing a 55-inch TV.
Grady was blunt. In the first few years of the program, something like that probably could have slipped through, he said.
There are two main scopes of time being analyzed within the p-card program: from 2012 forward, when the city began using Citibank, and the period before, when it used JPMorgan Chase. Grady's focus is the Citibank years.
"In terms of managing an audit, you have to start with a defined scope, but ultimately you have to go where the evidence leads," he has said.
The findings of the p-card audit will be posted to the city website when completed, no later than Nov. 16, Grady said.
City Manager Olson told Grady he hopes the final report distinguishes between what happened 10 years ago and what's happening now.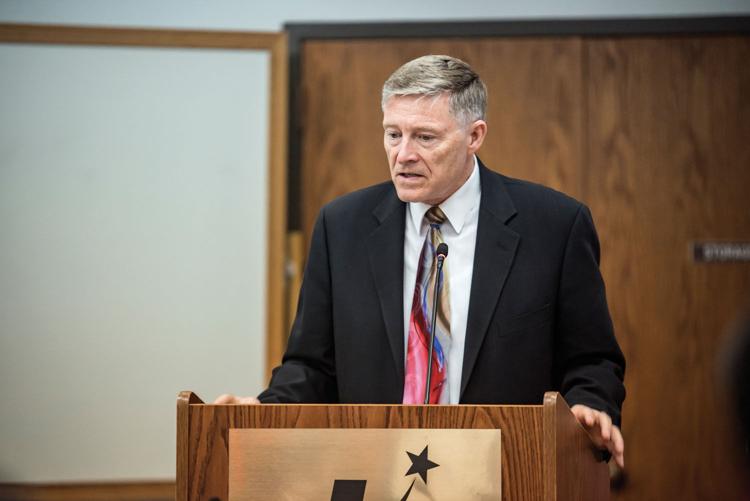 City spokeswoman Hilary Shine in May, for example, said a new p-card policy was implemented in October 2016. It was a "major overhaul," she said, that included single transaction limits, an acceptable expenditures section and even how meal purchases should be handled.
The results of the management audit put a spotlight on accountability and transparency, and changes across most departments and policies are anticipated.
Grady in the coming year is planning at least four additional internal audits of certain city functions — the Killeen Police Department state seizure fund, the city's planning and funding process for vehicle replacement, Killeen Civic and Conference Center liquor operations and city policies governing the authorization and use of compensatory time.
And Grady left the door open for more.