KISD board hears recommendation for $426 million bond issue
The Killeen Independent School District Board of Trustees voiced praise and concerns about the potential $426 million bond issue during a board meeting Tuesday evening.
Chairmen of the bond steering committee, Bill Kliewer, Brenda Coley and Hal Schiffman, along with KISD Superintendent John Craft, presented the committee's recommendation for a potential bond issue via PowerPoint slides prepared by the district.
The projects prioritized by the bond steering committee during its November meetings and listed in the recommendation:
• Renovations to bring existing campuses into compliance with the Americans with Disabilities Act and address security/safety issues
• New high school to open for 2022-2023 school year
• Consolidation of East Ward and West Ward elementary schools with construction of a new East Ward school
• Consolidation of Pershing Park and Sugar Loaf elementary schools, with partial rezoning of Bellaire Elementary School, and construction of a new Pershing Park school
• New elementary school to open for 2022-2023 school year
• Renovate and expand Clifton Park Elementary School, with partial rezoning of Bellaire Elementary School
• Renovations to Killeen High School
Craft emphasized how KISD's current tax rate of $1.11 is the lowest of area schools districts, and other Texas school districts of comparable size.
Board member JoAnn Purser asked if it would be possible to compare the total property tax rates — including all taxing entities — to get a better feel for how taxpayers will be impacted if the potential bond issue passes.
Purser also asked if the bond steering committee had considered breaking the bond issue into three pieces, which would give voters a chance to vote for those projects they deemed priorities.
She suggested the new high school be one piece at $171 million, the renovations to the schools be the second piece, at $100 million, and the other projects be the third piece, at $255 million.
Coley responded that the bond steering committee had discussed that possibility. "If it's broken up, people will vote where their heart is," she said. "The goal of the committee was to make changes where changes were needed. We would not bring anything to the board that wasn't appropriate."
The $426 million bond amount would raise property taxes on a home assessed at $150,000, with a homestead exemption, by approximately $169 per year.
The board is not scheduled to vote on whether to call a bond election until the Feb. 13 meeting, which would allow the bond issue to be included on the May 5 municipal ballot.
The board voted unanimously to approve the proposal from Huckabee, Inc. for the new elementary school, being built on Morganite Lane. The proposal contains Huckabee's estimated architectural design fee of $1.434,025, with additional fees for consultants amounting to over $214,000.
The guaranteed maximum price for the project will not be approved by the board until May 2018. The proposed cost, according to the KISD Strategic Facility Plan, is $37.13 million.
The board also voted to approve a proposal from Huckabee, Inc. for a new middle school, to be built on Warriors Path. Huckabee's fee for architectural design is in excess of $2 million, with additional fees for other consultants amounting to more than $416,000.
The guaranteed maximum price for the middle school will not be approved by the board until December 2018. The cost, as listed on the district's Strategic Facility Plan, is estimated at $54 million.
Huckabee, Inc. has offices throughout Texas, and has been designing schools for KISD for more than ten years. Huckabee is one of five architectural firms in a "pool," according to Craft, which regularly do work for the district.
Currently available district funds will be used to pay for both schools.
EMA Engineering and Consulting submitted a proposal for heating and air conditioning life cycle replacements and design proposal for $240,000. The board unanimously voted to approve the proposal.
In other business:
Joyce Hodson, director for the KISD Education Foundation, reported that 20 grant applications had been selected to receive funding for the fall 2017 classroom engagement grant cycle. The Foundation will provide $75,000 to cover these grants. The remainder of the $117,645.31 is funded by employee contributions and campus rebates.
It's the largest amount toward grants ever awarded, according to Hodson.
The grants will be awarded Thursday. "It's a fun way to celebrate and spread some cheer before we go on break," Hodson said.
Documents regarding Craft's annual evaluation process were distributed to board members, in accordance with Texas Education Agency regulations. The actual evaluation will take place in closed session at the January board meeting.
---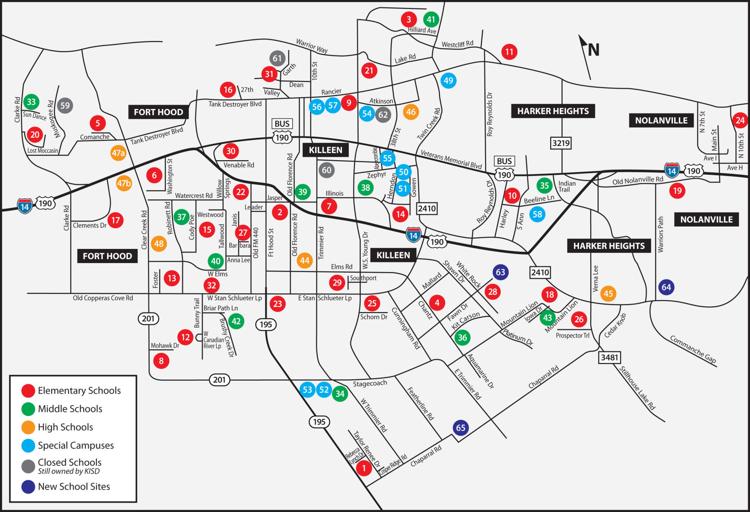 Key to KISD map
| # | School | Grade | Built | Age | Cost | Unknown field 6 |
| --- | --- | --- | --- | --- | --- | --- |
| 1 | Alice W. Douse | Elementary | 2017 | 0 | $30.26 | |
| 2 | Bellaire | Elementary | 1966 | 51 | unavailable | |
| 3 | Brookhaven | Elementary | 1993 | 24 | unavailable | |
| 4 | Cedar Valley | Elementary | 1993 | 24 | unavailable | |
| 5 | Clarke | Elementary | 1976 | 41 | unavailable | |
| 6 | Clear Creek | Elementary | 1990 | 27 | unavailable | |
| 7 | Clifton Park | Elementary | 1964 | 53 | unavailable | |
| 8 | Dr. Joseph A. Fowler | Elementary | 2014 | 3 | $16.13 | * |
| 9 | East Ward | Elementary | 1952 | 65 | unavailable | |
| 10 | Harker Heights | Elementary | 1964 | 53 | unavailable | |
| 11 | Hay Branch | Elementary | 1985 | 32 | unavailable | |
| 12 | Haynes | Elementary | 2011 | 6 | $13.80 | * |
| 13 | Iduma | Elementary | 2003 | 14 | unavailable | |
| 14 | Ira Cross Jr. | Elementary | 2002 | 15 | unavailable | |
| 15 | Maxdale | Elementary | 2001 | 16 | unavailable | |
| 16 | Meadows | Elementary | 2007 | 10 | unavailable | |
| 17 | Montague Village | Elementary | 1998 | 19 | unavailable | |
| 18 | Mountain View | Elementary | 1988 | 29 | unavailable | |
| 19 | Nolanville | Elementary | 1985 | 32 | unavailable | |
| 20 | Oveta Culp Hobby | Elementary | 2004 | 13 | unavailable | |
| 21 | Peebles | Elementary | 1960 | 57 | unavailable | |
| 22 | Pershing Park | Elementary | 1962 | 55 | unavailable | |
| 23 | Reeces Creek | Elementary | 1989 | 28 | unavailable | |
| 24 | Richard E. Cavazos | Elementary | 2009 | 8 | $14.14 | * |
| 25 | Saegert | Elementary | 2006 | 11 | $11.96 | * |
| 26 | Skipcha | Elementary | 2006 | 11 | $12.34 | * |
| 27 | Sugar Loaf | Elementary | 1965 | 52 | unavailable | |
| 28 | Timber Ridge | Elementary | 2005 | 12 | unavailable | |
| 29 | Trimmier | Elementary | 1998 | 19 | unavailable | |
| 30 | Venable Village | Elementary | 1995 | 22 | unavailable | |
| 31 | West Ward | Elementary | 1953 | 64 | unavailable | |
| 32 | Willow Springs | Elementary | 1985 | 32 | unavailable | |
| 33 | Audie Murphy | Middle | 2004 | 13 | $14.22 | * |
| 34 | Charles E. Patterson | Middle | 2009 | 8 | $19.21 | * |
| 35 | Eastern Hills | Middle | 1987 | 30 | unavailable | |
| 36 | Liberty Hill | Middle | 1998 | 19 | unavailable | |
| 37 | Live Oak Ridge | Middle | 2002 | 15 | unavailable | |
| 38 | Manor | Middle | 1971 | 46 | unavailable | |
| 39 | Nolan | Middle | 1961 | 56 | unavailable | |
| 40 | Palo Alto | Middle | 1995 | 22 | unavailable | |
| 41 | Rancier | Middle | 1990 | 27 | unavailable | |
| 42 | Roy J. Smith | Middle | 2017 | 0 | $46.70 | |
| 43 | Union Grove | Middle | 2004 | 13 | $13.20 | * |
| 44 | C.E. Ellison | High | 1978 | 39 | unavailable | |
| 45 | Harker Heights | High | 1995 | 22 | unavailable | |
| 46 | Killeen | High | 1964 | 53 | unavailable | |
| 47a | Early College-Fort Hood | High | 1976 | 41 | unavailable | |
| 47b | Early College-CTC | High | | | | |
| 48 | Robert W. Shoemaker | High | 1996 | 21 | unavailable | |
| * does not include fixtures, furniture and equipment | | | | | | |
| | | | | | | |
| Special Campuses | | | | | | |
| 49 | Bell Cty Juvenile Detention/JJAEP | | | | | |
| 50 | Gateway High | | 1962 | 55 | unavailable | |
| 51 | Gateway Middle | | 1962 | 55 | unavailable | |
| 52 | Career Center | | 2012 | 5 | unavailable | |
| 53 | Pathways Academic Campus | | 2011 | 6 | unavailable | |
| 54 | Administration Bldg | | 1977 | 40 | unavailable | |
| 55 | Jackson Professional Learning Center (formerly Marlboro Elementary) | | 1954 | 63 | unavailable | |
| 56 | Killeen Learning Support Services (formerly Rancier Middle) | | 1943 | 74 | unavailable | |
| 57 | Student Services | | | | | |
| 58 | Technology Services Ctr | | | | | |
| | | | | | | |
| Schools Closed but still owned by KISD | | | | | | |
| 59 | Duncan Elementary | | 1981 | 36 | unavailable | |
| 60 | Fowler Elementary | now leased to Texas A&M-Central Texas | 1956 | 61 | unavailable | |
| 61 | Fairway Middle School | | 1955 | 62 | unavailable | |
| 62 | Career and Technical Education | now maintenance facility - Atkinson facility | 1972 | 45 | unavailable | |
| | | | | | | |
| New School Sites | | | | | | |
| 63 | Elementary School #35 | | | | $37.13 | |
| 64 | Middle School #14 | | | | $54.03 | |
| 65 | High School | | | | $171.00 | |
| | | | | | | |
| | Data compiled from information obtained from KISD. | | | | | |
| | Cost information on older schools no longer available, according to KISD officials. | | | | | |