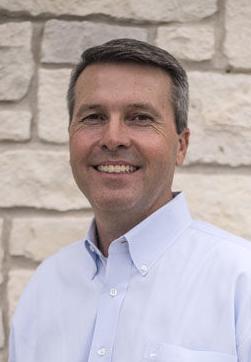 In front of about 125 people at Billy Bob's Burgers Tuesday evening, Dr. Brad Buckley made one thing clear: he's a competitor.
The Killeen veterinarian announced his candidacy for the District 54 House of Representatives seat. He will go head-to-head with incumbent Scott Cosper in the Republican primary in March.
Buckley attributed his competitive nature to his fourth-grade teacher, Barbara Beck.
"Competition is the bedrock of our conservative principles," Buckley said. "By its very nature, it renders a choice. A winner and a loser. A better and a best."
Buckley is a 1985 graduate of Ellison High School. His grandfather was Leo Buckley, a legendary football coach and athletic director for whom the school district's high school athletic stadium is named. His grandmother Annie Roe Buckley and mother, Lolly, were teachers in the Killeen Independent School District.
Buckley was introduced by his wife, Susan, who is the Killeen High School principal.
Former Killeen City Councilman Brockley Moore was in attendance, sporting a maroon and white of Buckley's alma mater, Texas A&M University.
Brenda Coley, the executive director of human resources at Metroplex Hospital, was also on hand, as well as Bill and Mary Kliewer, co-owners of Patriot GMC-Buick.
"(Coley and the Kliewers) demonstrated a relentless effort to serve a community that has given so much to so many others," Buckley said. "They taught me how to rally support and how to ask tough questions, but most of all, how to give up my time and resources, not for personal gain, but for the betterment of the community and its students."
Buckley didn't address any specific issues or talking points in his announcement. When asked after the speech if he had a piece of policy that was at the top of his list, he said that information would be come out at a later time.
"I'm a common-sense conservative," he said.
Buckley has served on the KISD Board of Trustees, as chairman of the Greater Killeen Chamber of Commerce and as a board member of the Peaceable Kingdom Retreat for Children. He is currently a co-chair of the 14 forward economic development campaign for the greater Fort Hood area, and a partner at the Killeen Veterinary Clinic, Town and Country Veterinary Medical Center and Stagecoach Pet Hospital.
"Coach Paul 'Bear' Bryant once said, 'It's not the will to win that matters — everyone has that. It's the will to prepare to win that matters,' and that preparation starts today," Buckley said.
Read more about Buckley and Cosper in this Sunday's Killeen Daily Herald.
---
Candidate filing deadline: Dec. 11, 2017
Open primary election: March 6, 2018
Primary runoff election: May 22, 2018
General election: Nov. 6, 2018
Incumbent: Scott Cosper
Term length: Two years