Over half of 2016 Bell County new foreclosures tied to VA loans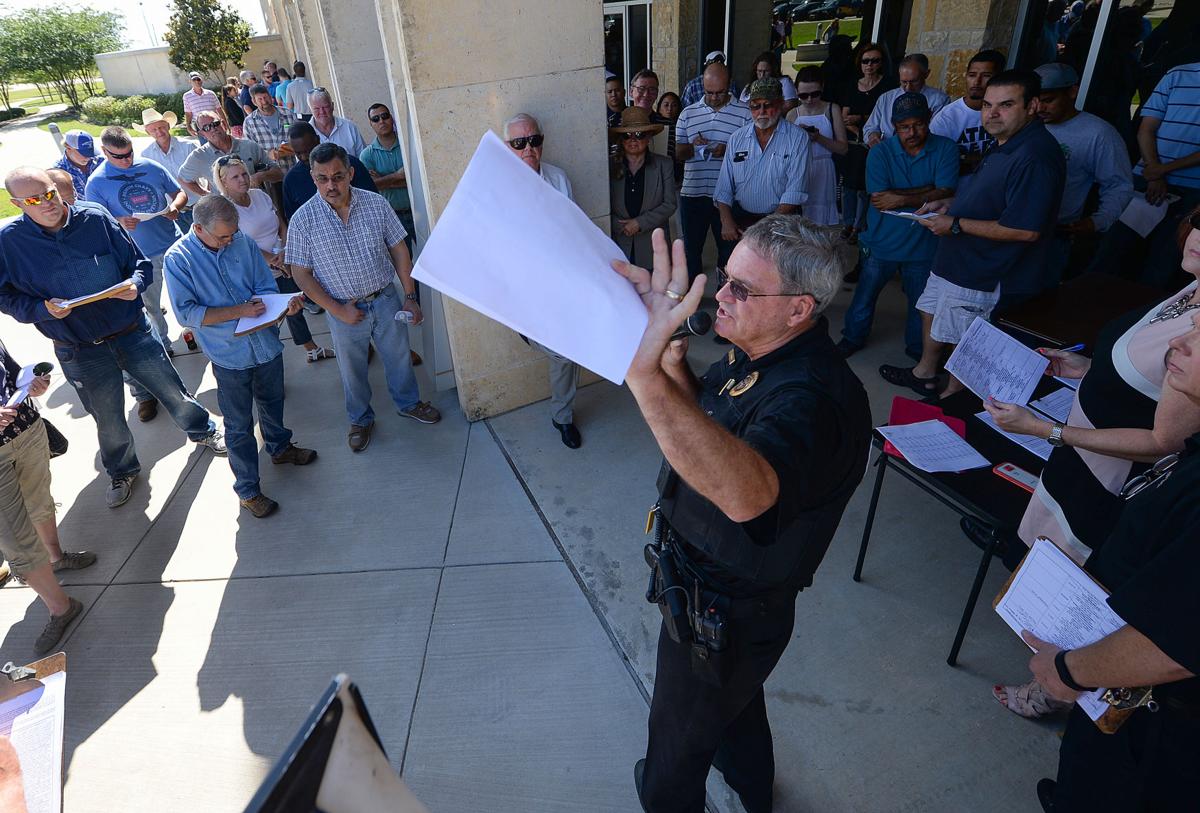 Every three months, Bell County Sheriff Eddy Lange gets to try out a second career: auctioneer.
On June 6, Lange was in charge of auctioning foreclosed property as part of the county's quarterly sheriff's sales, where properties with delinquent property taxes are sold sight unseen to the highest bidder at rock-bottom prices.
The same morning — just feet away from the sheriff's sale outside the Bell County Justice Complex in Belton — was another group of potential investors at a monthly trustee's sale, where properties with delinquent mortgages are sold for a higher price related to the unpaid mortgage.
Underpinning both auctions is a Bell County foreclosure market that is primarily filled by properties in one city — Killeen — and primarily owned by one class of homeowner — active-duty and former military with federally backed home loans.
Almost 67 percent of all new foreclosures in Bell County in 2016 were tied to the Veterans Affairs home loan, a federally guaranteed, zero percent down mortgage for qualified veterans and active-duty soldiers.
Due to the favorable terms of the loans — more than 57 percent of new purchasers in the Fort Hood area market used one in 2016 — service members, often unknowingly, take on a Catch-22 loan in looking for a way to grow their wealth.
Digging further into the available figures reveals uncertainty in exactly where the foreclosure market stands, who it hurts and, ultimately, who benefits from it.
RATES HIGHER
According to RealtyTrac.com, Killeen foreclosure numbers more than double the national average of .04 percent of all available housing units. Killeen's rate is .09 percent of all available units.
The highest rates of foreclosure are in the 76542 area code, where 1 in 685 housing units are listed in some stage of foreclosure. As of March 2017, there were 291 foreclosed homes on the market in Killeen, according to RealtyTrac.
The stages of foreclosure include:
Advanced delinquency or "pre-foreclosure," when property owners are behind on paying mortgage payments or property taxes
Sale at auction, when foreclosed properties are taken to a sheriff's or trustee's sale
"Real-estate owned," when a property has cleared auction and is in the effective ownership of a bank or taxing entity.
Brian Adams, a real-estate agent with StarPointe Realty in Killeen and author of the Hood Homes Blog, said the Fort Hood area market is unique due to a high number of foreclosures on Veterans Affairs home loans.
Adams said 1,783 homebuyers in Killeen, Harker Heights, Copperas Cove and Nolanville purchased a home with the aid of a VA mortgage in 2016 — or around 57 percent of all purchases in that area.
The VA loan is a 100 percent financing mechanism for veterans or active-duty soldiers with routinely low interest rates and a 25 percent guarantee from the Department of Veterans Affairs.
Because lenders are guaranteed to receive a quarter of the loan back from the federal government in the event of a default, homebuyers are allowed to put no money down and not pay mortgage insurance, which is common for non-guaranteed loans where less than 20 percent of the home purchase is put down.
'UNDERWATER FROM DAY 1'
But what is beneficial to buyers who qualify for the VA loan can also be a trap, Adams said.
Homebuyers with a VA loan often put no money down, do not cover the closing costs of the purchase and have to add a "funding fee" for the VA guarantee, Adams said.
If a service member turned around and tried to sell the home three years later, the cost to cover the remaining mortgage could be higher than the actual market value of the home — making it difficult to sell.
"Because of the 100 percent financing and the fact that most buyers finance the VA funding fee into the loan, it literally means that buyers with the VA loan are underwater from Day 1, usually by a few thousand dollars," Adams said in a 2015 post on HoodHomesBlog.com..
Because those buyers have to wait years to build equity in the home, buyers can struggle to get out from under their investment in the short term, particularly when home appreciation has shown little growth in Killeen for years and military lives change quickly.
"Many soldiers' financial situations change, they find that they bought more house than they could keep up with, and find that they can't sell it without bringing a lot of money to the table," Adams said in an email Wednesday. "That is why there will always be plenty of VA foreclosures in military towns like Killeen. I would recommend buyers plan on a 5- (plus) year timeline before they can break even on 100 percent financing."
LISTING CONCERNS
The only information available on foreclosure trends in the Killeen area is through the Fort Hood area multiple listings service, a for-profit market database owned and operated by the Fort Hood Association of Realtors.
Real estate agents use the service to advertise property listings to others, and use the database to get accurate sales figures on properties.
However, due to the proprietary nature of the database and voluntary participation in populating it, the services are incomplete and not publicly accessible.
Around 90 percent of transactions in the Fort Hood area are shown on the multiple listings service, Adams said.
Texas is one of a handful of states that has no mandatory sales information disclosure laws on the books.
The incomplete sales information has wide-ranging fallout for agencies relying on up-to-date real estate market information — including county appraisal districts that assign value to land each year.
The Bell County Appraisal District subscribes to two multiple listings service providers — Fort Hood and the Temple/Belton area multiple listings service — to get close-to-exact market value on land appraisals, but the system does not always ensure accuracy.
In late May, commercial property owners in Harker Heights and Killeen complained of annual property appraisal figures that reached as high as 5,050 percent year over year. Advocates took the issue to the offices of Gov. Greg Abbott and other state leaders, hoping to add commercial appraisal caps on the docket of the special session that begins Monday.
Marvin Hahn, the district's chief appraiser, said the district's 13 field appraisers largely rely on multiple listings service figures but are handcuffed in gathering precise sales information.
"It's sometimes like being in a boxing match with one hand tied behind your back," Hahn said.
Hahn said, because of that pitfall in accurately assessing value each year, the appraisal district undertook across-the-board reviews of certain commercial corridors in 2017, which have led to massive increases in land value for properties, which have been chronically undervalued for years.
More than 5,300 property owners protested their preliminary appraisals by the May 31 deadline.
Hearings before the county Appraisal Review Board, an independent arbitrating body appointed by 169th District Judge Gordon Adams, will begin June 26.
BACK ON THE MARKET
Where do homes go when they're foreclosed?
Many properties that are foreclosed go to a trustee's sale the first Tuesday of each month at the Bell County Justice Complex.
On June 6, nine properties were sold at trustee's sale. The opening bids were listed anywhere in the range of $50,000 to $190,000.
Adams said in his experience only about 25 percent of homes sold at auction are purchased by cash-in-hand investors. The remaining 75 percent are reverted back to the banks or lenders executing the foreclosure, which can then put the properties back on the market when and how they see fit.
"Most evict the owner/tenant, and within three to six months have it listed with a local Realtor on the MLS (multiple listings service) where that data is captured," Adams said.
In the case of VA loans, Adams said, 365 of the 546 foreclosed properties sold in the Fort Hood area in 2016 were sold by the VA, which takes possession of the properties when they aren't sold at auction.
Cities can also end up owning foreclosed properties.
In Killeen, 27 properties that hadn't sold at auction sit "in trust" with the city, representing more than $300,000 in delinquent property taxes. Properties held in trust do not collect taxes for the city or county holding them.
Properties that have delinquent property taxes can be foreclosed after the Bell County Appraisal District, which is in charge of gathering yearly property taxes, sues the landowner in district court. The foreclosed properties can then be auctioned at the quarterly sheriff's sales.
The district is represented by Round Rock-based McCreary, Veselka, Bragg & Allen Attorney at Law.
If those properties are not sold during the auction process, they are put into trust with the cities or counties in which they reside.
CODE VIOLATIONS
On top of this, the city of Killeen places liens on properties that don't abate code violations, adding to the city's financial obligations on derelict properties with back taxes and years of city maintenance on the books.
Having liens on properties that go to auction also make the properties harder to sell, because the liens are included in the minimum offer for the home and turn off investors looking for a deal, City Attorney Kathy Davis said Tuesday.
At its Tuesday meeting, the Killeen City Council approved two measures to streamline the sale of properties in the city's trust.
The first measure will allow the city to waive its outstanding liens on auction properties, lowering the minimum offer and increasing the chance of a sale.
The second measure will allow the city to join foreclosure lawsuits filed by the appraisal district's lawyers, slightly improving their chance of recouping some of the lien costs and back property taxes in case of a successful sale.
All of the 27 properties are now vacant lots and have been accumulating on the city's rolls since 1999.
At the bottom line of the city's measures are two goals: Taking property maintenance out of the hands of the city and putting delinquent properties back on the tax roll.
Mayor Jose Segarra called the two measures "win-win" proposals when the items first came before the council June 6.
---
Sheriff's sale
What: Auction of properties foreclosed on by the Bell County Appraisal District for unpaid property taxes
When: Roughly quarterly, operated by Bell County Sheriff's Department and Sheriff Eddy Lange at the Bell County Justice Complex in Belton
The rundown: When a property owner does not pay property tax, the Bell County Appraisal District can seek to foreclose on that property and take it to a public auction. At auction, the properties are sold sight unseen at often rock-bottom prices, sometimes in the $2,000 to $3,000 range
Result: If a property in city limits doesn't sell at a sheriff's sale, that property is reverted "in trust" to the city in which it resides; If a city has code abatement liens on that property, it can be difficult to sell that property and remove it from the city's possession
---
Trustee's sale
What: Auction for properties foreclosed on by banks or lenders for unpaid mortgage payments
When: The first Tuesday of every month at the Bell County Justice Complex in Belton, operated by online real estate auctioneers Auction.com
The rundown: When a property owner does not pay back a mortgage loan, mortgage lenders have the right to sue for foreclosure on that property with a bank or lender named as "trustee" of that mortgage. Like sheriff's sales, trustee's sales are public, but are often far higher priced; According to some Realtors, most trustee's sales buyers are the banks that own the property; Banks then often evict the property owners and put the house back on the market for sale
Result: Even relatively "safe" mortgages, like the Veterans Affairs home loan, can leave property owners out on the street if not properly managed. More than 67 percent of all new foreclosures in 2016 were tied to the VA home loan, according to the Fort Hood area multiple listings service. That number is primarily due to the large number of veteran and active-duty homebuyers in the area, but also poor foresight in new home purchases
---
These 27 properties are held "in trust" by the city of Killeen, with the date the city took effective ownership:
2016 S. Eighth St. — Dec. 16, 2009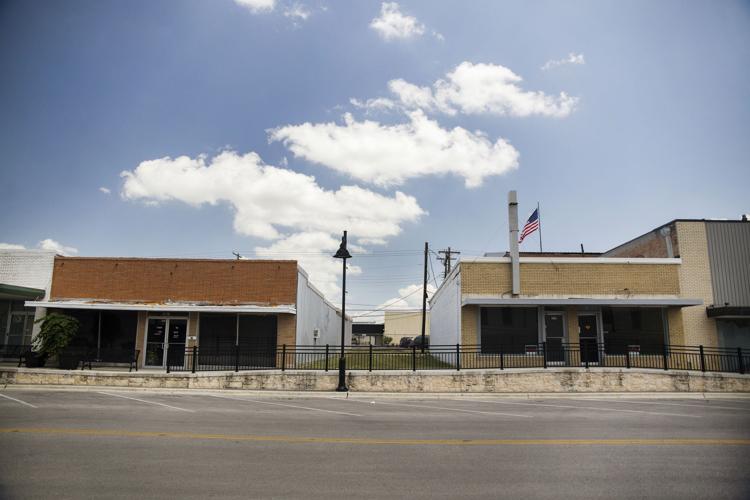 513 N. 16th St. — Nov. 28, 2011
905 Adams Ave. — April 4, 2006
907 Adams Ave. — April 4, 2006
604 Attas Ave. — Sept. 1, 2009
209 E. Avenue C — Feb. 28, 2002
607 W. Avenue I — Sept. 6, 2016
609 W. Avenue I — Sept. 6, 2016
503 W. Avenue J — Feb. 28, 2002
507 W. Avenue K — March 24, 2016
715 W. Avenue K — Oct. 20, 2014
719 W. Avenue K — June 19, 2015
1410 Bundrant Drive — Aug. 27, 2001
504 Dimple St. — June 19, 2015
907 Evergreen Drive — March 11, 2010
1101 Glen Drive — Oct. 23, 2015
509 S. Gray St. — Sept. 30, 1999
2400 Grasslands Drive — March 31, 2011
711 Henderson St. — Oct. 23, 2015
2704 Hillside Drive — Oct. 20,2014
403 Patton Drive — March 24, 2016
909 Southside Drive — March 7, 2017
1203 Wales Drive — Aug. 13, 2015
505 Wisconsin St. — Oct. 20, 2014
2009 Wood St. — Oct. 23, 2015
1002 York Ave. — Aug. 7, 2014
1004 York Ave. — Aug. 7, 2014