Sheriff's department warns no 'negativity' allowed online
Federal lawsuit underway in north Texas in similar case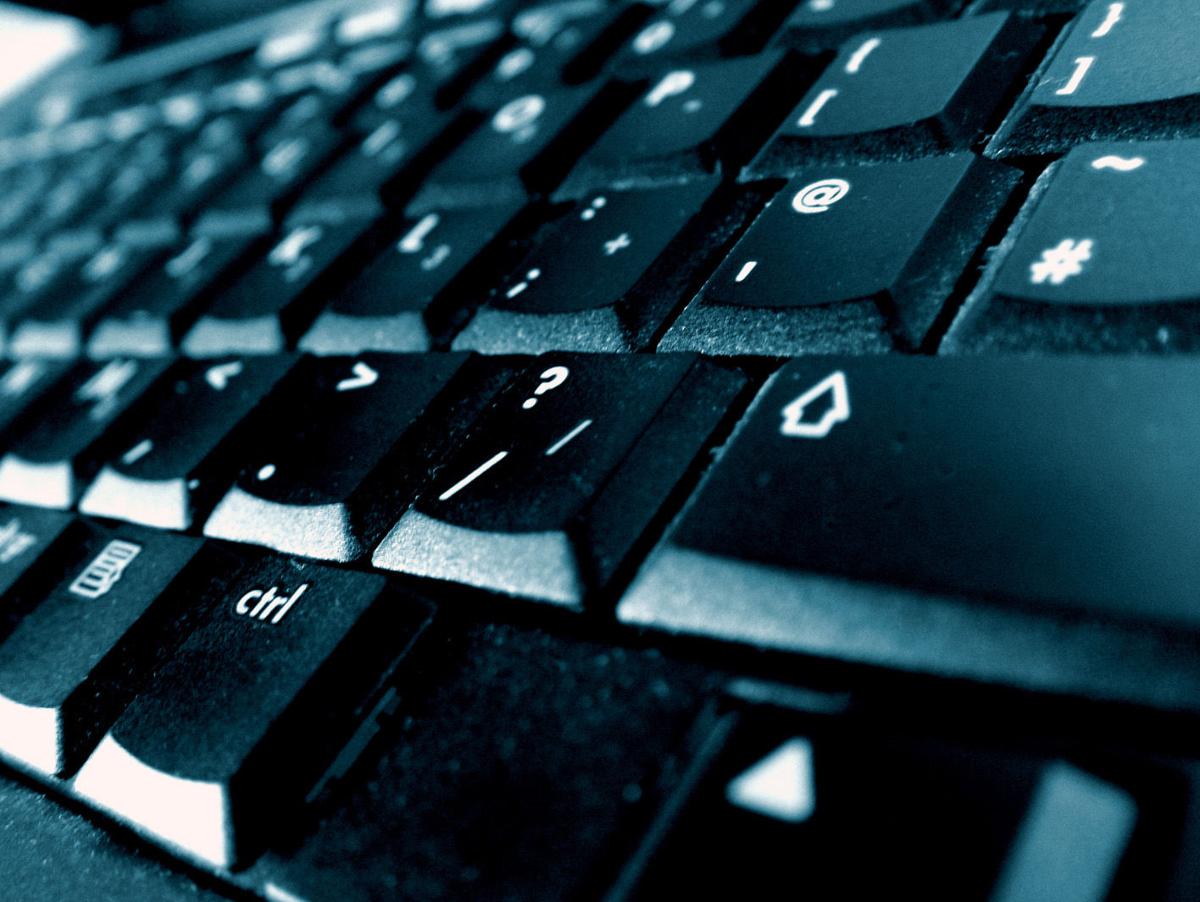 Four days after the Texas Rangers released details describing the shooting death of a Harker Heights resident, including dash-cam video, the Bell County Sheriff's Department began a virtual crowd-control on its Facebook page to silence critics.
In attempting to control discussion, the department might have crossed a legal line, and the scenario raises a question: On social media pages operated by governmental agencies funded by public dime, where does freedom of speech end?
An announcement went up at 7:54 a.m. April 24 on the department's Facebook page and remains online.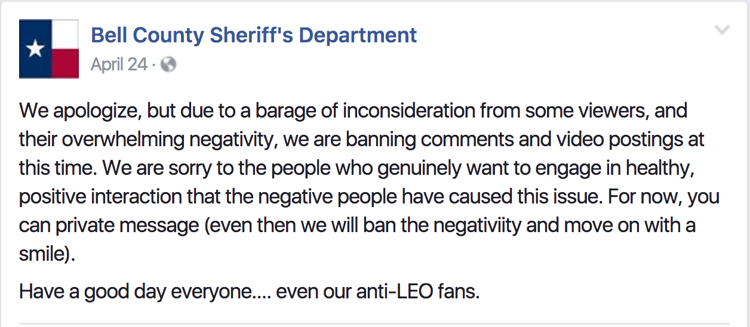 "We apologize, but due to a barage (sic) of inconsideration from some viewers, and their overwhelming negativity, we are banning comments and video postings at this time," the post read.
Sheriff's Cpl. Shane Geers shot and killed Lyle P. Blanchard, 59, after a failed traffic stop and pursuit Aug. 30 on a road leading to the Navy veteran's home on the outskirts of Harker Heights. The post continued: "We are sorry to the people who genuinely want to engage in healthy, positive interaction that the negative people have caused this issue. For now, you can private message (even then we will ban the negativiity (sic) and move on with a smile). Have a good day everyone.... even our anti-LEO (law enforcement organization) fans."
Austin attorney Bill Aleshire is a First Amendment advocate.
"The Bell County Sheriff's Office violates free speech rights when they shut down speech or censor speech that criticizes their actions, while hosting speech this government agency approves," Aleshire said in an email. "That is the very essence of illegal censorship."
Texas agencies are not required to provide the public opportunity to comment on agency issues, but when a government agency creates a forum and censors speech based on content, it runs afoul of state and federal constitutions that guarantee free speech, he said.
Bell County Chief Deputy Chuck Cox, in a separate interview, concurred.
"I wholeheartedly agree with that attorney. He's right," said Cox, a self-described student of constitutional law who for 15 years taught cadets the ins and outs of the law at a police academy.
The compelling-interest test a government must prove to restrict speech is a difficult task, but what should also be considered is speech not protected by the courts, such as obscenity, fighting words, threats, or speech posing a clear and present danger, Cox said.
Cox's primary concern were threats he said were lobbed at county staff, including deputies, but he welcomed the opportunity to discuss the topic with supervisors to communicate the department's "limited ability to restrict someone from saying things … even if we do find it offensive."
HIDDEN COMMENTS
Sheriff's Lt. Donnie Adams, a department spokesman, was unaware of the post to ban negative comments on the page, he said. When pressed, Adams pointed the finger at Facebook for yanking comments that painted the department in an unfavorable light, and was unsure whether the method was automated, or a person was doing the deleting.
"We had a large influx come in with a lot of negative comments," Adams said. Two sheriff's department staff members manage the Facebook page, but Adams declined to identify them.
Some negative comments were visible after the department said it would ban all comments and video postings. It was not clear whether additional comments had already been removed.
The Herald asked in an open records request to see copies of any Facebook comments hidden or deleted, and whether any people were banned, in response to the online criticisms.
The request was fulfilled June 6, and a typed letter on official department letterhead revealed an investigator who assisted in the request was "unable to determine if any had been deleted," and concluded that a deleted post will permanently be removed from a page and its activity log.
Several staff members have access to the page, and the investigator was unable to determine who hid messages, it said.
The department provided several screen shots of hidden comments, some of which contained no profanity, but criticized Deputy Geers or the department. They were hidden anyway.
"What does that law enforcement agency not understand about the concept that The People have the right to criticize their government?" Aleshire said in an email. "Aren't those police there to protect such rights?"
PERSPECTIVE
The Herald reached out to Austin-based attorney JT Morris of JT Morris Law for insight about whether the behavior of the Bell County Sheriff's Department — attempting to control discussion painting it an unfavorable light — constitutes a breach of civil rights.
Morris, a First Amendment litigator who specializes in free speech cases surrounding digital media and the internet, could speak only in generalities because he is the lead attorney in a separate but similar case involving a Bell County woman.
HUNT COUNTY CASE
"We're currently representing a party against the Hunt County Sheriff's Office in a lawsuit in the Northern District of Texas," Morris said in an email, a case he described as having "analogous issues" to Bell County's situation.
In a Jan. 18 Facebook post, the Hunt County Sheriff's Department said it was "suspicious" that several anti-police calls were received a day after a north Texas police officer was "murdered," as well as "people trying to degrade or insult police officers" on its Facebook page, according to court documents showing a federal lawsuit was filed in February.
As in the Bell County situation, Hunt County, near Dallas, said it would monitor the page, and ban comments it deemed inappropriate.
Hunt County then went a step further and began removing and deleting comments that chided its Jan. 18 post, including comments made by former Hunt County resident Deanna J. Robinson, now of Bell County, according to the suit.
Robinson — who is seeking punitive damages, injunctive relief and a jury trial — made national and international headlines in 2015 when a widely-circulated video showed a Hunt County Sheriff's deputy throwing a closed-fist punch Robinson said landed on her while 38 weeks pregnant.
A deputy was serving a child custody-related warrant, but when Robinson refused to turn over her 18-month-old, the scene became chaotic with a number of deputies standing over Robinson in a kitchen corner, and ended with Robinson being accused of grabbing a deputy's ammunition belt, and going for his gun.
Robinson, an Air Force veteran who received the Airman's Medal for helping five troops get out of a crashed and burning C-130 cargo plane in Iraq, served six days in jail and eventually was acquitted of all charges. A grand jury also cleared the deputy of aggravated assault.
Shortly after the Hunt County Sheriff's Department post Jan. 18, Robinson responded online, court documents show.
"Degrading or insulting police officers is not illegal, and in fact has been ruled time and time again, by multiple US courts, as protected First Amendment speech," she wrote. "Just because you consider a comment to be 'inappropriate' doesn't give you the legal right to delete it and/or ban a private citizen from commenting on this TAX PAYER funded social media site."
Robinson in her comment went on to describe a dead law enforcement officer as a "terrorist pig with a shiny badge" who would still be alive if he had not confronted someone on private property and created a standoff unnecessarily.
Soon after posting her comments, they were deleted and Robinson was banned, "denying her the opportunity to participate in public discourse on the HCSO Facebook page," the lawsuit says.
Furthermore, comments that "expressed viewpoints popular with, complimentary of, or otherwise favorable" to the Hunt County Sheriff's Department and its policies and conduct were not removed, while a notice in the about section of the page asked for only "positive" comments.
Kelley Shannon, executive director at the Freedom of Information Foundation of Texas, said in general, if a public agency is running a Facebook page, it should allow all comments. But like in a public forum, if someone crosses a line, there is some leeway to take action.
Ultimately, "if the point of the public forum is to allow free expression, ... there shouldn't be censorship of those comments ... free expression of ideas should not be thwarted," Shannon said.
Social media use by government is a growing trend and a good way for government and its people to connect, attorney Aleshire said in an email, but use of social media does not relieve the government of its legal obligations of transparency or protection of social media government records (including Facebook).
"There are laws that permit a website host to control what is posted there, but when government is the host, it must be particularly careful that any tampering with the content does not become unlawful censorship," Aleshire added.
BELL COUNTY POLICY
Among nine points made in its official social media commenting policy, personal attacks and references to the personality of individuals are not allowed.
The regulations are similar to those of Temple police because the policy was borrowed, Chief Deputy Cox said.
Any post that breaks the rules is to be documented for record retention, and then deleted from public view, the policy says. The commenter is to be contacted and informed about the violation.
Furthermore, all social media communications are subject to open records laws.
"(The Bell County Sheriff's Department) intends to promote effective communication and maintain a respectful dialogue," it reads. "In that spirit, the rules for posting comments on any official Bell County Sheriff's Department digital media or social networking site will maintain a productive and open forum for community discussion … while respecting a range of opinions and points of view."
OTHER DEPARTMENTS
The Herald asked Copperas Cove, Harker Heights and Killeen police how each handle social media postings, and what their procedures are in managing online discussions.
In Copperas Cove, there is no official policy.
The Cove police chief manages the Facebook page, while three additional officers have access to it, according to police spokesman Sgt. Martin Ruiz.
Before something is posted, it is added to a queue so it can be reviewed.
Four officers monitor posts and do not remove comments unless a city employee is targeted. When asked to clarify the meaning of targeting, Ruiz said comments are removed that criticize or threaten, and the person who posted the comment is contacted.
"We do not discuss those matters on Facebook," he said.
In Harker Heights, an official policy exists to establish how social media is to be used by the department, what is permitted, and the responsibilities of a social media manager, among other items.
The department enumerates several points — including an adherence to records retention and public records laws it says apply to social media postings.
"Content must be managed, stored, and retrieved to comply," the policy reads.
The following are among public comments the department says it can remove: Off-topic posts; obscene language or sexual content; and posts that threaten or defame any person or organization.
In addition, it can remove posts promoting political candidates or advertisements; specific religions or beliefs; illegal activity; commercial services or products; or those that advocate for or against certain legislation.
In Killeen, there is no official policy.
The public affairs officer and chief of staff primarily manage the page, while the intelligence manager, chief of police and the alternate public affairs officer also have access.
News releases are approved prior to posting, Killeen police spokeswoman Ofelia Miramontez said.
Positive comments and constructive criticism are welcome, but profanity and abusive or threatening language are taken down. Comments off topic or commercial in nature also are likely to be removed.
When asked whether negative comments are deleted, Miramontez said only comments critical of the department that include profanity, abusive or threatening language are removed.