HARKER HEIGHTS — A perennial top contender for New Year's resolutions is to exercise more, but before you gear up to step on the scale and then head out to the nearest treadmill, experts have some words of caution.
"Be cautious when Googling," said Dr. Sarah Benz, a physical therapist at Bellah Therapies in Harker Heights.
She said education is key, and it helps to reach out to a knowledgeable wellness coach instead of seeking answers on search engines.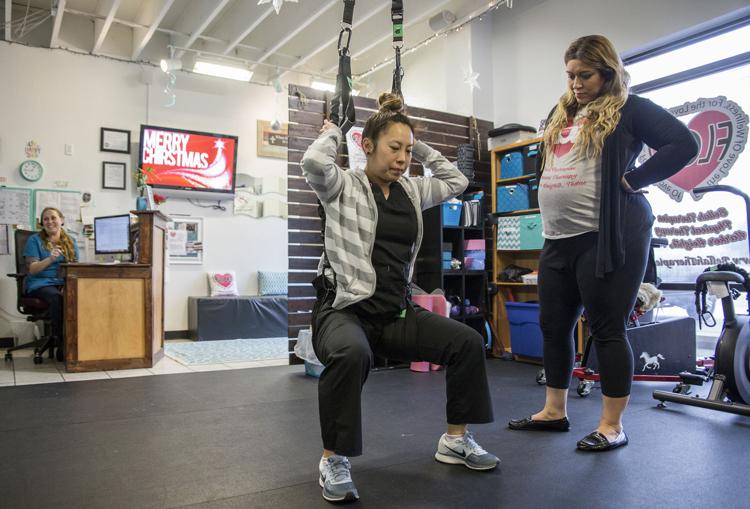 Jessica Davis, fitness and personal trainer for the Armed Services YMCA in Harker Heights, who also owns a local gym, said setting realistic goals is key.
Davis said a tip when setting goals is to pick something you want to improve.
"People are so busy that having too broad of a goal can be harder to track," she said. "So pick something you feel you need a change in, and track it as you go."
Benz said "start with small goals, then go big. For example, set a goal to lose 10 pounds, rather than 50."
However, Benz said she isn't big on the number on the scale.
"It's more about how you feel overall," she said.
Dr. Isabel Northington, clinic owner and physical therapy director of Bellah Therapies, said people shouldn't feel guilty for taking time for themselves.
A healthy state of mind is also important, she said.
"I love to talk about total body wellness, and spiritual wellness is super important," Northington said. "You don't have to be super religious or have a certain denomination, but just to really have that peace within yourself. I've personally seen that in our patients here, when they start to calm their bodies and their minds, and take away all the chaos and negativity, their bodies physically start to heal."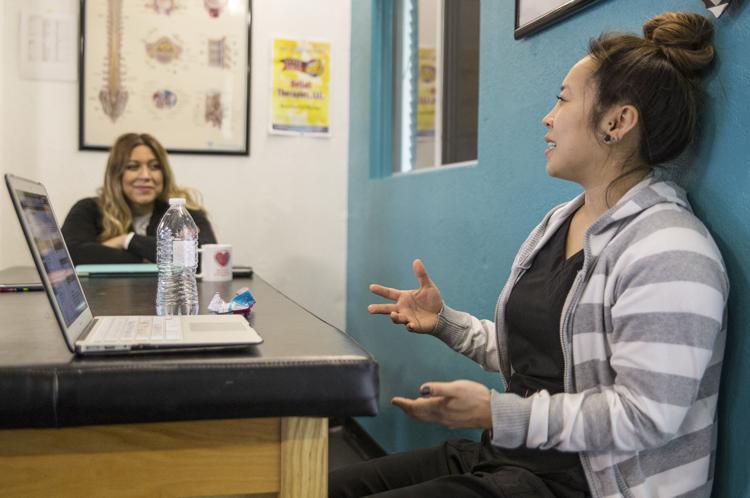 Davis said the Armed Services YMCAs in Heights and Copperas Cove are offering free enrollment (no fee for joining) until Jan. 31. For a list of classes offered, or to learn more, visit, https://www.asymca.org/killeenmemberships.
There are many gyms in the Killeen area and range in monthly costs from $10 to $200, depending on the type of gym and membership type selected.
For those on a tight budget, the city of Killeen has free hiking and walking trails:
Andy K. Wells Hike and Bike Trail at 2201 E. Veteran's Memorial Blvd, provides 2.5 miles of trail to hike or bike on.
Lions Club Park, has a 1.5-mile-long trail that winds around the Lions Club recreational area.
The city also has the Killeen Family Recreational Facility at Lions Club Park with elliptical, treadmills and other work-out machines. In addition, they have a small indoor track, basketball courts, free and machine weights, classes, and child care. The registration fee is cut in half for those signing up for a quarterly or annual membership, until Jan. 31. To learn more, visit, http://www.killeentexas.gov/index.php?section=27.
When hitting the gym, Benz and Northington said to pay attention to proper lifting and exercise techniques. Northington said sports-related injuries keep them in business, "but we can train you how to do it safely."
Sticking with an exercise schedule is also important.
"If you get off track, just get back on, and stick with it," Davis said.
Benz said it's good to have a partner join you in working out, to have someone help with accountability and motivation.
"It's never too late to start a healthier lifestyle," Benz said. "No matter your life situation, you can get out and become more active."
Benz' suggestions include joining bowling leagues and chasing an active toddler around a playground.
"Just get outside and play," she said.