'Strength in your mind and in your heart'
New owner of Heights restaurant escaped Hurricane Katrina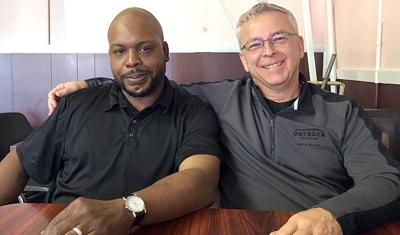 Killeen resident Dynel Wilson has come a long way since leaving his hometown when it was devastated by Hurricane Katrina more than 11 years ago.
Wilson grew up in New Orleans in a fatherless household. To say that he had his share of challenges would be putting it mildly. Seeing his best friend killed, and many others dying or going to prison, he is glad he left New Orleans.
"It was bad (there) because of things like gangs and drugs — I was shot in 2005 after being robbed," Wilson said. "Everything is just better here."
Wilson recently became the new owner of Henderson's Hilltop, a diner in Harker Heights.
Wilson attributes a lot of his success to Bill White, proprietor of Outback Steakhouse in Killeen.
Wilson moved to Killeen in 2005, seeking refuge from Hurricane Katrina, and landed under the wing of White at Outback Steakhouse, where Wilson got a job.
"He showed me how to run a business, how to run the numbers, and he helped me change my life," Wilson said, also referring to White as the best man he knows.
White refers to Wilson as an amazing person with a big heart.
White grew up in upstate New York, decades ahead of Wilson, in a two-parent household with four siblings. Attending Catholic school and college, he moved to Texas in 1981 to find work. After living in Dallas for several years, he moved to Killeen in 1997 and then opened the Outback in May 1998.
Recognizing differences between White and Wilson, White said, "A 60-something white guy from upstate New York and a (at the time) 20-something black man from New Orleans. On paper, we didn't have anything in common, but in reality we have everything in common. We are the same. Regardless of education, regardless of background or religion, or whatever, we are all the same, really — standing side by side working hard together."
Wilson spoke admirably about the influence White has had on him, of being a stern but fair supervisor, not letting him give up or quit, and recognizing the greatness in him. Not having a father, Wilson said he accepted the coaching because he was able to see the kind of man he wanted to be.
White said there are only two people he can trust to have his back or be there in a time of need, and that is White's wife and Dynel Wilson.
White said he and Wilson have had tough, teary conversations that have created a strong bond between them.
White said Wilson has always stepped up, volunteering for special events and never taking a day off from work.
"You are a role model, a truly amazing person," White said to Wilson during a recent interview with both men.
Wilson also gives his time to the community.
"For the past three or four years, I cook and serve about 800 to 1,000 homeless people," Wilson said, adding he does it because he likes helping people.
To see Wilson in action, you can catch him in his restaurant, Henderson's Hilltop, 139 W. Veteran's Memorial Blvd., in Harker Heights.
The restaurant is open seven days a week, and Wilson is there every day.
"I put love in all my food, and I talk to every table to make sure the food came out right," Wilson said, adding that all the food is down-home cooking and made from scratch.
As for overcoming difficulties in life, Wilson said, "You have to have strength, strength in your mind and in your heart."
White, who regularly dines at Henderson's Hilltop, added: "If you can help someone else, then why wouldn't you do it?"