Seka Berry is trying to lead a zero-waste lifestyle. In Killeen, she's found that to be rather difficult.
She came here from Hawaii, and has spent time in Austin, both places where recycling is a priority. But in Killeen, Berry has been thrown off by the lack of options.
The most basic form of recycling is curbside pickup, provided by many nearby cities that offer curbside trash services. However, Killeen discontinued the service for fiscal year 2017, due to a shortage of customers on its pay-per use system.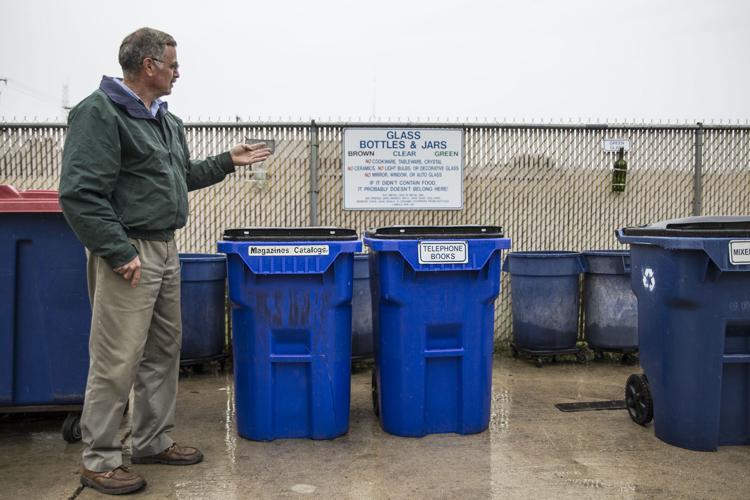 Berry penned a petition on Change.org that asks City Manager Ron Olson to consider bringing back curbside recycling. Though she has taken steps herself to try and reduce the amount of waste she leaves behind, she's not too optimistic others will follow suit if recycling isn't readily available to them, at no additional cost.
"Our community is quickly expanding, which means that the amount of trash we produce will only grow in number," the petition said. "The answer is not suspending curbside recycling services; the answer is revamping our recycling program, expanding the number of accepted recyclable plastics and promoting recycling as a priority, not merely entertaining it as an option."
With curbside pickup recycling gone, the amount of waste going into the Temple landfill has increased and the landfill is already set to expand its capacity for the next 75 years.
Killeen City Manager Ron Olson, at the Killeen City Council's request in March, took eight months to streamline the city's residential and commercial service to increase efficiency and allow the department to compete fairly with private enterprise. Now, the council will take bids from private companies that want in on running the city's solid waste department. The council decided Nov. 28 to move forward with the bidding process.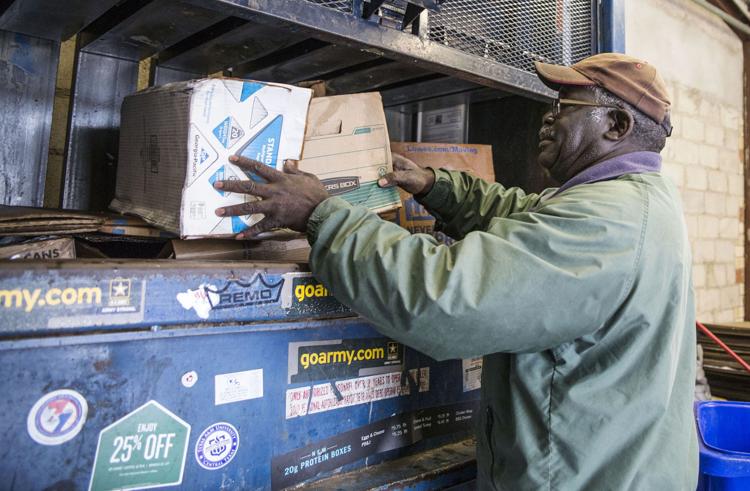 The privatization of solid waste removal has the potential to bring back curbside recycling, but there is no guarantee. The city can also add on curbside recycling if it takes advantage of identified efficiencies and associated costs savings, according to city spokeswoman Hilary Shine.
Though curbside recycling was once offered in Killeen, it wasn't free. Residents had to pay for a subscription, about $2.60 a month, which is very different from several surrounding areas. Waco, Temple, Copperas Cove, Belton and Fort Hood all offer curbside recycling at no additional charge.
From 2012 to 2016, when curbside recycling services were offered, the Killeen Recycling Center never took in less than 1,100 tons of material. In 2014, a record 1,414 tons of material were brought in, thanks to 510 tons of curbside materials. But in fiscal year 2017, the center took in just 850.4 tons of material.
The curbside recycling service was suspended Sept. 30, 2016. The Killeen City Council cut the program, citing low participation and finances, even though the ratepayers' fund had a surplus. Two months later, the city took $1.67 million from the trash ratepayer's fund to bolster a city fund.
The recycling program had operated at a $300,000 loss a year, according to Shine.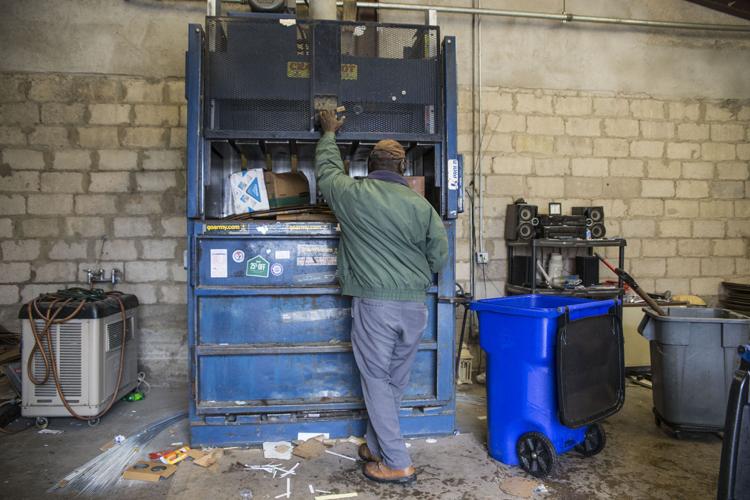 After a year without curbside recycling, the center missed out on about 480 tons of material that could have been saved from going in the Temple landfill.
The Temple landfill is in the final stages of expanding, so it can expand its capacity over the next 70 to 75 years. It received an additional 3,988 tons of waste from Killeen in fiscal year 2017.
There are a number of ways landfills have the potential to harm the environment. The No. 1 way is through methane gas and carbon dioxide emissions that contribute to the destruction of the ozone layer, according to Mike Bush, the program manager of the Fort Hood Recycling Center. The more holes dug for waste to go into, the more negatively that can affect groundwater.
"A successful recycling program is very important to the overall efficiency of our landfill," Shannon Gowan, the spokesman for the city of Temple, said in an email. "Landfills are meant for permanent disposal of waste; recycling diverts reusable matter to another source and extends our landfill life."
As Killeen's recycling numbers have diminished, its neighbors at Fort Hood have a thriving recycling program, thanks in large part to a material recovery facility. The center features a system able to divide plastics and papers into different categories, then later bundle them and sell them. Giant bundles of aluminum cans are sold to a company in Fort Worth, which eventually uses the material to create new Budweiser cans. Styrofoam is melted down and sold to a company that makes plastic picture frames, and white paper is sold to paper mills for $230 a ton, according to Bush.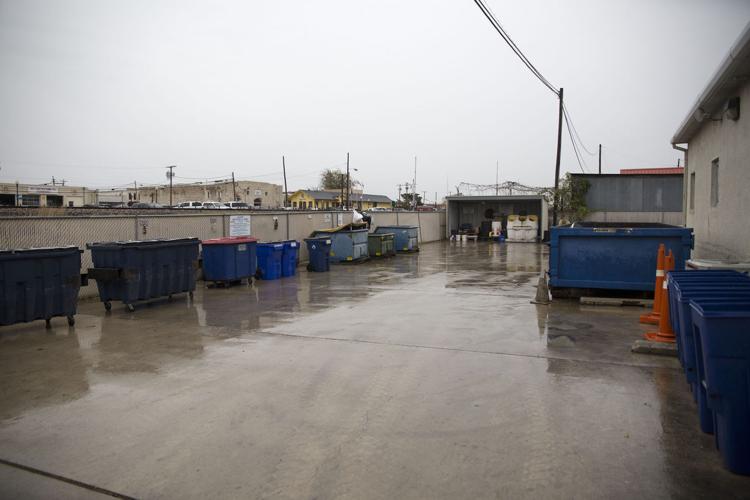 The recycling program at Fort Hood can take in 1,500 tons of material per month, according to post officials. In 2012, a study found about 48 percent of material in the Fort Hood landfill was recyclable, according to Timi Dutchuk, Fort Hood's environmental programs chief. In 2016, that number dropped down to less than 33 percent. That kind of waste reduction will extend the life of the landfill, and prevent any sort of expansion that could potentially harm the environment.
The center also generates revenue. The money taken in from sales of materials to third party companies eventually gets used for morale programs, and even funds the fireworks display at Fort Hood every July.
"If no one recycles, they have to hold up their phones for light on the Fourth of July," Bush said.
The Fort Hood program is single stream, which means different types of recyclables go into the same bin. That makes recycling easier for those on post. Nearly everything goes into the same bin, and that makes people participate, which is the key to a successful program if you ask Fort Hood officials.
The more materials that are able to be recycled — such as cardboard boxes or compostable material like sod — the more that reduces the amount of greenhouse gasses emitted into the environment, according to the Environmental Protection Agency. The more items that are recycled, the more beneficial it is to the environment.
Recycling 1 ton of office paper can save the energy equivalent of consuming 322 gallons of gasoline, according to the EPA. Recycling just 1 ton of aluminum cans conserves the equivalent of 1,024 gallons of gasoline or 21 barrels of oil.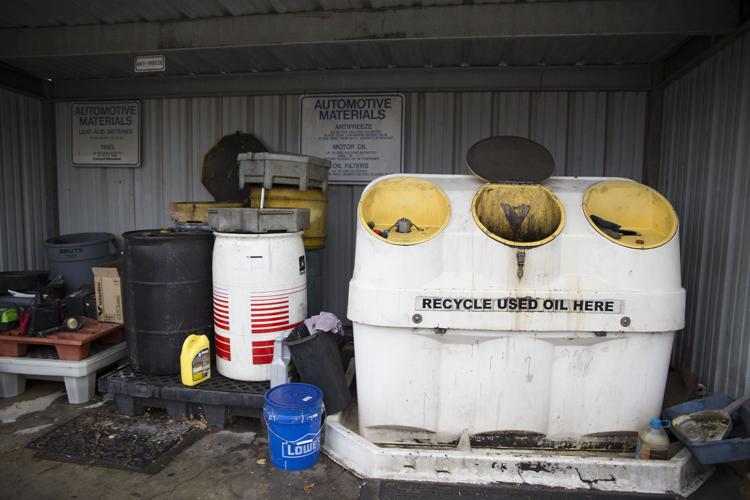 Plastic bottles are the most recycled plastic product in the United States as of 2014, according to a 2017 EPA report. Recycling just 10 plastic bottles saves enough energy to power a laptop for more than 25 hours.
Fort Hood has some benefits — mainly federal funding — that makes this recycling center more feasible than one specifically for a municipality. But there are two of these material recovery facilities in Austin, and Bush said that in theory, an individual city could get a similar system in place. More than likely though, it would take a partnership with a private company, and a 20-year commitment to ensure the facility paid for itself.
Waste Management — the company Temple pays to operate the landfill — has found ways to trap methane gas that comes off the landfill and turn it into fuel for its trucks, according to spokeswoman Lisa Doughty.
That process is not done at every location, and right now, Gowan said, it is not economically viable for the Temple Landfill to do this.